Stocks Surge on Rate Cut Hopes
By JOE BEL BRUNO – 22 hours ago
NEW YORK (AP) — Wall Street shot higher Monday, sending the Dow Jones industrial average above 14,000 for the first time in 2 1/2 months as investors moved back into stocks at the start of the fourth quarter.
AntiSpin:
Wall Street, of course, wants retail investors to focus on the price of securities,
not the underlying risk
. Prices may be rising, but risk is rising faster.
The risk-adjusted return on stocks and bonds has been falling since iTulip re-started March 2006. The growing risks, in line with
models going back to 2000
, are: inflation and default, both corporations and bonds. The Fed's bind is that all available tools to control one risk increases the other. The recent credit crunch was a forcing function that caused the Fed to chose one over the other by cutting rates 50 basis points, thus tipping its hand.
This recent piece
by PIMCO's McCully
is illustrative. He makes
the same case we do
, but using different terms: the Fed, in order to avoid a runaway debt deflation, will bail out the FIRE Economy at the risk of more serious inflation in the P/C Economy.
Looking at the stock market on a risk-adjusted basis is unintuitive. Price is apparent while underlying risk is not. You have to dig hard and analyze hidden factors to estimate risk, and the results are subjective; no two analysts are likely to reach the same conclusions. Bears tend to look for the risk, bulls tend to avoid it.
iTulip's long and medium term view has not changed. Soon we will begin looking for evidence of the housing led recession we projected in October 2006 for the current quarter. Don't expect to read about the recession in the business section of your newspaper. Typically recessions are not acknowledged by the Fed until after they are over. You may see evidence showing up in various blogs, however. And, of course, don't forget to look out the window, and talk to your friends and family.
The challenge of managing a recession under current global imbalances is not exactly a secret. There is far more debt on household and government balance sheets, a far weaker dollar, and far more inflation than in 2001 when we had the last Ka-Poom disinflation/re-inflation cycle. (See also
EJ's Comments on the Week's Posts - Sept. 22, 2007
.)
NY Mayor predicts global economic downturn
October 1, 2007 (ABC News)
"In New York, the economic uncertainty our two countries face today is beginning to feel similar to the economic downturn we experienced six years ago - but this time, the stakes are higher because more people owe more debt and so do our governments," he said.
While it's always dangerous to try to assign a reason to short term market action in the absence of an obvious contributing event, our theory on the rise of the stock market recently is that US stocks look to foreign investors the way Las Vegas did to the thousands of visiting Europeans, Canadians, and Asians we saw there a few weeks back. Priced in euros, yen, Canadian dollars, and sterling, US stocks are fire sale cheap.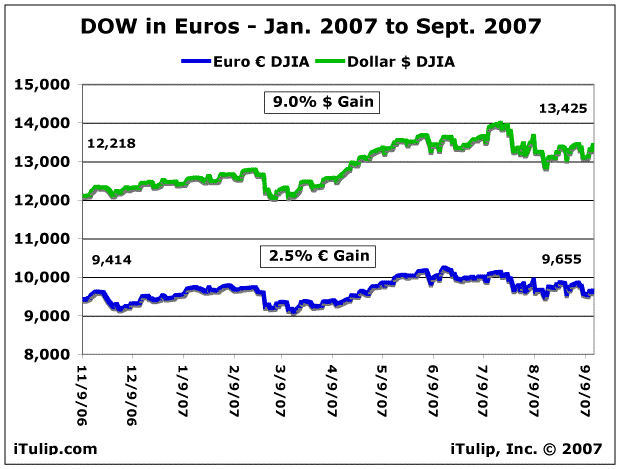 The rise of the DOW, gold, and other assets priced in dollars is tracking the decline in the dollar. Frankly, we don't understand why anyone who is paid a salary or earns interest in US$ is buying US stocks. Maybe the Dec. 7 Fed Flow of Funds report will show us that they aren't.
For those eager to see our projected 1,000 plus point down day for the DOW, remember
A Financial Market Crash is a Process, Not an Event
. It'll be here soon enough. Meanwhile, relax and enjoy the illusion while you can.
iTulip

Select

: The Investment Thesis for the Next Cycle™
__________________________________________________

For a book that explains iTulip concepts in simple terms see americasbubbleeconomy

To receive the iTulip Newsletter or iTulip Alerts, Join our FREE Email Mailing List

Copyright © iTulip, Inc. 1998 - 2007 All Rights Reserved


All information provided "as is" for informational purposes only, not intended for trading purposes or advice.
Nothing appearing on this website should be considered a recommendation to buy or to sell any security or related financial instrument.
iTulip, Inc. is not liable for any informational errors, incompleteness, or delays, or for any actions taken in reliance on information contained herein. Full Disclaimer