Housing Down, Gold Up
Mar. 26, 2007 (iTulip)
Today we explore gathering evidence of a cycle of housing market "surprises" on the downside and gold price "surprises" on the upside–which may become self-reinforcing over the next several months. Here's how it played out today.
New Home Sales Drop Unexpectedly
Mar. 26, 2007 (Wall Street Journal)

U.S. new-home sales unexpectedly fell in February, dropping to their lowest level in nearly seven years and calling into question whether the housing slump has resumed.

Sales of new homes fall sharply

Mar. 26, 2007 (Business Week)

Sales of new homes fell for a second consecutive month in February, dimming hopes for a rebound soon in the troubled housing market and raising fears about the health of the overall economy.

The Commerce Department reported Monday that sales of single-family homes dropped 3.9 percent last month to a seasonally adjusted annual rate of 848,000 units, the slowest pace in nearly seven years.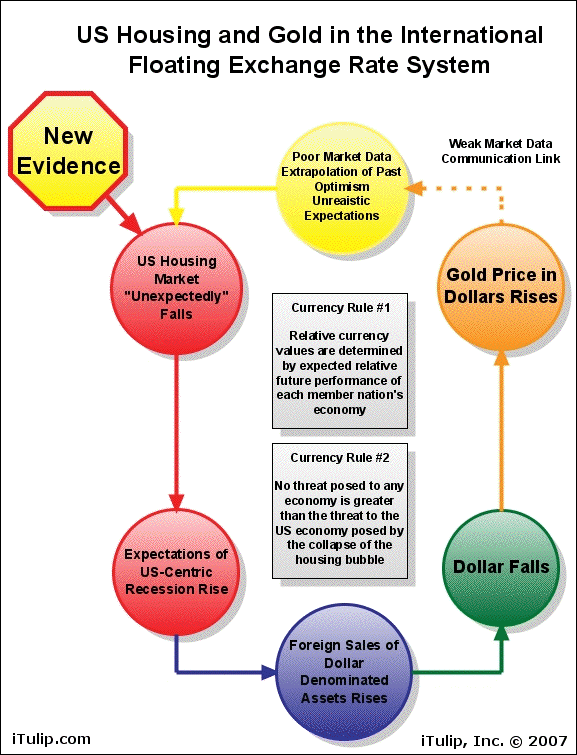 Treasurys turn higher after weak housing report
Mar. 26, 2007 (MarketWatch)

Treasury prices shook off their losses and turned higher Monday, after news that new home sales dropped to a seven-year low last month. The Commerce Department reported a 3.9% drop to 848,000 home sales, the lowest level since June 2000. Economists surveyed by MarketWatch were expecting an increase in February to about one million units. Sales were down 18.3% compared with February 2006. Signs of weakness in the housing market create demand for low-risk instruments like bonds and build a case for the Federal Reserve to cut interest rates.

Dollar weakens after weak US new home sales data
Mar. 26, 2007 (Forex TV)

The dollar weakened after US new homes sales dropped to their lowest level in almost seven years during February.

Gold nears a 4-week high as US housing data whacks the Dollar
Mar. 26, 2007 (BullionVault)

Spot gold prices on Monday came within spitting distance of a four-week high against the US Dollar.

Buying or storing physical gold at the London open returned more than a 1% gain by late trade in New York.


AntiSpin:

How long before the forces driving gold up depicted here dawn on a larger group of market participants? Now the circuit is open, with the rising price of gold not yet feeding back into the source of rising gold prices: mis-information and mis-guided expectations of the US housing market and economy, and the role of gold in the international monetary system?

When the Fed moves to rescue the FIRE Economy from the knock-on effects of the on-going decline of the all-important property segment of the FIRE Economy, the PC Economy will experience monetary inflation.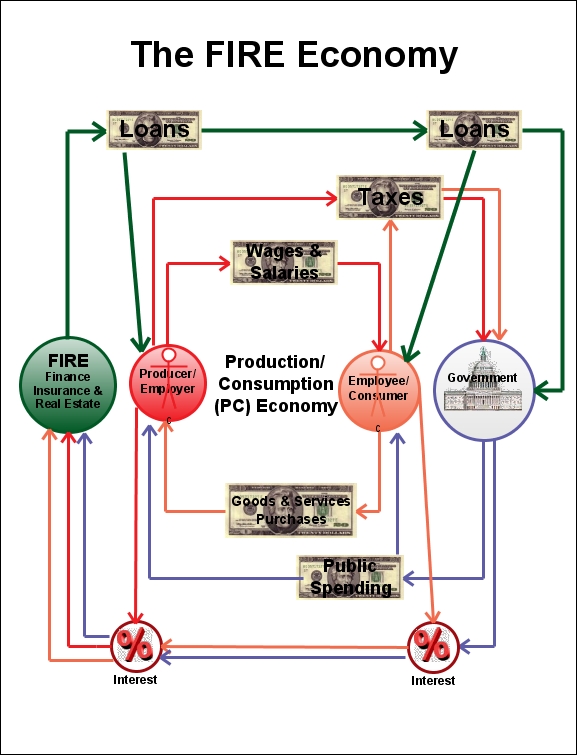 (Sorry about the last minute add-on, but we had a couple of poorly timed server outages mid-posting.)