Pop goes the Globaloney Economy
The global economy is devolving with astonishing speed. Today the Institute of International Finance (IIF) issued the following alarm: worst global recession since the 1950s.
Global economy to contract in 'severe' 2009 recession: banking group

WASHINGTON (AFP) — The global economy likely will contract next year for the first time in decades in a "severe" recession as the credit crunch bites, an international banking group said.

The Institute of International Finance (IIF), the Washington-based association representing more than 375 of the world's major banks and financial institutions, projected the world economy would shrink 0.4 percent in 2009, after 2.0 percent growth this year.

Charles Dallara, the managing director of the IIF, called it "the most severe, globally synchronized recession in modern economic history."

The global crisis requires a global coordinated response, he said at a news conference.

Dallara said the economy was mired in a negative feedback loop of weakening economic activity and intense financial market strains.
What the writer means is a positive feedback loop with negative results, not a negative feedback loop. As
WikiPedia
says:
Positive feedback, sometimes referred to as "cumulative causation", is a feedback loop system in which the system responds to perturbation in the same direction as the perturbation. In contrast, a system that responds to the perturbation in the opposite direction is called a negative feedback system.
Nit picking aside, the writer is correct: the US has within its borders suffers a number of positive feedback loops that are bringing down the US economy that kicked off international feedback loops:
Consumer/Employment Loop
1. Falling consumer demand
2. Falling business revenues
3. Layoffs
4. Declining consumer purchasing power power from income
5. Go to 1.

Financial Crisis/Consumer Credit Loop
1. Financial Crisis
2. Credit Crunch
3. Falling consumer access to credit
4. Declining consumer purchasing power power from credit
5. Go to 1.

In the global economy, international positive feedback loops of trade and finance, with negative results, are in force.
The World Trade Organization's latest repost says:
Trade slowed down in 2007 due to weakening demand from developed economies. The slowdown of trade growth from 8.5 per cent in 2006 is due to a deceleration of import demand, mainly in the United States but also in Europe and Japan.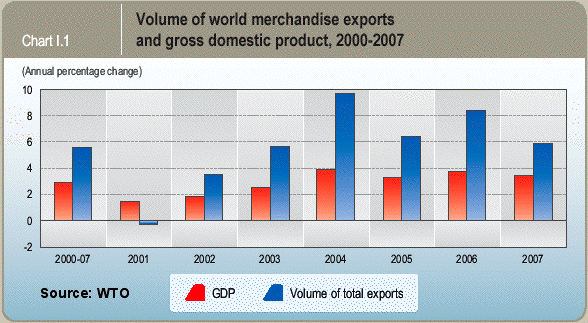 WTO Global Trade Data
"Mistakes were made"
The report goes on to state that the global contraction will be the first since the 1950s and a coordinated response is required to halt it:
"The weakening economy will increase credit losses, continuing to put pressure on bank capital. This underscores the point that capital injection alone will not be sufficient to strengthen the banking system until the economy and financial markets stabilize," Tran said.
Dallara recommended measures including the purchase of troubled assets and relief of credit bottlenecks, and said an increasing number of financial institutions were making progress in reforming operations.
Purchase of troubled assets have not resolved US, UK, or European credit market dysfunction, nor have liquidity injections, nor has debt restructuring. What is needed in the US is
debt forgiveness
but instead the FIRE Economy leadership is
pushing measures through to lock US homeowners into paying down mortgage debt
that was taken on when housing prices were inflated. This is a repeat of the Japanese policy error. US household cash flow will be dedicated to paying down existing debts, virtually guaranteeing that US consumers will remain moribund for an extended period; without domestic reforms the Consumer/Employment Loop and Financial Crisis/Consumer Credit Loop are here for the long haul, contributing the global feedback loops.
Our forecast for global trade in 2008 and 2009 is as follows.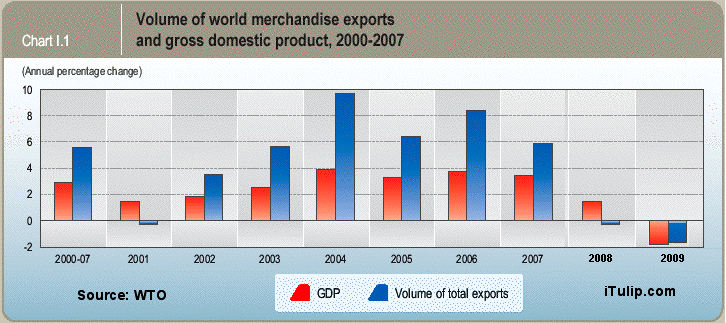 iTulip 2008 and 2009 global growth forecast
Shall we look for Thomas Friedman's new book titled "
The World is Flattened
" in 2009?
iTulip

Select

: The Investment Thesis for the Next Cycle™
__________________________________________________
To receive the iTulip Newsletter or iTulip Alerts, Join our FREE Email Mailing List
Copyright © iTulip, Inc. 1998 - 2007 All Rights Reserved
All information provided "as is" for informational purposes only, not intended for trading purposes or advice.
Nothing appearing on this website should be considered a recommendation to buy or to sell any security or related financial instrument.
iTulip, Inc. is not liable for any informational errors, incompleteness, or delays, or for any actions taken in reliance on information contained herein. Full Disclaimer