Economic Mutually Assured Destruction Revisited
• China's shaky financial system is dependent on America's shaky financial system
• The virtuous cycle of disinflation and currency appreciation runs in reverse
• The internal contradictions of Economic M.A.D. come home to roost


Editor's Note: Editor's Note: iTulip first explored the idea of US and Chinese market co-dependence in our April 2006 article titled Economic M.A.D. As our use of term "mutually assured destruction" suggests, we are not fans of the decoupling theory. The contrary argument later came to be known as "decoupling," a theory that China and other so-called emerging markets don't need the US. This discussion started with an article by Peter Morici. Below is a debate on the US trade deficit and the idea of "decoupling."

By Eric Janszen with Comments by John Craig of the Center for Policy and Development Systems
The US recession is reducing demand for imports, such as from China, along with demand for domestic goods. In response China will continue or perhaps accelerate its shift in current account surplus based growth away from the US to other areas of the world. China has reduced its reliance on the US to approximately 20% of its global exports in 2007 from about 30% in 2000, according to WTO data. Most of China's export growth continues to be within Asia.
Comment: There is a critical difference between shifting China's exports away from US and shifting China's current account surplus. China runs only a very small current account surplus with the world despite its large surplus with the US because it tends to run deficits with its other trading partners - especially those in Asia. China, in fact, shares around the 'goodies' (i.e., the surplus that makes it less likely for countries with weak financial systems to run into financial crisis). China, and its economic tributaries, retain a very high dependence on a strong financial system in the US to find productive uses for their resulting savings surpluses.
Information from many sources about the decoupling issue is presented in Decoupling: A New Urgency. This suggests that:
Many observers have argued that global growth can successfully decouple from conditions in US - eg noting strong growth while US has slowed; existence of large capital reserves in many countries;

Counter arguments are based on (for example) China's: GDP dependence on exports; low domestic consumption; over-capacity. The impact of a US slowdown on other world regions is also noted;

In response it is argued that: China doesn't only export to US; its trade dependence is exaggerated; domestic investment is very strong [in fact over 50% of GDP]; there is scope to increase domestic consumption and loosen fiscal policies; balance sheets and foreign reserves are sound; and reduced exports would also allow China's imports of component to fall;

The issues are more complex, because: other regions are badly affected by US instabilities; China's tools for economic management are blunt; foreign exchange reserves won't provide permanent protection where financial systems are underdeveloped; US instabilities make China's monetary management very difficult; the high rate of (unprofitable) domestic investment which drives China's economy is creating a financial bubble;

True decoupling requires not just the ability to survive a US downturn, but the ability to take on the 'consumer of last resort' functions that the US has had because of the strength of its financial system.
Seems to me that if US demand for China's exports falls by 10% that a corresponding decline in US demand from China from 20% to 18% can be easily absorbed by other trade partners that are not also heavily dependent on the US for export demand. Even if US import demand from China declined by half and China had to absorb the entire resulting 10% decline in total global exports that will not necessarily cause severe economic problems for China.
Comment: China's exposure is in its financial system, not in its strong 'real' economy.
As the US goes deeper into recession and US demand for China's goods declines, on the other side of the trade is China's demand for US financial assets which is declining proportionately. US merchandise trade balance always improves during periods of recession.
Comment: Fair enough, though this raises complex questions. For example:

Trade involves services as well as merchandise. Does the precipitous change in merchandise trade in following diagram reflect all trade?

How does this diagram look when expressed as a percentage of GDP?

Is it possible to envisage a recession so severe (or other circumstances) in which US willingness to import for capital doesn't simply reduce but reverses?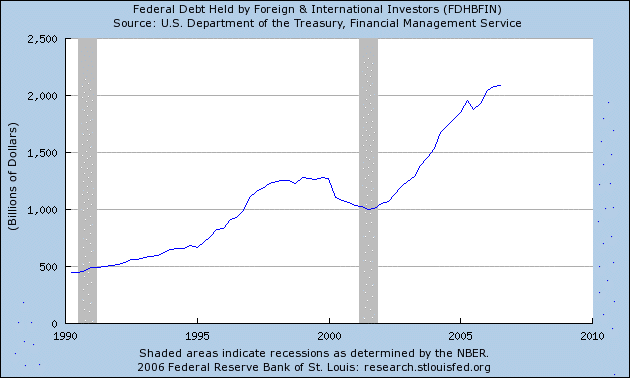 Note also that the last two periods of reversal in the US merchandise trade balance since the early 1980s were associated with major financial market dislocations, such as the US stock market crashes in 1987 and 2001. Is this one, too?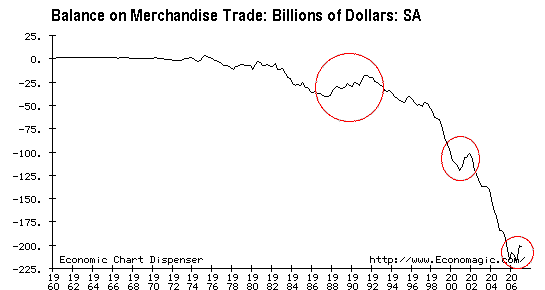 Even without recession, it is hard to explain how the US with such a small portion of intraregional trade flows...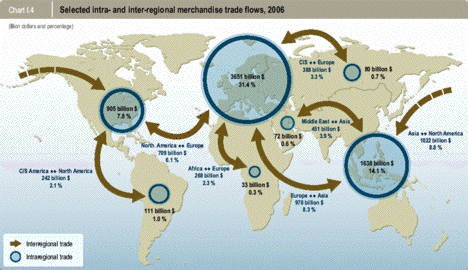 Inter and intra regional trade flows (Source: WTO)
Click to enlarge
...and a shrinking portion of global import demand...
US import demand relative to global import demand has been declining since 2000
Click to enlarge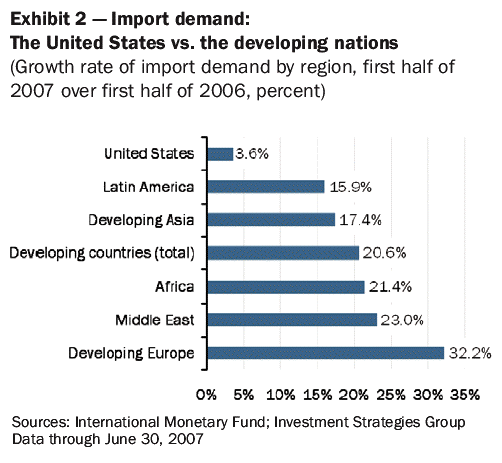 Growth in import demand has been the the least among major economic regions
...will be able to continue to collect the bulk of the world's savings and import so much capital to fund its trade and fiscal deficits.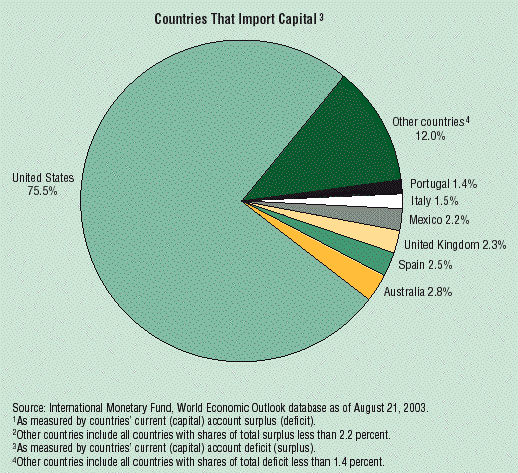 The US imports 76% of the worlds' capital (Source: IMF)
Comment: The US doesn't collect the bulk of the world's savings to fund its trade and fiscal deficits. It has imported that capital (and had large current account deficits) because it has had the most sophisticated financial system in the world.
Given that that financial system is in trouble, until that problem is fixed:

The US will presumably no longer be so willing / able to import others savings;

Its current account deficits will also decline rapidly; and

Other countries which have relied on current account surpluses to protect weak financial systems will potentially be in trouble.
China, by the way, is by no means the largest capital exporter.
Global capital exports (Source: IMF)
Comment: Absolutely. Japan has been the main source of global capital. And one needs to look at what is involved in this.

At the time of the Plaza Accords, Japan was pressured to stimulate its economy in order to help overcome its trade imbalance with the US. However Japan's financial system is set up so that any stimulus must mainly flow into industrial capacity rather than into consumer demand (see Why Japan cannot deregulate its financial system).

Since Japan's economic bubble burst in about 1990, Japan's authorities have created credit at very low interest rates supposedly to boost the Japanese economy, but this was impossible because of the structure of its monetary and financial system. Thus the only effect has been to boost the availability of cheap capital in the US (and in other capital importing economies), and contribute to the emergence of asset bubbles.
Here in the US we are seeing two self-reinforcing processes causing the US economy to go into recession. We have identified two self-reinforcing processes that are causing a decline in aggregate demand.
Comment: I see the sort of feedbacks that you perceive. This 'vicious' cycle is, in fact, the reverse of the 'virtuous' cycle that has been in place for the past couple of decades.
The cash/goods inflation spiral is a function of an extended period of dollar depreciation, now in its eighth year. Short term currency depreciation does boost exports but longer term rising input costs are feeding into an inflation spiral.
Comment: There are more factors than this in inflation/deflation equation (e.g., likely increases in prices of imports due to inflation in China - which will give pricing power back to US domestic producers and unions; effect of overall level of global demand on commodity - especially oil - prices)

Given US dependence on exports as the one bright spot in a decelerating economy hit by declining asset prices and falling domestic demand, it's not clear what US policy makers can do to reverse it.
Comment: That's the big question!
To drive that point home we conclude with this CNBC interview with veteran investor Julian Robertson.
iTulip

Select

: The Investment Thesis for the Next Cycle™
__________________________________________________


To receive the iTulip Newsletter or iTulip Alerts, Join our FREE Email Mailing List

Copyright © iTulip, Inc. 1998 - 2007 All Rights Reserved


All information provided "as is" for informational purposes only, not intended for trading purposes or advice.
Nothing appearing on this website should be considered a recommendation to buy or to sell any security or related financial instrument.
iTulip, Inc. is not liable for any informational errors, incompleteness, or delays, or for any actions taken in reliance on information contained herein. Full Disclaimer