He has been dead right about this recent rally and the exact level(though timings a little off). But see we can use Finister's FDI Index along with this to get a better picture.
New Update from Nadeem Walayat:
Stealth Stocks Bull Market Summer Correction Update
Stock-Markets / Stock Index Trading Jul 08, 2009 - 12:15 AM
By: Nadeem_Walayat

The analysis of April 26th concluded that the Dow is targeting a high of 8,750 by mid May 2009 which was expected to be followed by a significant correction of 14% towards a Dow target of 7,500. The Dow hit the target on 2nd of June which was confirmed in the quick update at the time, and therefore expectations were for the significant correction to materialise.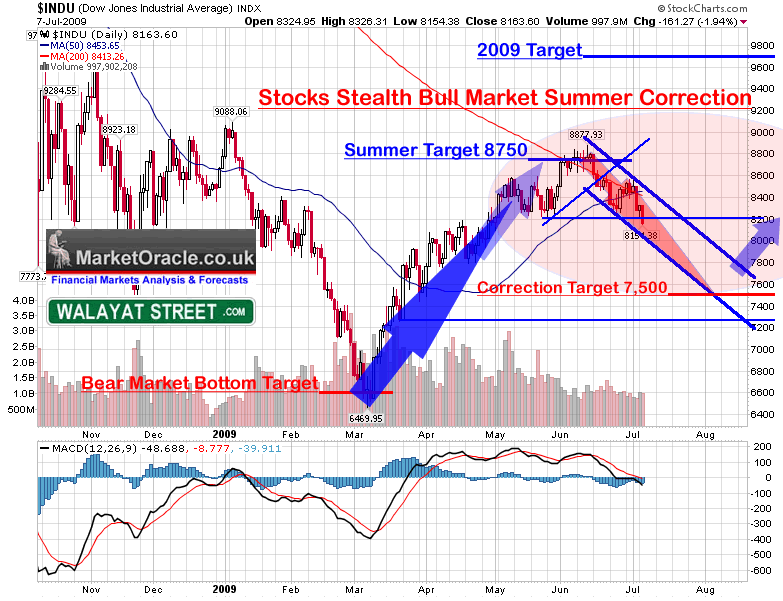 Quick Technical Analysis - The Dow spent early June distributing along 8,800, which gave plenty of time to put on short positions with tight stops. The key chart trigger was the lower high at 8,600 which targeted a break of 8,200. The pattern size is 400 points which projects to 7,800 before the next expected bounce. The overall pattern size is about 650 which projects to 8,200 minus 650 = 7,550, which is pretty close to the original projection of April 26th for the target for the Correction AFTER the peak around 8,750. The chart is also showing an head and shoulders price pattern witch the same measuring move.
Stocks Stealth Bull Market End Probability - The probability of an end to this fledgling bull market remains very low at less than 20%, as the Dow has so far done nothing to suggest otherwise with the trend to date inline with expectations for that of a significant summer correction. The quality of the stocks bull market for the balance of the year will become clearer as the current correction unravels towards 7,500, which will enable me to generate an in depth analysis for the next 3 months or so, however existing analysis is for a 50% rally which targets Dow 9,705.
Conclusion - The Dow is still projecting towards a target of around 7,500 as indicated in the chart above, which I am sure will be taken by the perma-bears as proof that the whole move from March was just a bear market rally, JUST AT THE POINT WHERE I EXPECT THE STOCKS STEALTH BULL MARKET TO RESUME!. The in depth update to the stealth stocks bull market will follow towards the end of this month, to ensure you receive this in your email box subscribe to my always free newsletter.
Corporate Earnings - Just as I voiced days before the stock market bottomed in March, Investors / traders will need to be on their guard against the overwhelming bearish corporate earnings forecasts for 2009, as the following chart that appears quite often illustrates -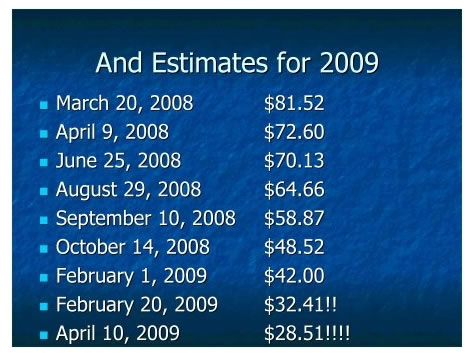 However reminding readers of what I stated in Mid March -
Wide spread consensus today exists for SHARPLY LOWER CORPORATE EARNINGS going into 2010 THAT MUST MEAN MUCH LOWER STOCK PRICES. However this earnings analysis that is so abundant today, should have been presented OVER A YEAR AGO ! in October 2007 I.e. at or near the market peak! So that ordinary investors could actually ACT on the information. NOT NOW AT THE MARKET BOTTOM ! We are again seeing REASONS as to WHY INVESTORS should avoid investing INTO the Stealth Bull market!, precisely as we all witnessed what was effectively Bullish propaganda during the final stages of the Stocks Bull Market, so we are NOW witnessing what is effectively BEARISH propaganda in the final stages of the Bear Market. Now, don't get me wrong, I am not saying that the analysis is not genuine, what I am saying is that IT IS IRRELEVANT! As it is always much easier to build a scenario in favour of a trend that has been in force for sometime that has generated much data and analysis in support of why it exists and therefore it should continue for much longer, then to "Think Out side of the Box" to disregard bearish data that has been magnified by the growing consensus that really should have been known more than a year earlier in favour of the technical picture that as the analysis of October 2008 stated, that a. we are NOT heading for a Great Depression (as I will further elaborate upon in the Q&A below) and b. The stocks bear market HAS fulfilled its bear market objectives in terms of price and time, more than anyone could have been imagined a year ago!
Make a note of graphs like these as by year end everything has been revised higher and previous corporate earnings projections conveniently forgotten, off course by that time the market will have already moved. Remember you are trading the price and NOT the earnings forecasts which are a red herring!
Trading Signals - Whilst my analysis usually tends carry clear conclusions, however I have refrained from sharing my actual trading signals to date for a number of reasons which I have touched on in past articles. Good news, I will be sharing my actual precise position trading signals for free at WalayatStreet.com i.e. buy / sell triggers, stops, and stop and reverse (SAR) points for the Dow Jones Stock Index which I have been trading for the past 23 years. WalayatStreet.com has been under development since March 2009 and will go live this month, in the meantime WalayatStreet.com
continues to point to my extensive articles archive.
Recap of the Stocks Stealth Bull Market Analysis
1. Stocks Bear market Bottom forecast - 20th Jan 2009 - Target 6,600. Warning that the bear market bottom WILL be accompanied by overwhelming and highly convincing bearish fundamentals that speculators / investors will need to ignore to prevent themselves from missing out on the BOTTOM.

2. Stocks Bear Market Target Fulfilled - 8th March 2009 - Dow 6526. Preparing for a spike higher that was expected to trigger the first of a series of buy triggers to start accumulating - As you MUST WAIT for Entry Triggers, so as to give the trades a greater probability of success, and again the message to IGNORE the media / fundamentals.
3. Stocks Stealth Bull Market Born - 15th March 2009 - Dow Bear Market Bottom confirmed on multiple buy triggers during the week - Warning to ignore the fundamentals or should I say fundamentalism, bearish commentary and in many cases double speak in favour to reacting to the ACTUAL PRICE movements.

4. Stocks Stealth Bull Market Carpet Bombs the Bears - 24th March 2009 - Short-term 33% Correction, before new stealth bull market highs. End year target 50% from 6470 i.e. 9,700.
5. Stocks Stealth Bull Market Closes above Dow 8,000 - 5th April 2009 - Psychology of investing and trading. There is no point everyone seeing the rally in a the rear view mirror if FEAR kept them from monetizing on it!
6. Stealth Stocks Bull Market, Sell in May and Go Away? - 26th April 2009 - Tradable significant correction to follow from a peak around 8,750, downtrend towards Dow 7,500 over the summer.
Your stock index trading analyst
By Nadeem Walayat