This interview of Eric Janszen was conducted by Monex January 2007. In it he talks about the housing market declining, the asset-backed securities market blowing up, and gold rising.
The interview was used in Oct. for ads run by Monex on CNN Money and made available in Nov. for iTulip's use.
Note that a correlation is drawn in January 2007 between the correction in the housing market, crisis in the market for asset-backed mortgage securities, and the price rise in gold. The connection is that gold investors understood that the credit crunch meant future rate cuts, further dollar depreciation, and other economic reflation efforts that are dollar negative and gold positive.
As forecast, structured mortgage credit market collapses in July 2007...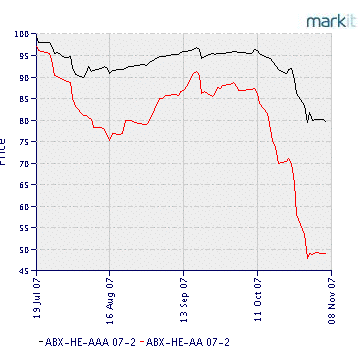 Index of Asset Backed Securities Prices
...and gold takes off in August after a year of sleeping around $650.
Gold