"The rich are different than you and me," said F. Scott Fitzgerald. To that Hemingway was quoted as saying, "yes, they have more money."
If we were to ask that question again today we would find out that they foreclose in
higher rates than the average home owner
. One in seven homeowners with loans over $1 million are now seriously delinquent versus one out of twelve for the overall population. The rich are
foreclosing in spectacular fashion
. Most of those living in Southern California are fooled by the leased European luxury cars or the expensive homes that carry a
substantial mortgage
behind the scenes. These statistics only verify what most of us already know. Appearances are big in many markets especially in the land of Hollywood. Make no mistake that there are many rich people in California. Yet there are more phony imposters that merely bought all the trappings of wealth by leveraging their balance sheet to the hilt. Today we are going to dig deep into the
Beverly Hills foreclosure market
.
Foreclosure millionaire style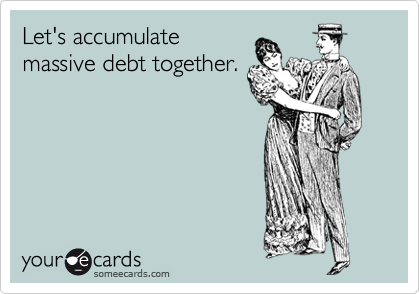 When it comes to foreclosing people living in once high priced homes are likely to be the most strategic in defaulting. Banks are slower to move on
higher priced foreclosures because the market is thinner
at the top. Plus, they just like pretending their balance sheet is worth what they are telling the public. Now that the toxic debt party is over good luck selling some of these homes. Take a look at this home selling in the 90210: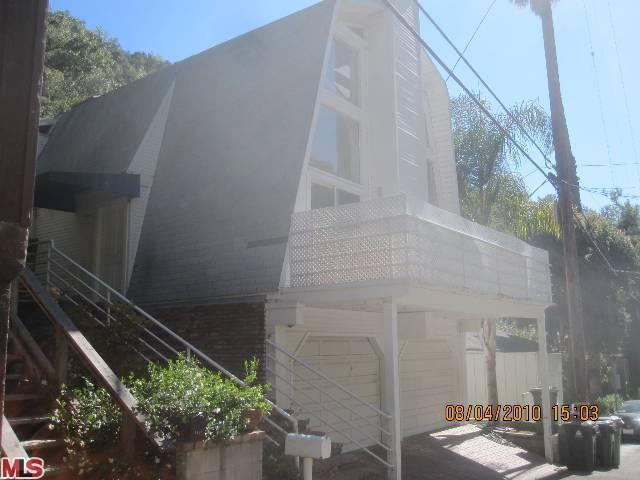 9832 YOAKUM DR, Beverly Hills, CA 90210
Beds: 2
Baths: 2
Square feet: 1,056

This place is in the Beverly Crest neighborhood. If you look at the sale history you realize someone over paid:
Sold (06/21/1996): $330,000
Sold (10/04/2006): $779,000

The current list price? How about $504,950. And this place has been on the market since August so don't think people are snatching things up just because they are priced at
rock bottom levels
. So you might be asking how is this a million dollar home? It isn't but the tax assessment once believed it was:

At one point this place was being assessed at $1,195,000! No wonder why local and state governments loved the housing bubble. Their tax base shot up. When I look on the MLS I see only 5 listed home
foreclosures in Beverly Hills
: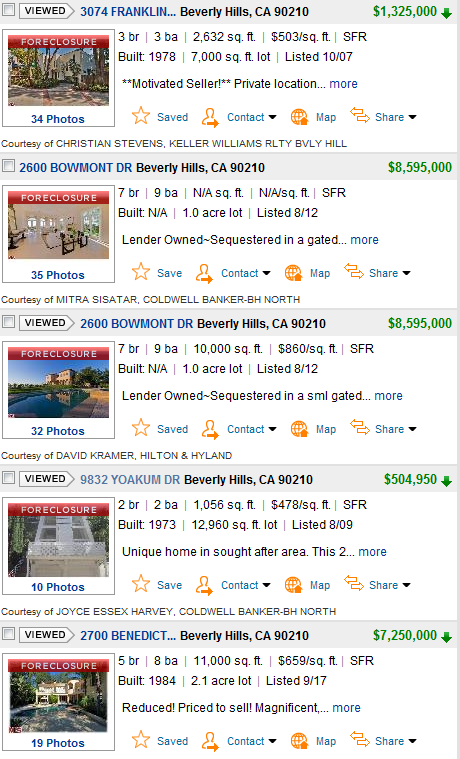 That $500,000 foreclosure sticks out like a sore thumb. But we have foreclosures from the low end all the
way up to $8,595,000
. Now you might think that 5 foreclosures for Beverly Hill is just a tiny amount. Well let us look into the
shadow inventory
: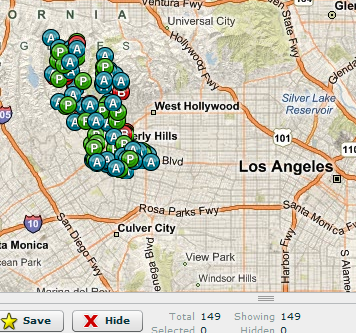 149 homes have a notice of default filed, are scheduled for auction, or are bank owned. Sure is a bigger number than 5 right? And if you think people are simply waiting to sell in the future many have already made the decision to strategically default:
"(
CBS
) For Darren Thomas that ocean view was quickly losing its value. He says, "I bought it for [$1.385 million]. It is worth less than [$800,000], maybe less."
Thomas bought his townhome in 2006 but after seeing its value drop steadily he stopped paying.
"I haven't made a payment in two years," he says. "It was business decision. It was an easy decision. I have a property worth six or 700,000 less than when I bought it. I was making payments of 10,000 a month."
Thomas has gone into strategic default. He could make payments but is refusing to put more money into a home that is worth less than his mortgage. Among luxury homeowners he is not alone."
Doesn't that make you feel better? So when you hear all these stories about people being booted out of homes with $50,000 mortgages just remember the above where banks are allowing people with money to simply live rent free on the taxpayer dime. Remember,
the bailouts
are the reason this is allowed to happen. If you think there is remorse just look at this:
"People like myself, business people, are going it is silly to throw good money after bad," says Thomas "The loss is not mine. The loss is the banks."

Actually the loss is the taxpayers. So the prudent middle has subsidized the speculation of banks and these
Keeping up with the Joneses
crowd. Let us look closer at the foreclosure data in
Beverly Hills
. How bad is it? Out of the 149 foreclosure filings in Beverly Hills 107 have an estimated loan balance of over $1 million! In fact, there is one foreclosure with loans of over $15 million. Here is a tiny sampling: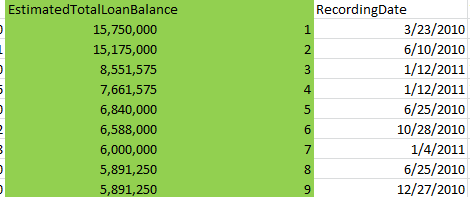 Many of these are recent as well. The rich are different unless they are rich with debt.
http://www.doctorhousingbubble.com/f...ate/#more-4201