Nation goes dark
:
U.S. employment picture
Depression not recession. It really is ``different this time.'
'
This animation of Bureau of Labor Statistics data depicts year over year changes in unemployment across the U.S. every month since the depression officially began in December 2007. States with falling unemployment are shown in light blue while dark blue indicates rising unemployment.
As forecast, unemployment during this depression has since January 2009 been rising in every state in the U.S.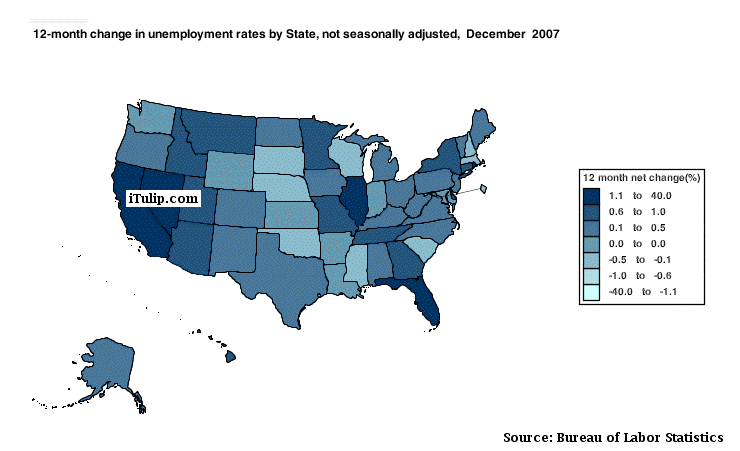 If we compare that animation of unemployment data to this older one of recessions since the late 1970s we see that even at the worst part of the 1980 t0 1983 recessions unemployment fell in some states even if it was rising in most states.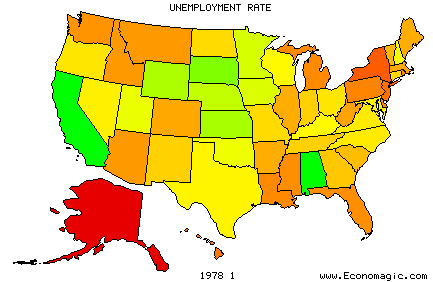 We are sticking to our forecast of 20% U3 unemployment in the U.S. by the end of 2010.
See also:
Jobs crash arrives on schedule - Eric Janszen
Unemployment by industry: Recession or depression? - Eric Janszen
Six Questions for Eric Janszen on the Economic Collapse
Unemployment on the rise as economic hard times continue
iTulip

Select

: The Investment Thesis for the Next Cycle™
__________________________________________________
To receive the iTulip Newsletter or iTulip Alerts, Join our FREE Email Mailing List
Copyright © iTulip, Inc. 1998 - 2009 All Rights Reserved
All information provided "as is" for informational purposes only, not intended for trading purposes or advice.
Nothing appearing on this website should be considered a recommendation to buy or to sell any security or related financial instrument.
iTulip, Inc. is not liable for any informational errors, incompleteness, or delays, or for any actions taken in reliance on information contained herein.
Full Disclaimer