China's economic enigma
How is China's economy doing? The Chinese government says the economy is doing well, auto sales appear to be up, but the data are suspicious.
China auto sales hit record 1.11 million in March

By ELAINE KURTENBACH – 15 hours ago
SHANGHAI (AP) — China's auto sales hit a monthly record of 1.11 million vehicles in March, exceeding U.S. sales for the third month in a row, as tax cuts and rebates for small car purchases lured buyers back into showrooms, according to industry figures.
The China Association of Automobile Manufacturers said sales rose 5 percent in March from a year earlier, when they totaled 1.06 million, the official Xinhua News Agency reported Thursday.
The data confirmed that sales remained robust in China, the world's second biggest auto market, despite deteriorating conditions in most major markets.
Americans bought 857,735 new vehicles in March, down 37 percent from the 1.36 million sold in the same month a year earlier, according to Autodata Corp. more...
Who are we to challenge
the China Association of Automobile Manufacturers? For all we know their data are at least as reliable as the data provided by the National Association of Realtor's on the housing market here in the US. But the Chinese government data are strictly dubious.

February 2009 created the chart below from data on
Output and Growth Rate of Major Industrial Products
from data on the National Bureau of Statistics of China web site.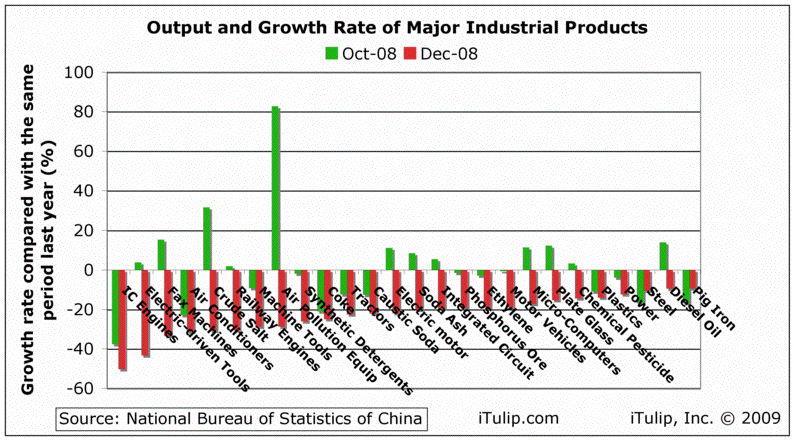 The data show dramatic declines in 26 industrial products between Oct. and Dec. 2008, the quarter the global financial system imploded. The data on power shows output off 12.4%, internal combustion engines off 50.4%, and semiconductor circuits off 19.5%. The output totals, the line items, and the total GDP reported just don't add up. But it gets worse.

December 2008 year over year data
We went back today to the site to compare the 2008 data to the latest reports. Alas, the data on the major industrial items that indicate rapidly declining output have either been re-categorized or removed entirely, leaving--surprise!--only minor items like fax machines showing significant negative growth.

Automobiles, not even a category in February's report of December 2008 data, were up more than 22% year over year in February 2009, according to the most recent March 2009 report. Internal combustion engines, presumably a critical component of autos, were off more than 50% in December 2008 but are not listed in the latest report. Instead, a more general category of "Engines" is listed, off a more modest 7.8%.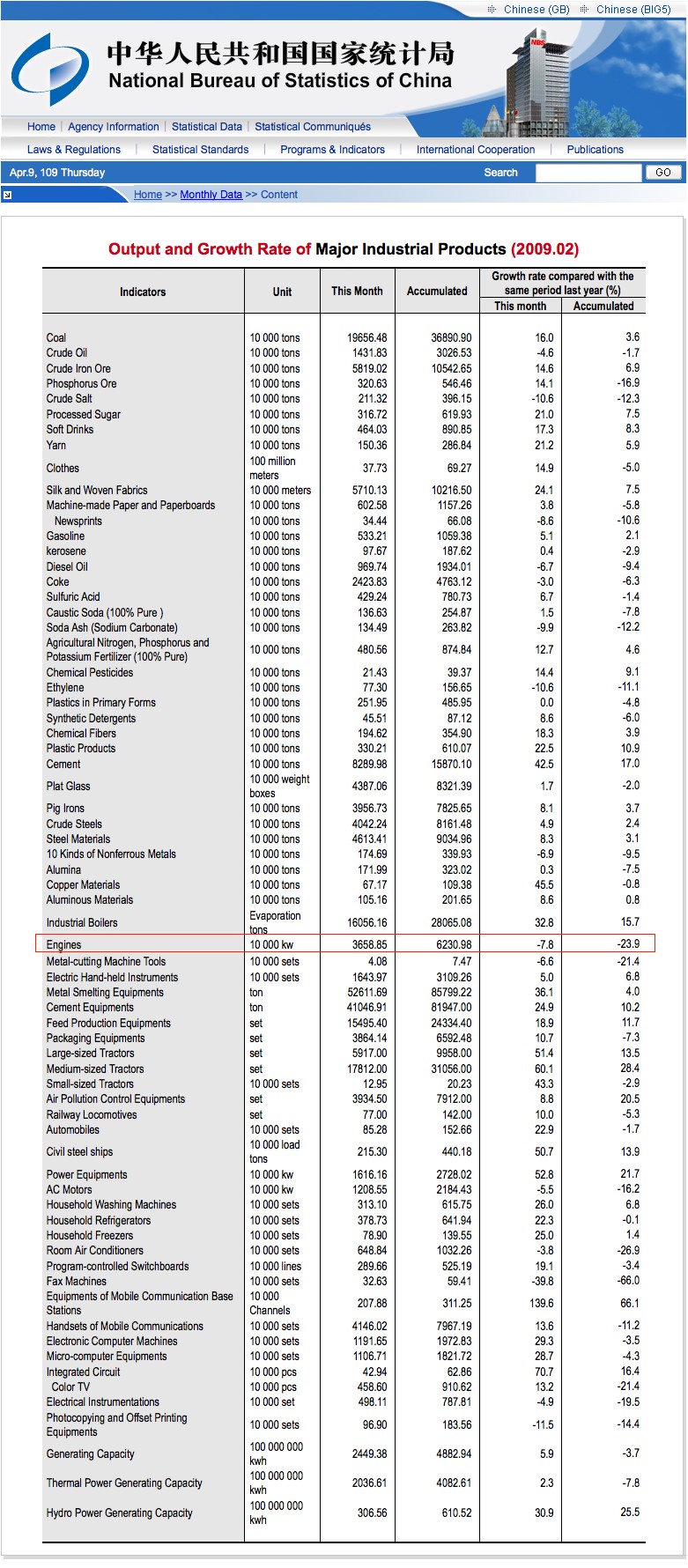 February 2009 year over year data
Power output, a close proxy for economic growth, is not reported at all, but power capacity is. Wait, are these output data apples or capacity data oranges?
Oh, never mind. Details, details. The Chinese government reports strong GDP growth of 9% for Q1 2009. Why should we doubt them just because the GDP the other major Asian export economy, Japan, was off 12% Q4 2008?
And you thought US government economic statistics were unreliable.
iTulip

Select

: The Investment Thesis for the Next Cycle™
__________________________________________________
To receive the iTulip Newsletter or iTulip Alerts, Join our FREE Email Mailing List
Copyright © iTulip, Inc. 1998 - 2009 All Rights Reserved
All information provided "as is" for informational purposes only, not intended for trading purposes or advice.
Nothing appearing on this website should be considered a recommendation to buy or to sell any security or related financial instrument.
iTulip, Inc. is not liable for any informational errors, incompleteness, or delays, or for any actions taken in reliance on information contained herein.
Full Disclaimer