Sector Hedge Portfolio - December 2006 YTD

by John R. Serrapere
Past results may not be indicative of future results.

Portfolio A records the performance of a sector rotation strategy. It is up 17.6% year-to-date (YTD) in 2006. The strategy rotates long/short positions within sectors and industry groups via exchange traded, closed-end, and open end funds.

Investment Recommendations
Housing's positive correlations to stocks (Fig. 3) make it a suitable-short for capital preservation (nearly 70% of us own a home and over 50% own stocks). The Case-Shiller Indices, which underlie futures contracts on home prices debuted earlier in 2006 (Chicago Mercantile Exchange). Currently, futures are forecasting home prices declines of about 8% to 10% by Aug-2007 from the peaks seen in 2006.
Robert Shiller, a Yale professor helped to create the indexes to track housing in ten areas, namely: Boston, Chicago, Denver, Las Vegas, Los Angeles, Miami, New York, San Diego, San Francisco and Washington D.C. "In all 10 [futures contracts]," Shiller reports, "we have what's called backwardation. That means that the futures price is below the price that it is today. All of the markets are predicting price declines. He expects at least a 25% total decline by 2008 Q1.
In addition to possibly shorting housing futures, investors should do two things. First, they need to hedge recession risk by over weighting stock and bond allocations to high quality issues with little or no credit risk. Secondarily, they need to hedge US Dollar risk through gold (the hard stuff and equities) and investment in the sovereign debts of foreign nations. One aspect of the first step is to have large positions in high dividend paying and defensive sectors: utilities, telecom, pharmaceuticals, and consumer stables.
Portfolio A (below) simulates (via trades) research. It is up 17.6% year-to-date (YTD) in 2006. Portfolio A has bested the S&P 500 on a cumulative return basis since its March 19, 2004 inception date (33.31% vs. 33.27%). Below you will find short sells of low quality stocks (QQQQ and EEM) plus the shorting of market beta (RSP). Sector hedges are in yellow.(1)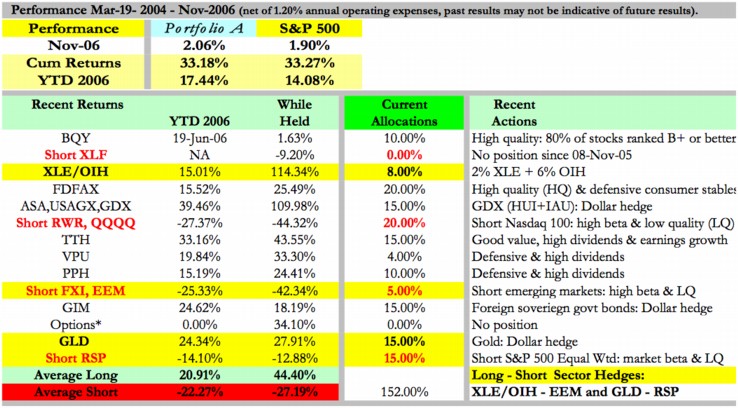 Housing's positive correlations to stocks (Fig. 3)
Additional Updates
Nouriel Roubini's Blog, November 28, 2006:
"When you add it all together on the demand side and the supply side it comes to a 0% growth for Q4. Hard landing and recession are ahead for the US economy and the wishful-thinking forecasts of the consensus that growth will sharply recover in Q4 from the anemic Q3 level are being shattered every day as the onslaught of bad macro news increases by the day. I am in good company in predicting a sharp Q4 slowdown and a recession in 2007:

1. As reported in a Bloomberg interview Shiller of Yale Says Housing Downturn Could Lead to Recession

2. Deutsche Bank is now revising down its U.S. Q4 growth forecast to 0% from its previous 1%

Joe Lavorgna's original text (Deutsche Bank, US Economic Outlook):
"In light of continued weakness in the economic data, we are cutting our fourth quarter real GDP growth forecast to zero from the +1.0% that we were originally predicting. This is largely due to weakness in durable goods shipments and orders, but also due to weak consumer spending. Core durable goods shipments, which are a direct input into GDP, declined 1.5% in October, and the level is down 8.2% AR compared to Q3. This is much weaker than what we had been assuming, and because the growth rate in capex has been slowing since Q1, we do not believe that we will see much if any bounce back in November or December. Furthermore, contrary to weekend anecdotes, we believe that the weekly measures of chain-store activity were unimpressive through the first four weeks of November. One survey that we track was actually down on the week. It is clear to us that consumer spending is not getting the boost from falling gasoline prices that many analysts anticipated."

The November 2006 NABE Outlook - RGDP Growth for 2006 and 2007
Below are actual and forecasted growth rates for Real Gross Domestic Product (RGDP) on a backward (2006 Q1-3) and a forward basis (2006 Q4 – 2007 Q1-4). We were in uncharted waters with home price gains of 108% (1995 – 2005 Q2) and we remain so (steering our ship without a map). Investors should not expect the experts to see icebergs in the fog of data.
The NABE survey indicates that economists expect below trend growth through 2007 with RGDP growth at 2.5% in 2006 Q4 and at a 3% rate by 2007 Q4. On a YOY basis, real GDP growth in 2007 is expected to be 2.8%. Consumer spending and nonresidential fixed investment are expected to hold up, but residential investment is seen as a larger depressant on the economy in the near-term than was earlier thought.(2)
U.S. Home Prices: Does Bust Always Follow Boom?
In 2005, the FDIC, predictably, concluded that busts were uncommon but a closer look at the chart below (included in the FDIC report) unmistakably answers that in fact busts do follow booms. How could the FDIC be so sanguine? By the end of 2005, there were 89 boomtowns (not shown because the report was last revised in Apr-2005) out of a sample of 133 cities (67% were booming and were widely dispersed across all regions). Here is a word from the FDIC:
"Between 1980 and 1990, quarterly data are available for just 133 cities, or slightly more than one-third of the cities covered by the HPI. This limited history constrains our ability to get a complete sense of the prevalence of booms and busts prior to 1990. Nevertheless, we feel there is sufficient information in the OFHEO data set and that this data set is the most appropriate one for our purposes." (3)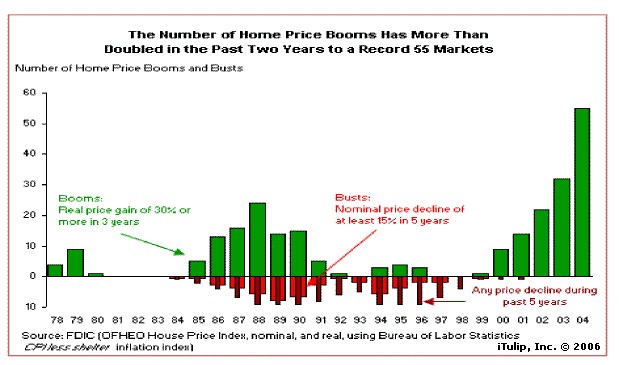 1. Sector hedges are long sector positions paired with short sector holdings. Shorts are expected to hedge losses resulting from weakening economic fundamentals driving the source of returns inherent to long economic sectors (Active Indexer, November 2006,
www.indexuniverse.com)
.
2. NABE members can read more of the NABE Outlook at
www.nabe.com
. There is a summary available for the public.
3. FDIC, U.S. Home Prices: Does Bust Always Follow Boom?, February 10, 2005 (revised April 8, 2005)

This report was originally written to internally advise private funds for a qualified investor. The posting of this report for public viewing is intended to demonstrate applied research without an intent of business solicitation.


John Serrapere - Investment Analyst & Strategist - Foster Holdings, Inc.
Mr. Serrapere has been advising investors since 1986. He currently is the Investment Analyst & Portfolio Strategist for Foster Holdings, Inc., a large Pittsburgh, PA based family office. His firm also consults other investors seeking alternative investment options. Mr. Serrapere was formerly a principal of Rydex Leveraged Hedges, LLC in Rockville, MD where he designed registered and non-registered products.
Mr. Serrapere has published in
The Journal of Indexes
,
Global Financial Data
, Corporate Finance Review (Warren Gorham & Lamont, NY, NY), The Retirement Planning Journal (Commerce Clearing House, Chicago, IL) and has presented for Information Management Network (NY, NY).
Copyright © iTulip, Inc. 1998 - 2006 All Rights Reserved


All information provided "as is" for informational purposes only, not intended for trading purposes or advice.
Nothing appearing on this website should be considered a recommendation to buy or to sell any security or related financial instrument.
iTulip, Inc. is not liable for any informational errors, incompleteness, or delays, or for any actions taken in reliance on information contained herein. Full Disclaimer