Major US banks worse than Japan's zombies?
Why aren't massive expansions of banking reserves by the Fed working this time?
Back in September 2008 we posted this chart that shows the Fed vastly expanding reserves for member banks. We show the expansion as a percentage rather than an absolute change because the numbers are so large as to be meaningless. The real story is the proportion relative to past crises -- real, as in the case of 9/11, or imagined, as in the case of Y2K:
...the Fed expanded its total asset holdings by $600 billion over the last 30 days, with less than a third of this going directly into reserve balances. The graph below puts the latter magnitude in perspective. When the World Trade Center towers burned down on September 11, 2001 many of the financial institutions that played a key role in trades of government securities and interbank loans were wiped out or incapacitated, posing potentially huge liquidity problems. Reserves ballooned to $67 billion, as excess reserves simply piled up in some banks while others remained in need. Last week's spike of $171 billion was 2-1/2 times as big-- the breakdown of interbank lending last week proved more profound than that caused by the physical disruptions in New York in 2001.
Anyone who suggests that last week's ballooning reserve deposits represent inflationary pressure or the Fed monetizing the deficit simply doesn't know what they're talking about. Banks are sitting on the reserves, not withdrawing them as cash. When markets settle down, the Fed can and will absorb those reserves back in with sterilizing sales of Treasury securities, just as it did in 2001 or after the more modest spike in August 2007. Providing new reserves aggressively is absolutely and unquestionably the way the Fed needs to respond to this kind of development. - Econbrowser.com, Oct. 2008
This explanation seemed reasonable back in October 2008 when the expansion of reserve deposits were up 150% year over year, only two and a half times larger than ever occurred before during a financial crisis, but now that the expansion has continued to 625% year over year, more than eleven times larger than during the 9/11 emergency, new questions arise.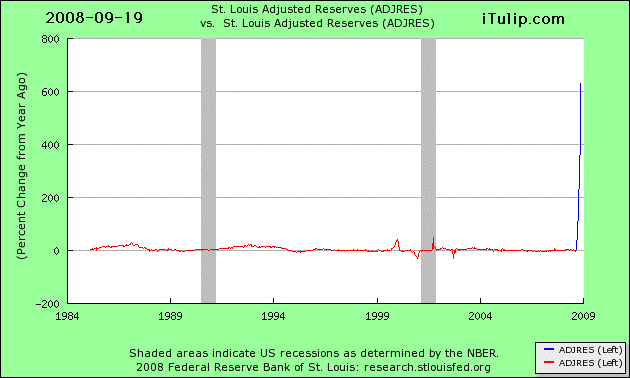 Pre-crisis reserve level in
blue
post crisis in
red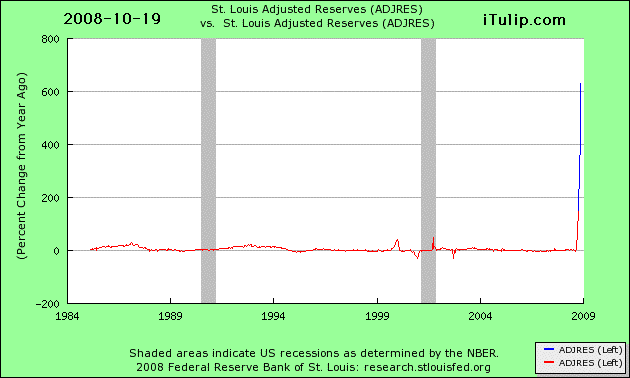 Pre-crisis reserve level in
blue
post crisis in
red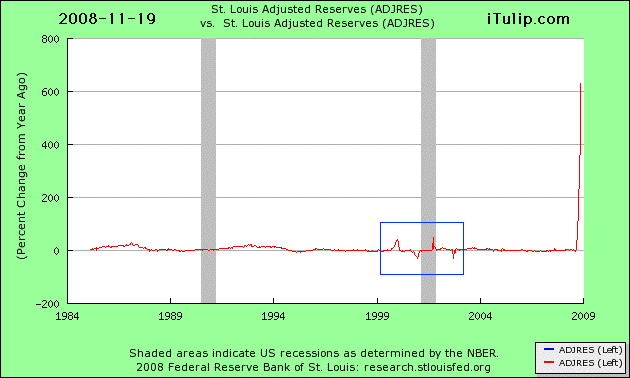 Pre-crisis reserve level in
blue
post crisis in
red
We went for a second opinion to a banking expert we know who prefers to remain anonymous of this particular opinion. For the purposes of this interview we'll call him Dr. Banker.
iTulip:
What do you make of the extraordinary levels of bank reserves that the Federal Reserve is pumping into the Federal Reserve System, now at more than 600% higher than November 2007 levels?
Dr. B:
Think of the commercial banks that take loans from the Federal Reserve banking system as a person and the money that flows through them as the blood in a person's body. Now think of that person as injured. When he suffers a severe injury and loses blood, the Fed gives him an emergency money transfusion. You can see in your chart below the money transfusions in late 1999 just before the end of the year, due to the Y2K scare -- false, as it turns out -- and in 2001 after 9/11. Some believe that the withdrawal of reserves in mid 2000 caused the market decline that led to the recession of 2001.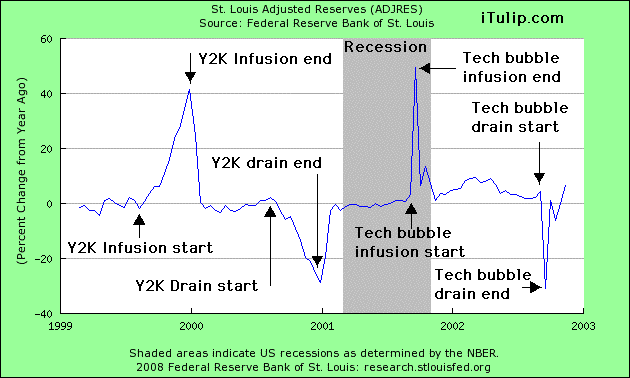 Dr. B:
After the injury is operated on and healed and the patient is producing his own money again, the money that was added earlier by the Fed's transfusion is drained back out. As you can see from your chart above, the transfusions usually take two to six months and typically six months or so after the crisis is over are gradually withdrawn over a period of several months to return total money in the system to pre-crisis levels."
iTulip:
That makes sense. But why has the Fed this time had to continue to transfuse money? Why are the transfusions so huge and why do the transfusions seem to not be working? Is he still bleeding and the money is pouring through the system? If you try to compare previous expansions with this one on the same chart on the same scale, the differences are quite stark.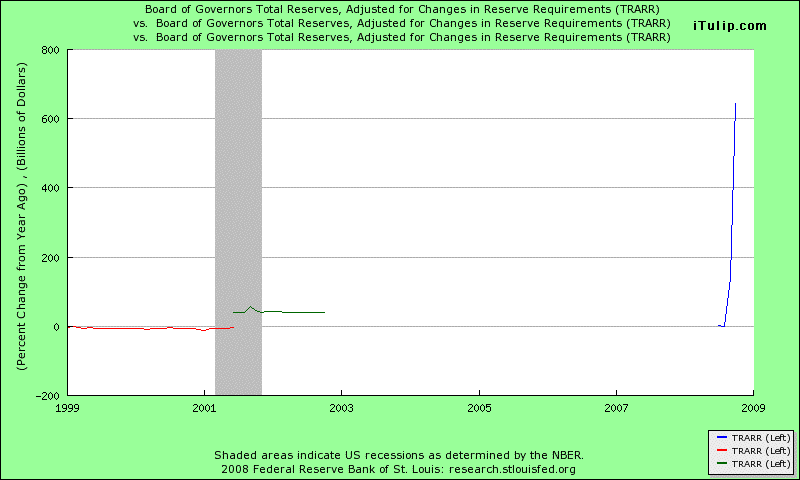 Dr. B:
My theory is, and I admit not everyone will agree with it, is this: the patient is dead.
iTulip:
Interesting. That does not bode well for the efficacy of future transfusions.
Dr. B:
No it does not. They can keep the intravenous tube hooked up to a pint bottle or a 100 gallon drum of blood but it doesn't matter if the blood is not circulating through the patient so he can take it in.
iTulip:
Controversial. I see why you are giving this to us on the sly. What evidence do you have to support this theory?
Dr. B:
Note that many smaller banks that do not operate as part of the Fed system are working just fine.
iTulip:
Go on.
Dr. B:
The reason: Credit Default Swaps. It is now well understood that CDS are at the root of today's financial crisis. Your readers have known that risk since 1999 when you first posted
Someone Please Turn on the Lights
.
Some have suggested
the simple expedient of canceling them all, declaring all of the CDS contracts null and void.
iTulip:
That will bring the dead patient back to life, assuming as you assert that he is dead?
Dr. B:
CDS certainly killed him but removing them is no cure.
iTulip:
Why not?
Dr. B:
Federal Reserve Bank of New York Staff Report no. 276 "Credit Derivatives and Bank Credit Supply" by Beverly Hirtle, February 2007 concluded that all of the nation's largest banks used credit default swaps not to protect existing assets but to expand their balance sheets between 1997 and 2006.
Summary and Conclusions
This goal of this paper is to examine the relationship between banks' use of credit derivatives and the supply of bank credit. Credit derivatives represent an important credit market innovation that, in theory, allows banks to originate and fund loans without holding the associated credit risk. More broadly, credit derivatives are the latest in a series of innovations that have facilitated credit risk management and made it easier for banks to diversify their credit risk exposures.
The key question is whether banks have used these instruments primarily to diversify and thus reduce their risk exposures, or whether banks have undone the diversification by expanding their lending. Research on earlier credit market innovations has found that activities such as loans sales and securitizations have not resulted in overall reductions in bank risk, but rather an expansion of lending (Cebenoyan and Strahan 2004 and Franke and Krahnen 2005). Such an increase is credit supply would be an important consequence of the recent rapid growth of the market for credit derivatives.
Source: Federal Reserve
Dr. B:
That was in 2006. As we all know, CDS have doubled again since then.
iTulip:
So all of the largest banks relied on CDS to make new loans since 1997.
Dr. B:
Correct, and that means that central banks cannot wave a magic wand and declare all CDS contracts null and void because if they do loans that were made in the US by the largest banks only because they were insured by CDS will have to be declared null and void, too. No one knows exactly the total loan value is of these CDS-dependent loans but it must be high enough to call their solvency into question because these banks refuse to lend to each other no matter how much the Fed increases reserves.
iTulip:
Have you tried to estimate total CDS dependent loan value?
Dr. B:
I have. Back in 2006 when the Fed did the research there were eight banks with assets over $100 billion. As of May 2008 there are 20, as you can see in the chart below.
Bank Assets in $1,000s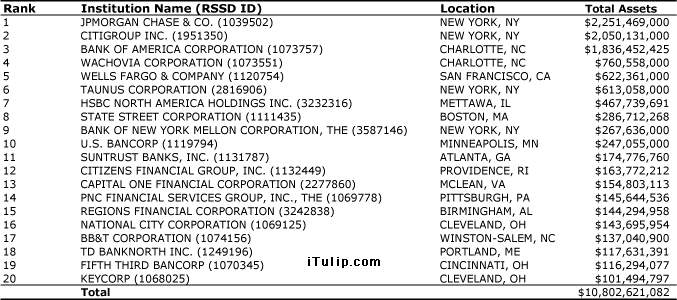 Source: Federal Reserve
Dr. B:
How much of the combined $10 trillion in assets of these banks was taken on since 1997 and what portion of that expansion was enabled solely by use of credit derivatives? Conservatively, let us estimate the total is 20% of loans. That represents $2 trillion in loans that have to be cancelled in order for the CDS to be cancelled. That is why canceling them is a non-starter.
iTulip:
But why does the total value need to be that high to make the decision to cancel all CDS a non-starter for central banks? Doesn't the act of canceling the CDS mean that these loans are technically 'bad" loans? No bank can survive a write-down of 10% of assets never mind 20%. Doesn't this mean these largest banks are technically insolvent?
Dr. B:
Now you understand the problem! You nailed it. That is why I say they are dead and all the cash infusions in the world from the Fed won't bring them back to life. They are dead with the CDS and dead without them. The Fed may as well stop the intra-venous injections of reserves.
iTulip:
That implies a loss of, if not all of the banks' assets, a portion of the aggregate value at distressed sale prices. Best case, what, 50% or $10 trillion?
Dr. B:
For a $10 trillion loss.
iTulip:
Thank you for the opinion. I'm sure it will generate a lively response.
Dr. B:
You are very welcome.
iTulip

Select

: The Investment Thesis for the Next Cycle™
__________________________________________________
To receive the iTulip Newsletter or iTulip Alerts, Join our FREE Email Mailing List
Copyright © iTulip, Inc. 1998 - 2007 All Rights Reserved
All information provided "as is" for informational purposes only, not intended for trading purposes or advice.
Nothing appearing on this website should be considered a recommendation to buy or to sell any security or related financial instrument.
iTulip, Inc. is not liable for any informational errors, incompleteness, or delays, or for any actions taken in reliance on information contained herein. Full Disclaimer