Are stocks pricing in a Recession, a Depression or a Great Depression?



by John Serrapere

Stocks are tracking rapidly declining economic conditions that imply greater than -10 RGNP contraction and an S&P 500 new lows -10% to -20% below the Nov. 19 close. There is hope that the bottom will remain near 800 and be no lower than the Oct 2002 lows near 780 at year-end (-3.3%). The best case would be a violent crash within the next few week with a 15% to 20% rally following capitulation.

This hope will turn to conviction if the S&P 500 can rally above 916 soon (+13.6% from Nov. 19) and close 2008 no lower than 880, which were prior support and resistance areas. This price action gives the market room to breathe and for volatility to settle down. The current rate of change is greater than at any point in since the Oct 2007 highs, which implies lower lows and more panic (see chart). The rally needs to ensue soon before the Thanksgiving Holiday, if it does not, stock patterns would be tracking those evident during past depressions.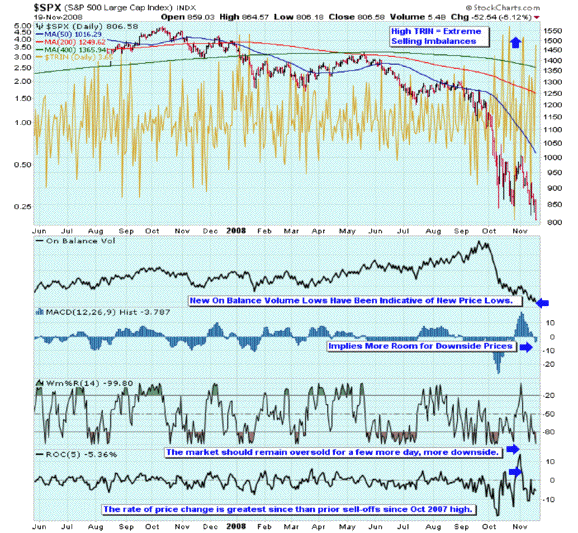 I was hopeful before Nov. 19 that stocks were pricing in a severe recession, which resulted in -46% stock declines during prior panics. Now, it is more likely that stocks are pricing in a garden variety 19th Century Depression, which had contractions of -10% to -15% with unemployment rates of 12% to 15%. Only the Great Depression was worse than these contractions.
If so, our depression will most likely be worse than the 1980-1982 periods but, better than the 1930s. Below are John L. Williams's definitions of economic contractions.
Recession, Depression and Great Depression. Please note: This definitional section has been lifted from Shadow Government Statistics.
Recession
: Two or more consecutive quarters of contracting real (inflation-adjusted) GDP, where the downturn is not triggered by an exogenous factor such as a truckers' strike. The NBER, which is the official arbiter of when the United States economy is in recession, refines its timing calls on a monthly basis, through the use of economic series such as payroll employment and industrial production. It no longer relies on the two quarters of contracting GDP rule.
Depression
: A recession, where the peak-to-trough contraction in real growth exceeds 10%.
Great Depression
: The peak-to-trough contraction in real growth exceeds 25%.
The chart below embodies the crux of my concern. Nov. 19 we made a convincing new low at 906.58 which is 49% off the Oct 2007 high. There has been only three instances since 1900 when we have been down near or more than -50%, 1938, 1974, and 2002. If we follow the former two bears, the final retest of the Nov. 19 low would not be completed until near the end of January 2009 (41 to 44 trading days from Nov. 19. If we follow the 2002 to 2003 pattern, we would not see the final lows until the beginning of April 2009. The problem lies with JP Morgan's methodology when compiling the following chart. They measure the 1938 low from the 1929 high. I recognize two bears from 1929 -1933 and 1937 – 1938.
The chart below was featured in Panic P/Es, which shows all Bears since 1873. Embedded in this chart is the longest (34 months) and deepest (-86%) stock decline of all time (9/7/29 to 7/8/32). Stocks were down 49.6% from the Sep 7, 1929 high on Nov 7, 1930. As of Nov 19, 2008 stocks are down 48.9% from their Oct 8, 2007 high. So if we follow the 1929 to 1930s bear, we are in for a long winding decline.
Stock went on to set a series of new lows on Dec 8, 1930 but stayed near or above this low until April 25, 1931. It then stayed -53% to -60% below the Sep 1929 high until Sep 1931. The market slowly meandered to its ultimate low with a trough of -86.2% on a closing basis on July 8, 1932. Stocks then traded -75% to -85% below the 1929 peak until May 1933. They remained -60% or more below the 29 peak until Jan 1936. The market's best recovery point was Mar 5, 1937 when it sat only -41.5% below the 29 peak.
My uneasiness comes from the violent nature of the market's decline which is usually evident only prior to new lows that historically have lied in wait -10% to -20% below the Nov. 19 close (645 to 725). Another troubling point is that all prior secular bears since the late 1800s, have tested long-term secular trend line support, which is near an S&P 500 price of 575 (29% lower).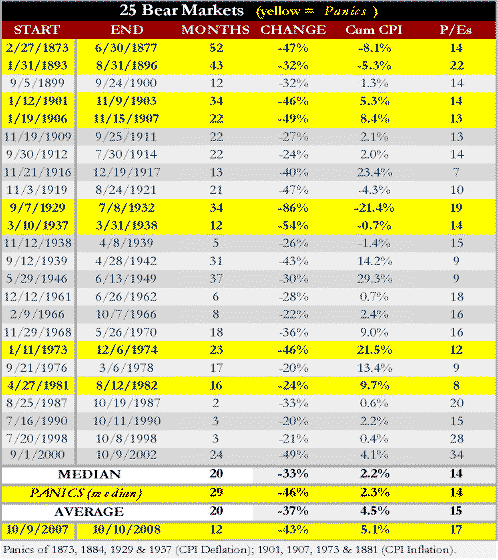 Photo Credit:
New Deal Network
See also:
NYA falls below July , 2008 Low - John Serrapere
Tracking Portfolio A - John Serrapere
Defense Pays! - John Serrapere
Portfolio A: Defend & Advance - John Serrapere
Mr. Serrapere has been advising investors since 1986. Mr. Serrapere was formerly Investment Analyst & Portfolio Strategist for Foster Holdings, Inc. and a principal of Rydex Leveraged Hedges, LLC in Rockville, MD where he designed registered and non-registered products.
Mr. Serrapere has published in
The Journal of Indexes
,
Global Financial Data
, Corporate Finance Review (Warren Gorham & Lamont, NY, NY), The Retirement Planning Journal (Commerce Clearing House, Chicago, IL) and has presented for Information Management Network (NY, NY).
__________________________________________________
To receive the iTulip Newsletter or iTulip Alerts, Join our FREE Email Mailing List
Copyright © iTulip, Inc. 1998 - 2007 All Rights Reserved
All information provided "as is" for informational purposes only, not intended for trading purposes or advice.
Nothing appearing on this website should be considered a recommendation to buy or to sell any security or related financial instrument.
iTulip, Inc. is not liable for any informational errors, incompleteness, or delays, or for any actions taken in reliance on information contained herein. Full Disclaimer