FRED on FRED® Nov. 6, 2008
An occasional column where I drop a few charts on you derived from the latest data provided by my namesake
FRED®
with my take on what they mean.
What year is it? 1983!
At least that's the case if you are in the business of selling light trucks. The data out of the Fed today shows unit volumes not seen since Donna Summer sang "She Works Hard For The Money" three years into the recessions that followed Fed Funds rate hikes to 19% under the Paul Volcker Fed. The rate of change is stunning. (See
The Myth of the Slow Crash: Just because it's big, doesn't mean it can't go down fast. In a debt deflation, the extreme rate of change even fools central bankers 8/29/07
)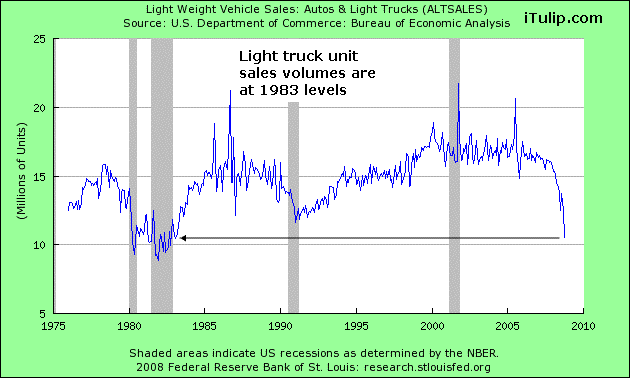 What country are we in? Japan?
Even though it's 1983 in light truck sales, it's not 1983 in Fed Funds ammo. The US is not struggling with a recession induced by a hawkish Fed but a recession on the way to depression after the Fed fired its last bullet and the Effective Fed Funds Rate at 0.23% plumbs the very bottom of the rate scale.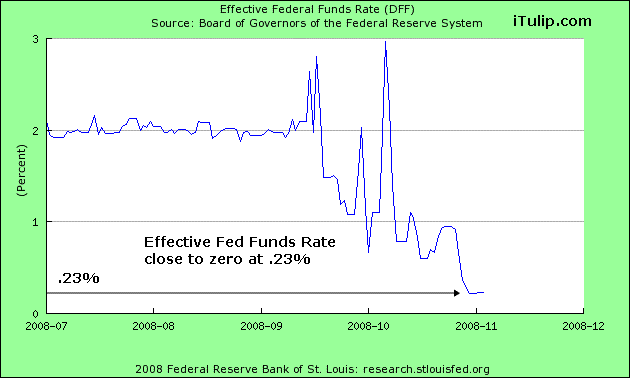 What's next? Bankruptcies!
As the recession deepens, companies go out of business left and right, defaulting on their bonds as they do. Fed flaccidity in the face of financial foundering is bound to show up in the corporate bond market as falling prices and rising yields as default risk rises.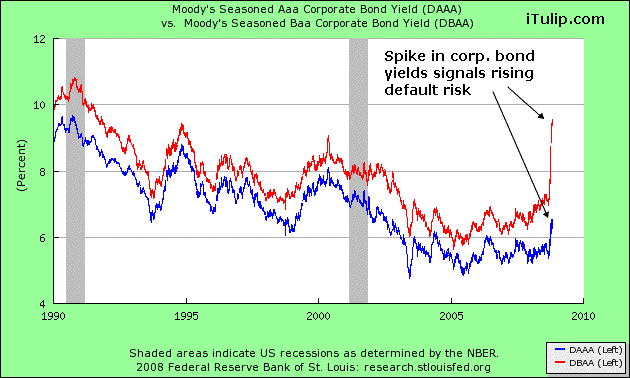 Sea level returns to normal
At least the CD market has finally calmed down as government guarantees of liquidity calm the money markets.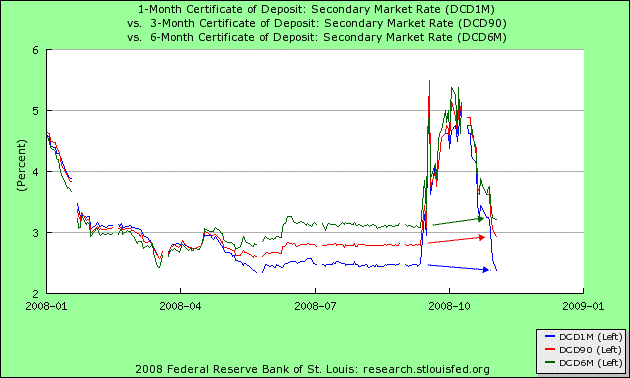 Stimulate this!
Can the federal government bail everyone out? It can if it's willing to spend as many percent of GDP as after WWII. How big will New New Deal spending get? 5% of GDP? 10% or more?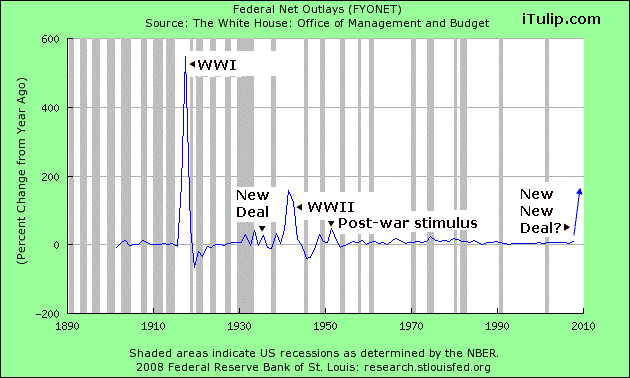 iTulip

Select

: The Investment Thesis for the Next Cycle™
__________________________________________________
To receive the iTulip Newsletter or iTulip Alerts, Join our FREE Email Mailing List
Copyright © iTulip, Inc. 1998 - 2007 All Rights Reserved
All information provided "as is" for informational purposes only, not intended for trading purposes or advice.
Nothing appearing on this website should be considered a recommendation to buy or to sell any security or related financial instrument.
iTulip, Inc. is not liable for any informational errors, incompleteness, or delays, or for any actions taken in reliance on information contained herein. Full Disclaimer