Deflationista takes on iTulip to prove deflation is here!



by Roger J. Deflationista (iTulip) October 31, 2008

The Fed faces an impossible task. In the face of recession and the worst credit crunch since the 1930s the Fed's crash program to boost the money supply and raise inflation expectations is a failure. I prove it using the most up-to-date inflation, money supply, and bond rate data issued by the Fed today.

If the Fed has succeeded in boosting the money supply surely the key money supply measure M2 is up. Fat chance! Let's take a look at the carnage!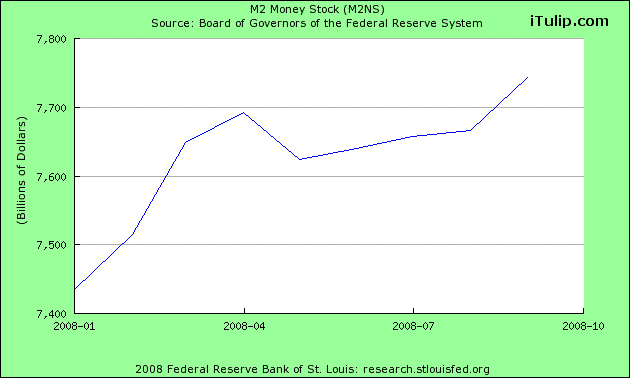 Looks like M2 is up for the year and up for the period ending Oct. 31, 2008. Must be an anomaly–something wrong with the data.
What about MZM? Surely that declined, what will all of the deflation we've been having.
What is MZM and why it's the best measure of the money supply?
A measure of the liquid money supply within an economy. MZM represents all money in M2 less the time deposits, plus all money market funds. - Answers.com

MZM has become one of the preferred measures of money supply because it better represents money readily available within the economy for spending and consumption. This measurement derives its name from its mixture of all the liquid and zero maturity money found within the three "M's." - Investopedia

Here's the collapse of MZM, then.
Well that's disappointing. MZM is up strongly for the year with a sharp spike in the current reporting period ending Oct. 31, 2008.
Fine. But we all known that the banks are sucking wind. Bank credit must be way off, what with all of the stress in the banking system. Bank credit has crashed, right?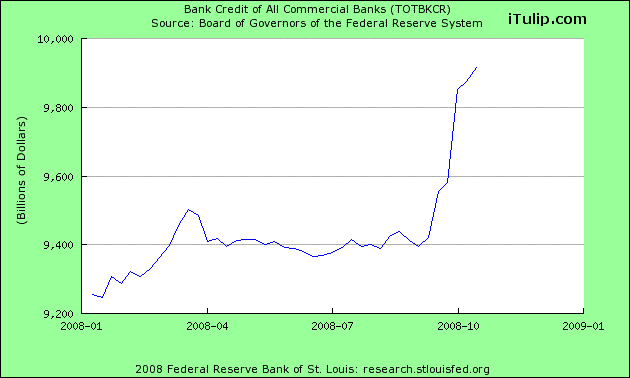 Oops! Bank credit is through the roof. Huh.
Well, so what? That doesn't prove anything. All that money sitting in bank and money market accounts making up M2 and MZM and all that bank credit created by the Fed doesn't mean squat.
The Fed can't make consumers borrow it! The Fed can't make banks lend it! If that were the case then the CPI wouldn't be falling. That's the measure of all that money chasing goods and raising prices, not languishing in bank accounts. Here's where we'll find our deflation. All the Fed's printing is for naught.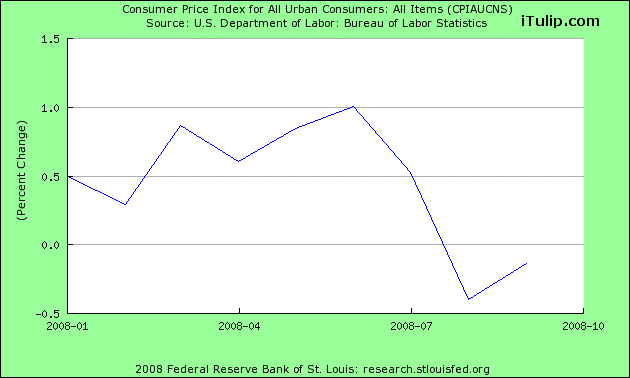 Well whaddaya know. The CPI after falling for a couple of months is up again.
But that's temporary, a lagging indicator. That's inflation from before the recession set in when demand was still high. That's the last we'll see of inflation! And to prove it, we'll look at inflation expectations priced in to inflation-indexed Treasury bonds (TIPS). You can't fool the bond markets! That's thousands of savvy fixed income investors voting pro or con on future inflation. No doubt TIPS interest rates are way, way down, pricing in deflation that will go on for years and years. Why I'd bet dollars to donuts TIPS rates are below 2% now.
No, no! That can't be! TIPS interest rates going from 2016 all the way out to 2032 are spiking? iTulip warned me about this back in early September in
Future inflation fears topple TIPS
but I didn't believe it. Now
PIMCO is piling into them
.
Suckers! Don't they know deflation is in the cards? What does that stupid bond market and PIMPCO know, anyway?
Just look at 30 year mortgage rates. They are falling through the floor signalling that deflation is ripping through the US economy.
Bankrate: Mortgage rates surge to three-month high
Oct. 30, 2008

NEW YORK (MarketWatch) -- Mortgage rates bounded higher this week, with the average 30-year fixed mortgage rate soaring from 6.32% to 6.77%, according to a Bankrate.com weekly national survey. The average 30-year fixed mortgage had an average of 0.39 discount and origination points, it said. The average 15-year fixed rate mortgage jumped to 6.46%, while the average jumbo 30-year fixed rate climbed to 7.95%. Adjustable mortgage rates were mixed, with the average one-year ARM dipping to 6.09%, and the average 5/1 ARM increasing to 6.67%.
Oh, I give up. No signs of deflation anywhere, just a short term spike in the dollar from panicky holders of euros, rubles, reals, pesos, and rupee piling into T-Bills to get into dollars but still avoid US banks like the plague. Everything else points to rising inflation.
Oh, well. Back to the drawing board!
- Roger J. Deflationista
See also:
The truth about deflation
Happy Halloween from the iTulip crew!


iTulip

Select

: The Investment Thesis for the Next Cycle™
__________________________________________________
To receive the iTulip Newsletter or iTulip Alerts, Join our FREE Email Mailing List
Copyright © iTulip, Inc. 1998 - 2007 All Rights Reserved
All information provided "as is" for informational purposes only, not intended for trading purposes or advice.
Nothing appearing on this website should be considered a recommendation to buy or to sell any security or related financial instrument.
iTulip, Inc. is not liable for any informational errors, incompleteness, or delays, or for any actions taken in reliance on information contained herein. Full Disclaimer