Is Hyperinflation Possible?
We have since 1999 believed that the US was destined to inflate its way out of excessive debt, both public and private. The logic of our conclusion is simple. The government can never pay off its debts to foreign governments or to itself – not enough national income. US households can't pay their debts either for lack of opportunities to increase income to cover debts. The Fed has the option to inflate in any economic or financial system crisis that might precipitate a debt crisis because the US is not on a gold standard as it was in the early 1930s when the US suffered a monetary deflation as a result of the last debt crisis. And, finally, monetary inflation is politically expedient because it cannot be readily blamed on one political party, arising as it does from the bipartisan Fed, whereas taxes – the honest means for paying public debts – is political death for the party that chooses it.
In any case, increasing taxes during the kind of economic contraction that typically leads to debt crisis is, as economists say, counter cyclical, like asking your wife if it's okay if you go play cards and drink beer with your friends right after you've finished apologizing for forgetting her birthday, again.
Our expectation was for an inflation to culminate in a 100% rise over a period of five or six years, a major inflation such as occurred in Mexico and Russia in the 1990s, but not hyperinflation as occurred in the Wiemar Republic in the 1920s or Zimbabwe today. We recently read a report by a credible source that makes an extensive case for an American hyperinflation.
When we read John William's recent report on hyperinflation
Hyperinflation Special Report
it struck us as extreme. He suggests a scenario that, unlike ours, says the Fed has no choice but to cause a hyperinflation in order to avert a collapse of the financial system.
To re-calibrate ourselves to analyze William's report we returned to the St. Louis Fed's web site to see how the charts are doing that we first reviewed in January 2008 that show how much the Federal Reserve System member banks, and we suppose now investment and other banks that are not officially part of the Federal Reserve system, are borrowing from the system as the financial crisis that started in June last year continues. Keep in mind that a few "the worst is over" articles came out last week from Sir Warren Buffett and Hank Paulson. Here's what we found.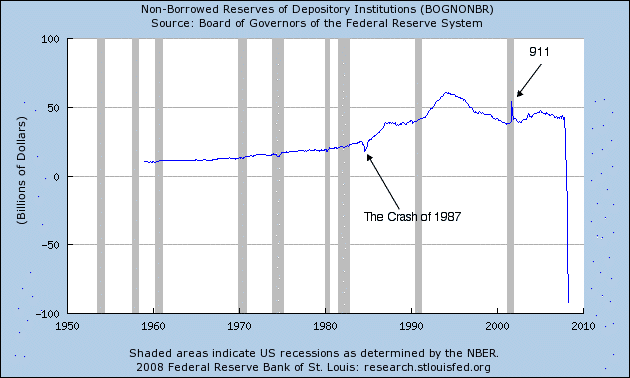 This chart shows how much money was left in the Federal Reserve Banking System
reserve accounts in aggregate across the Federal Reserve system when member banks
drained funds from reserve accounts during previous crises versus this one.
The little blip you see around the time of 911 is the Greenspan Fed expanding reserves in a bid to prevent exactly the kind of event that is happening now. He was afraid that a panic would set off a rush for cash and he wanted to make sure the banks had enough.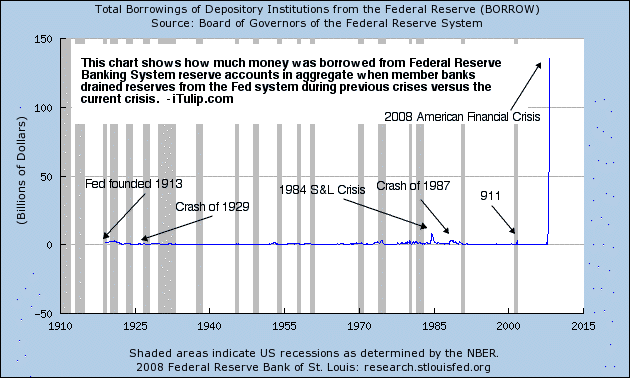 This chart shows how much money was borrowed from Federal Reserve Banking System
reserve accounts in aggregate when member banks drained reserves from the
Fed system during previous crises versus this one.
We are in the midst of a financial crisis completely without precedent. An analysis by economist
John Atlee at Harvard in 2001
shows, "...bank reserve balances at the Fed -- the only reserves the Fed actually controls by its open market operations -- are now only about $7 billion. That's a miniscule 1.3% of checking accounts (not the official 10%), resulting in... extreme leverages." At the time he wrote that report in 2001, total borrowings had never in the Fed's entire history exceed a few billion in a crisis. Atlee, by the way, is in favor of a 100% reserve requirement.
What does it mean? Again, as this circumstance is unprecedented no one knows, but John Williams' hyperinflation scenario is no longer out of the question. Why? Because the only obvious way out is to monetize debt far in excess of reserves that the Fed controls via open market operations. Once printed the Fed has no control over where the money thus created goes, and thus it goes into everything. Oil prices rise. Food prices rise. Stock prices rise. Purchasing power declines.
When we showed these charts previously, when the crisis first started, we received nasty emails from readers who were convinced we'd made these scary charts ourselves and distorted the data to create a dramatic appearance. They are freely available at the St. Louis Fed's web site
here
and
here
.
The official iTulip position on hyperinflation:
Warning about a dollar hyperinflation makes good theater but has little value from an investment perspective. As we've pointed out many times and most recently here in
How to make $301% in six years with low volatility
, dollar hyperinflation is not in the cards.
For a nation to experience a hyperinflation, all four of the following conditions need to be met:
Large and growing external debt as a percentage of GDP with falling GDP (Yes, like the US.)
Politically and economically isolated and irrelevant (Not like the US. Think: Zimbabwe.)
No external demand for the currency (Not like the US dollar. Think: Iraqi Dinar.)
Political chaos (i.e., tanks rolling down the street, not like the US.)
The US meets only the first condition. The US is certainly more politically isolated than in the past but as the world's largest economy is hardly irrelevant. The dollar is still a reserve currency so hardly meets the third criteria. The US is arguably one of the most politically stable on earth so the 4th condition is out.
Hardly the stuff of hyperinflation. That said, the value of a common share of
USA, Inc.
–the US dollar–will continue to come under pressure.
As for the charts above, some say that the sudden surge in reserve borrowing is a technical anomaly, due to a change in the way the Fed accounts for new more creative forms of discount window borrowing. That's true except that the Fed should have taken steps to avoid the distortion the added lending created to the long term borrowed reserves data set and instead created a new one, and at some point the Fed runs out of ways to lend without expanding its balance sheet. Then the William's scenario starts to look possible, but not before a lot of other events occur first.
iTulip

Select

: The Investment Thesis for the Next Cycle™
__________________________________________________


To receive the iTulip Newsletter and iTulip Alerts, Join our FREE Email Mailing List

Copyright © iTulip, Inc. 1998 - 2007 All Rights Reserved


All information provided "as is" for informational purposes only, not intended for trading purposes or advice.
Nothing appearing on this website should be considered a recommendation to buy or to sell any security or related financial instrument.
iTulip, Inc. is not liable for any informational errors, incompleteness, or delays, or for any actions taken in reliance on information contained herein. Full Disclaimer