Inflation is Dead! Long Live Inflation!
The Five Year, 100% Inflation Scenario

by Eric Janszen (from AlwaysOn Network, December 29, 2005)


In this, the final part of my series on the cycle of asset bubbles that we've experienced since the early 1970s, I model a potential inflationary outcome following the deflation of the latest asset bubbles in bonds,
real estate
, and the dollar. My belief is that we are likely to experience a short period of deflation followed by a long period of inflation, a process that I call Ka-Poom Theory.
If a Ka-Poom event happens, the inflationary part of the cycle might evolve according to the model below. The model predicts an inflation that results in a 100% increase in the general price level over five years, not far short of Price Waterhouse's definition of a hyperinflation, which is defined as 100% or more over three years. But keep in mind that the difference between a major inflation and a hyperinflation is not a matter of degree. Both result in a rapid increase in the general price level, but while a major inflation is due to a surfeit of money, a hyperinflation is due to a loss of confidence in a currency. While they are related, the key difference is that inflation is mostly a monetary event, while hyperinflation is primarily a psychological event, the process of a currency losing its function as a store of value in a society.
A
major inflation
can lead to a hyperinflation, but does not need to. The 100% inflation total that I use in the model is more or less arbitrary, used primarily to make the math easier. But there's no reason why in reality the inflation could not be either less or more. I have seen convincing arguments for 1000% inflation over a ten-year period, but few that anticipate an inflation of less than 50%. The Vietnam War period resulted in a 35% inflation over six years; it's hard to imagine how the additional amount of debt that needs to be monetized in our current period will not lead to inflation in excess of 35%.
Five-Year 100% Inflation Scenario
A 100% inflation over five years might look as follows to a household that in Year Zero has an annual income of $100,000 and a fixed rate mortgage balance of $400,000 on a house valued at $500,000.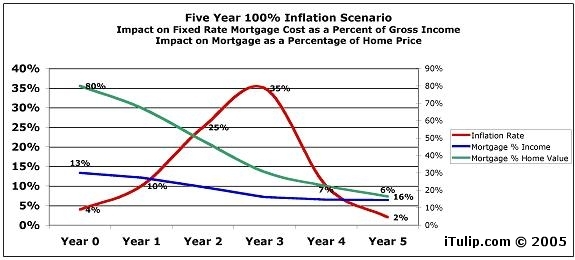 In the model, inflation peaks at 35% in Year Three. If 13% of income is paid annually toward the mortgage at the start of the period, at the end of five years the fixed mortgage cost falls to 6% of income and the mortgage balance represents 16% of the value of the home versus 80% at the start.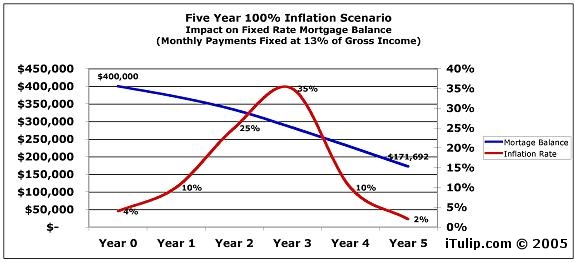 If the homeowner increases his annual payments to adjust to 13% of income over the five-year period as nominal income rises, the amount paid in increases such that at the end of Year Five the mortgage balance has been reduced from $400,000 to $171,692. That's many years of normal debt payoff condensed into a few years.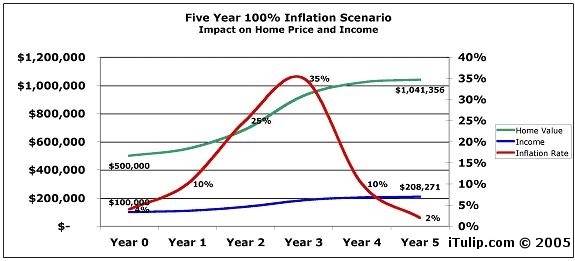 In this model both nominal income and home value double. In reality, since so much inflation has already happened in real estate and high interest rates will increase the real cost of borrowing,
home prices
are likely to rise more slowly, flatten out, or even decline.
We're likely to experience a major inflation in the U.S. as an outcome of the bond, housing, and dollar bubbles that came about as a result of past monetary and fiscal policy errors. In fact, a political decision process that favors inflation, as evidenced by the housing bubble, started in the mid-1990s. The U.S. may muddle through an adjustment to less reliance on foreign debt, and households may regress to the mean in terms of savings and debt, as
John Mauldin
suggests. That is my hope. But highly leveraged nations and households are prone to crises, and with little savings and much debt, the opportunity to muddle through a crisis is limited.
In closing this series, I'd like to relate a couple of comments that two friends have made to me about the previous pieces in this series. My friend Bryan tells me that every time he reads my column, he feels like killing himself. My friend Geoff explains he's "addicted" to the column and can't wait for the next one. I can understand Bryan's reaction, though I feel it's extreme. I have a harder time imagining what kind of masochist Geoff must be to actually
enjoy
reading about dysfunctional central bankers, inept politicians, deluded homeowners, complacent investors, popping bubbles, and major inflations.
Perhaps he's experiencing what I call the Disaster Movie Effect. The point of going to a disaster movie, my script writer sister Karen once told me, is that everyone dies in a hail of bullets or a horrific explosion except the hero... and you. The hero takes off with the girl (or boy, if it's an indie movie) while you get to go home and watch
Simpsons
reruns. Likewise, for most Americans, an article about an economic crisis is like a movie about a pogrom in Africa. One reads about awful things happening to millions of unfortunate others thousands of miles away. Afterwards, one moves on to the story about Michael Jackson's pajamas.
What I want to make sure I get across here, in case it's not obvious, is that I'm fairly certain that an unseemly economic turn of events is more likely to happen than not, probably in the next three years, and it's going to happen here, in the U.S. To us. To you and me. While it's likely to be worse than most of us are prepared for—that is, it will not be your average recession—it will not be the end of the world either, although there may be times when things look that way. It will certainly be the end of living high off the hog on other people's savings, and it will represent a transformation that we must go through to get to a different place.
Whether you experience the new place as better or not is going to depend on where you started and what's important to you. While periods of economic readjustment are never painless, it's important to keep in mind that the challenges we face as individuals represent nothing worse than those that 90% of the world's citizens cope with every day with grace, dignity, and humor. No one owes us a high standard of living, and most of the world gets by without one. Our main challenge will be to accept and deal with our problems effectively in the short term. It will require strong, honest leadership. In the long term, we can count on the United States' and its people's extraordinary ability to adapt to change and come out ahead.
(This four part series originally published on the AlwaysOn Network will be re-published on iTulip.com in flash-back order, starting with the last in the series and ending with the first, in order to elicit feedback from the iTulip.com community.)

Join our FREE Email Mailing List
Copyright © iTulip, Inc. 1998 - 2006 All Rights Reserved


All information provided "as is" for informational purposes only, not intended for trading purposes or advice.
Nothing appearing on this website should be considered a recommendation to buy or to sell any security or related financial instrument.
iTulip, Inc. is not liable for any informational errors, incompleteness, or delays, or for any actions taken in reliance on information contained herein. Full Disclaimer