Sector Hedge Portfolio - July 2006 YTD

by John R. Serrapere
Past results may not be indicative of future results.

Portfolio A records the performance of a sector rotation strategy (up 11.4% year-to-date). The strategy rotates long/short positions within sectors and industry groups via exchange traded, closed-end, and open end funds.
Longs
Forty per cent of long assets are held in consumer staples and pharmaceuticals via Pharmaceutical Holders Trust (PPH, BlackRock S&P Quality Rankings Global Equity Managed Trust (BQY), and Fidelity Food & Agriculture Fund (FDFAX). The portfolio is also defensive against the US Dollar with 37.5% of long assets in gold/precious metal stocks and foreign bonds via USAA Gold & Precious Metals Fund (USAGX), streetTRACKs Gold Trust (GLD), and Templeton Global Government Income Fund (GIM).
RSP shorts were added to provide a paired sector hedge with GLD longs at a 2 to 1 exposure ratio.


Long equity positions include 8% in energy, 2% in Energy Select Sector SPDR (XLE), and 6% in Oil Services Holders Trust (OIH) plus 10% in BQY, 15% in the Telecom Holders Trust (TTH), 20% in FDFAX, and 10% in PPH. The energy sector represents (in our view) a fallen market leader while telecom has emerged as a leading sector ETF.
Energy longs are currently paired with an emerging market short on a 1.6 to 1 ratio.

All long exposures are
DEFENSIVE:
8% market leaders, 37.5% Dollar hedges, and 59% represent undervalued sectors.
July 10-11, 2006…PORTOLIO CHANGES:
Replacing USAGX with Gold Vectors ETF (GDX) and cover RWR & short NASDAQ 100 (QQQQ)
Shorts
We are short -10% of 134.5% gross exposure in streetTRACKS Wilshire REIT Fund (RWR), -5% in iShares MSCI Emerging Markets Fund (covering half of our EEM shorts on June 8th), and -15% in the Rydex S&P Equal Weight ETF (RSP). Primarily, relative sector valuations, earnings quality, and risk management determine portfolio allocations. Secondarily, short positions are primarily based upon taming volatility.
Current Commentary
HIGH QUALITY (HQ) STOCKS BEST THE S&P 500 & RUSSELL 1000 INDEXES.
ENERGY, REAL ESTATE, TRANSPORTS, TELECOM & UTILITIES LEAD JUNE RALLY.
CRB INDEX CLIMBS ABOVE ITS' 200 DAY MOVING AVERAGE PRICE (DMA).
LOW QUALITY (LQ) LEADS HQ DURING RALLIES.
HQ defensive stocks fell much less than the market and lower quality issues during the correction from May 9 through June 13. For example, BQY (53% domestic and 47% foreign HQ equities) was down 5.5% while the S&P 500 and EEM declined 7.7% and 26.2%. The market discounts LQ prices more than HQ firms that record more consistent earnings and dividend growth. LQ resumed leadership as stocks rallied from June 13-30 (indicating that the decline and rotation are young).
As expected, year-over-year (YOY) all items inflation is and has been higher than 3.5% in 8 out of the last 10 months with core CPI closing in on 2.5%. 06Q1 nominal (N) YOY GDP and real (R) YOY GDP were 7.2% and 4.7%.
RDGP has remained above 2.5% since O3Q3.
Slower growth and core CPI above 2.5% are expected to result in RGDP below 2.5%, which has been critical. Since 1968, when this threshold has been breached, market declines have averaged 34% with an average duration of 16 months (peak to trough) Interest rates are expected to rise another 25 bps at the short while longer maturities climb another 50 bps over the next 12-months.
Global rates continue to climb as inflation rises. Gold rallied above $625 (resistance) after correcting to its 200 DMA, which is common during bull runs. The Dollar (85.5) is above its 50 but below its 200 DMA.
The entire portfolio is defensive
(HQ and defensive stocks plus Dollar hedges).
The Party is over.
Although cash levels, credit, and stock buybacks support equities (now), global liquidity has been and will continue to wane as traders lighten up on their Yen-carry-trades. Portfolio A lost 0.67% in May (correction) and -0.41% in June.
Sector Hedges/Portfolio A Performance (recorded simulations) by John R. Serrapere, July 7, 2006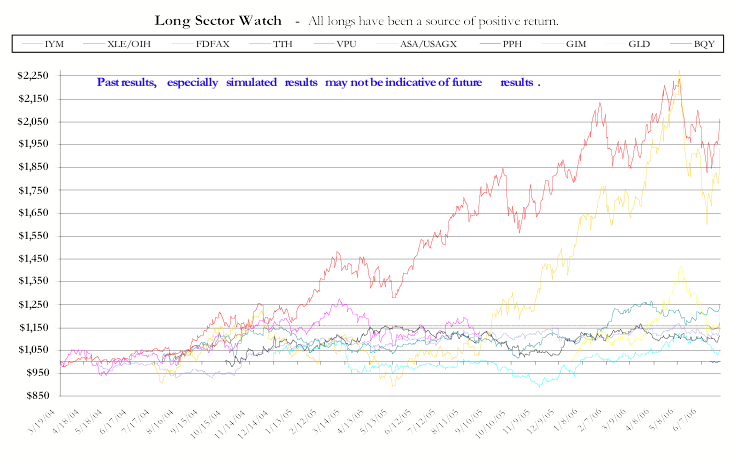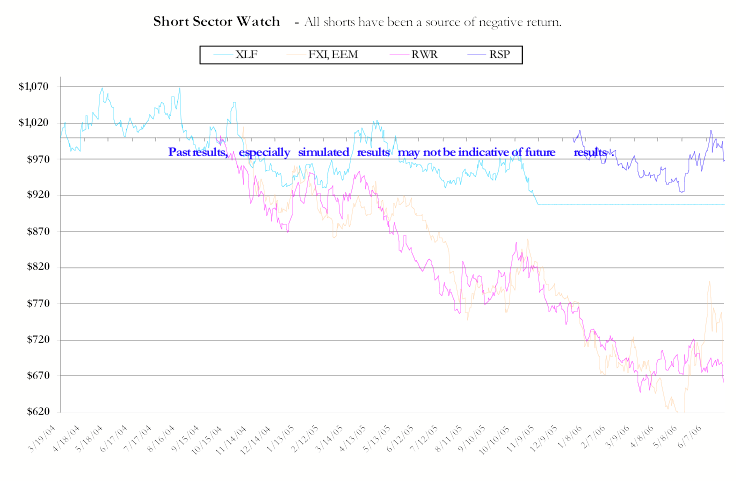 This report was originally written to internally advise private funds for a qualified investor. The posting of this report for public viewing is intended to demonstrate applied research without an intent of business solicitation.


John Serrapere - Investment Analyst & Strategist - Foster Holdings, Inc.
Mr. Serrapere has been advising investors since 1986. He currently is the Investment Analyst & Portfolio Strategist for Foster Holdings, Inc., a large Pittsburgh, PA based family office. His firm also consults other investors seeking alternative investment options. Mr. Serrapere was formerly a principal of Rydex Leveraged Hedges, LLC in Rockville, MD where he designed registered and non-registered products.
Mr. Serrapere has published in
The Journal of Indexes
,
Global Financial Data
, Corporate Finance Review (Warren Gorham & Lamont, NY, NY), The Retirement Planning Journal (Commerce Clearing House, Chicago, IL) and has presented for Information Management Network (NY, NY).
Join our FREE Email Mailing List
Return to iTulip.com
Copyright © iTulip, Inc. 1998 - 2006 All Rights Reserved


All information provided "as is" for informational purposes only, not intended for trading purposes or advice.
Nothing appearing on this website should be considered a recommendation to buy or to sell any security or related financial instrument.
iTulip, Inc. is not liable for any informational errors, incompleteness, or delays, or for any actions taken in reliance on information contained herein. Full Disclaimer