It's the FIRE Economy, stupid



by Eric Janszen

The US cannot maintain foreign demand for financial assets while depreciating the currency in which those assets are denominated. As destructive as FIRE Economy industrial policy is, ripping out its key support with an implicit Weak Dollar Policy is insanity.

This week US stock markets finally started to price in reality of a fundamental conundrum that is never discussed. Can a crashing FIRE Economy be rescued with Production/Consumption Economy policy tools?

Here's a brief Reuters report that summarized the key issues affecting the market this week as this policy mismatch began to hit home.




The collapsing housing bubble continues to hammer the US economy, hitting auto makers and retailers and driving consumer confidence to two year lows. The bonds that built the housing bubble continue to sell off, while banks tighten lending standards and politicians pig-pile onto the banks, right on cue, to make a bad situation worse.

The credit crisis caused by failures in the ratings process of structured credit products, far from being over, is now beginning the critical stage. "We believe the liquidation process has begun," S&P said in its statement.

S&P says State St-managed CDO liquidating assets

Nov 9, 2007 (Eric Burroughs - Reuters)

The trustee of a $1.5 billion collateralised debt obligation (CDO) managed by State Street Global Advisors has started selling assets, apparently starting a process of liquidation, Standard & Poor's said late on Thursday.

The news from the ratings agency raised worries of similar action on a wider array of structured securities, and stirred more fears about the exposure of U.S. financial institutions to credit markets.

The impact on the financial markets is expected to be severe.

Credit crisis worse than LTCM - Lehman's Malvey
Nov 9, 2007 (Walden Siew - Reuters) The U.S. credit crisis is now worse than the crisis of confidence following the collapse of Long-Term Capital Management in 1998 and recession risks are growing, said Jack Malvey, chief global fixed income strategist at Lehman Brothers. In 1998, investor confidence was shaken after deep losses resulted in the collapse of Long-Term Capital, which spurred the Federal Reserve to initiate a bailout of the hedge fund to avert a wider financial collapse. "This is the deepest correction we've ever seen in structured finance," Malvey said in an interview on Friday. "This is now worse than Long-Term Capital."

Fiscal stimulus and inflationary short term rate cutting options have been "used up" since the 2001 post-stock market bubble recession, meaning they will either fail to produce much in the way of additional economic stimulus or will only do so at the price of unacceptable levels of inflation. The only remaining economic reflation tool to ward off recession, that is only moderately versus highly inflationary, is dollar depreciation to boost exports. US economic policy makers have been working the Weak Dollar Policy with a vengeance.

U.S. Economy: Trade Gap Shrinks, Exports Offset Housing Slump
Nov. 9, 2007 (Bob Willis and Courtney Schlisserman - Bloomberg)

The U.S. trade deficit unexpectedly narrowed in September as the strongest global economy in almost three decades and a weaker dollar prompted economists to raise their estimates for third-quarter growth.

Customers abroad snapped up American products from cotton to semiconductors, offsetting the deepening housing recession that is eroding consumer confidence. Exports have reached a record for each of the past seven months, the longest surge since 2000.

The flip side of the Weak Dollar Policy is reflected in the prices of commodities priced in dollars. The resulting inflation is no more obvious than in the commodities index.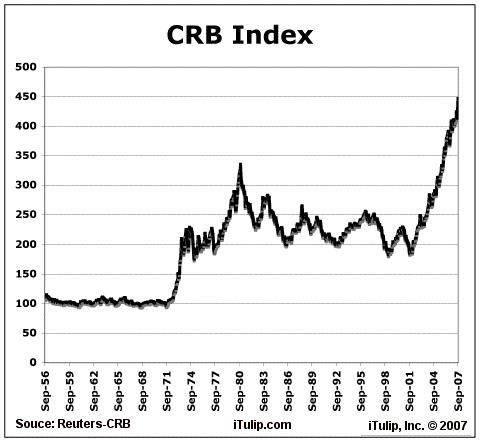 The application of the old fashioned beggar-thy-neighbor currency depreciation economic rescue has been widely deplored this week, from the Wall Street trading floor to the testimony of Ben Bernanke, which was roundly and effectively abused by Rep Ron Paul. Former Treasury secretary Robert Rubin chimed in to sound the alarm.
Rubin Says Relying on Weaker Dollar Isn't `Sound'
Oct. 30 (Sophie Caronello and John Brinsley - Bloomberg)

Former Treasury Secretary Robert Rubin said relying on a falling currency to stoke exports isn't a ``sound approach'' and urged economic policy changes that would strengthen the dollar.

"The lower the exchange rate, the less that we receive in exchange for what we produce, and that lowers our standard of living," Rubin said in an interview after attending a conference in Washington. "Our objective ought to be to have a strong currency based on sound policy."
In the video below (thank you, Sapiens), a Wall Street trader criticizes both the Weak Dollar Policy and Bernanke's testimony before Congress.
Our old nemesis Jim Cramer, while railing against New York State Attorney General Andrew Cuomo's "Communist" interference in the NY housing market and on Fed policy, continued in the video below (thank you, WCDRob) with spot-on criticism of the Bernanke Fed. He started with his criticism back before the Fed cut rates sharply a couple of months ago and the DOW was trading close to 14,000. His point then was that the Fed should not crash the dollar but should instead allow the stock market to take a 1,000 point hit then rather than build structural inflation into the economy. A couple of months later, the market has gotten both: structural inflation and a nearly 1,000 drop.
Our chief criticism of dollar depreciation is not merely that long term inflationary costs outweigh the short term growth benefits. In case US economic policy makers hadn't noticed, in the early 1980s the US economy became a
FIRE Economy
, with industrial policy focused on Finance, Insurance, Real Estate. It's Production/Consumption Economy is now subservient to the FIRE Economy.
The US imports raw materials and finished goods and exports financial assets, on net.
Currency depreciation is a bad idea for an economy that primarily gains access to foreign exchange from the sale of raw and finished goods because–as Thailand, Indonesia, and Korea learned in the late 1990s–speculators can jump in a turn a gradualist currency depreciation policy into a currency crash. But the US FIRE Economy depends on the sale of financial assets not "stuff" to earn foreign exchange.
What happens when you weaken the currency of a FIRE Economy dependent country? Short term you get a narrow economic boost that is reflected in, as Jim Cramer says in the video above, "What, ten stocks?" Long term, you get a sell-off in that country's major export, financial assets.
Using a Weak Dollar Policy to rescue the finance-dependent US economy isn't just a bad idea, it's insane. It guarantees that the export products that the US mostly depends on to maintain personal consumption, on which 70% of the US economy depends, will lose value. For a finance-based economy, a falling currency begets a falling currency. Where it stops, nobody knows.
Here is what a Weak Dollar Policy is doing to US stocks. Below, the DJIA today priced in euros.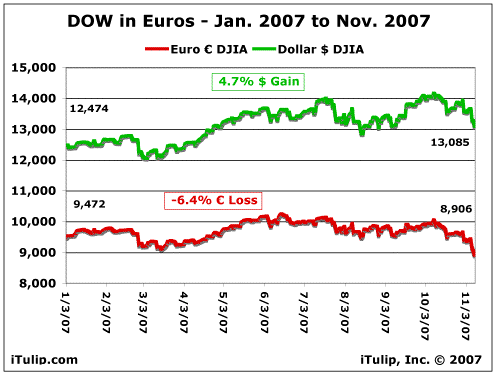 As bad as the rout in US stocks has been for US investors, for foreign investors it has been a disaster. In our previous update of this chart mid-October, the DOW in dollars year to date was up 8.8% and the DOW in euros up 1.4%. As of today, the DOW in euros has plunged to a 6.4% loss.

Will "Emerging" P/C Economies save us?
Consider the USA's economic opposite, China. China's is not a consumer economy. China is a factory that imports raw materials and produces finished goods. It runs a massive trade surplus in the process and is able to build national savings as a result. The chart of relative current account balances of all major nations below shows China looking not emerging but emerged, with the largest current account surplus of all countries and the US submerged on the other end of the scale with the largest deficit.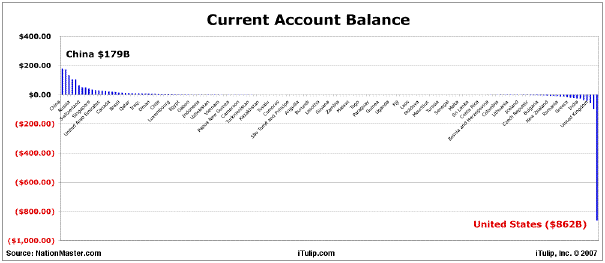 Click to Enlarge
While we like to think that China will some day become a major market for US goods, an honest assessment of long term Chinese industrial policy is that this is never going to happen. Chinese industrial policy is to consume, for example, Cisco Systems' networking gear only to the extent that 1) it is needed today to build productive capacity, and 2) Cisco's gear cannot be replaced by domestically produced equipment made by Chinese telecommunications and networking equipment vendor Huawei Technologies. The latter condition will change eventually, and the US will lose one of the few remaining areas of competitive advantage outside its FIRE Economy.
A Weak Dollar policy should help companies like Cisco lead the US economy away from the edge. But as Ron Paul, Jim Cramer, and the trader in the videos note, the benefits are both expensive–in terms of loss of foreign purchasing power of income–and short lived. Just how short is coming as a surprise to Wall Street.
Tech Stocks Drop After Cisco Warning
November 8, 2007 (Michael Liedtke, AP Business)
Tech Stocks Plunge Amid Signs of a Widening Economic Slowdown in US
SAN FRANCISCO (AP) -- Technology stocks made an abrupt U-turn Thursday, reducing the gains that had been piling up as investors sought refuge from the lending and housing morass weighing on the U.S. economy.
Intenet networking supplier Cisco Systems Inc. took one of the biggest beatings after its chief executive, John Chambers, warned that weakening demand among major customers, including banks saddled with huge loan losses, would probably slow Cisco's growth.
Cisco's shares plunged $3.12, or 9.5 percent, to close Thursday at $29.63. That marked the sharpest decline in the San Jose-based company's stock price since a 10.6 percent drop in August 2004.
Another example of Chinese P/C Economy versus US FIRE Economy industrial policy is reflected in steel production and consumption.
All of the growth in world steel production since 2001 has come from Asia, and most of that from China: more than doubling in four years. A country does not experience that kind of growth in an industry without heavy government subsidies.
This recent report
by the International Trade Administration of the U.S. Department of Commerce explains.
Steel production in China was 418 million tons last year, up from 182 million tons in 2002, which is 129 percent in four years, making China the largest steel producer in the world. This is more than the production in the European Union, Japan, and the United States, the next largest producers, combined.

Growth in China's capacity has transformed it from a net importer to the world's largest steel exporter. Last year China displaced Canada as our primary source of steel imports.

China continues to use a wide-range of what appear to be illegal subsidies under WTO rules. For example, the Chinese government gives exporting companies 50 percent off of their income taxes if they sell 70 percent of their products abroad. This is clearly a violation of WTO rules.

Fact is, Chinese per capita consumption
has been declining since 1952
, reflecting long term economic policy aimed at building domestic capacity for capital formation and national savings at the expense of personal consumption, essentially the opposite of US FIRE Economy industrial policy.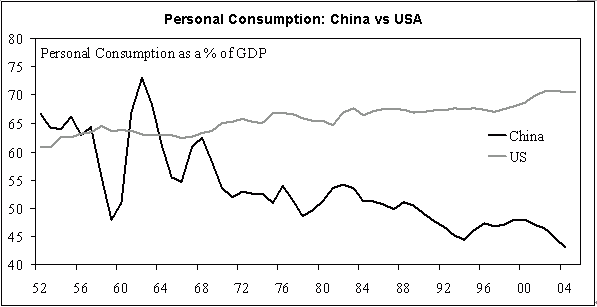 Personal consumption is growing in China but not as fast as GDP.
In the US, personal consumption has been growing faster than GDP.
The USA's P/C Economy polar opposite is not going to pull the US FIRE Economy out of hole it dug itself by allowing a bubble to form in the real estate sector of its dominant FIRE Economy. As the FIRE Economy heads into crisis with the demise of large segments of the securitized debt market that were build on a foundation of ill-conceived and poorly regulated applications of the concept of securitized debt, the only policy tools available to central banks to fight the P/C Economic economic problems now beginning to emerge were designed to fight the last war. In fact, using the old tools is counterproductive.
As the US depreciates the dollar, US financial assets lose value. Financial assets are the primary goods the US needs to sell outside its borders to cover its current account deficit, not to mention finance its fiscal deficit spending.
A Weak Dollar policy applied to the FIRE Economy represents incompetent execution of bad industrial policy. By pushing dollar depreciation, economic policy makers are going to get more than they bargained for: a massive crisis in the US and global economy, followed by a level of restructuring that historically brings about total political regime change. Let's hope the change is constructive.
iTulip

Select

: The Investment Thesis for the Next Cycle™
__________________________________________________
For a book that explains iTulip concepts in simple terms see americasbubbleeconomy
For the safest, lowest cost way to buy and trade gold, see The Bullionvault
To receive the iTulip Newsletter or iTulip Alerts, Join our FREE Email Mailing List

Copyright © iTulip, Inc. 1998 - 2007 All Rights Reserved


All information provided "as is" for informational purposes only, not intended for trading purposes or advice.
Nothing appearing on this website should be considered a recommendation to buy or to sell any security or related financial instrument.
iTulip, Inc. is not liable for any informational errors, incompleteness, or delays, or for any actions taken in reliance on information contained herein. Full Disclaimer