To: Chairman Ben S. Bernanke
From: Eric Janszen, President, iTulip, Inc.
Subject: Congressional Testimony and Fed Credibility
Date: September 21, 2007
Dear Chairman Bernanke,
Reading your testimony "
Subprime mortgage lending and mitigating foreclosures
" before the Committee on Financial Services, U.S. House of Representatives September 20, 2007 I am compelled to comment. Two assertions in your testimony in particular drew my attention.
In your testimony you state: "As I noted in a speech last month at the economic symposium hosted by the Federal Reserve Bank of Kansas City, the turbulence originated in concerns about subprime mortgages, but the resulting global financial losses have far exceeded even the most pessimistic estimates of the credit losses on these loans."
Evidence of the potential for substantial losses by investors in housing market related securities have been available from numerous credible sources since at least 2003, that is, for over four years. Research by the
Center for Economic and Policy Research
(CEPR),
International Monetary Fund
(IMF), and
The Levy Institute
is consistent with research by analysts at several major banks, including
Credit Suisse
and
Northern Trust
.
In addition, an Internet search produces links to many web sites that provide copious amounts of information on the topic, such as the following:
dollarcollapse.com
ml-implode.com
fallstreet.com
immobilienblasen.blogspot.com
comstockfunds.com
californiahousingforecast.com
housingdoom.com
globaleconomicanalysis.blogspot.com
merkfund.com
patrick.net
marketoracle.co.uk
thehousingbubbleblog.com
safehaven.com
oftwominds.com
Further, well developed analysis of and reporting on the housing market and its impact on the economy and financial markets has been and continues to be available at the following sites:
http://seekingalpha.com
http://www.minyanville.com
http://www.rgemonitor.com
http://www.hussmanfunds.com
http://www.prudentbear.com
http://www.europac.net
http://contraryinvestor.com
An explanation of the existence of the housing bubble has been available since
August 2002
and a specific step-by-step housing market decline timeline has been available since early
January 2005
.
Your expression of surprise at the fallout of the collapse of the housing bubble in the presence of so much data leaves observers to conclude that you are either misinformed or are not being entirely forthright. As you have a 30 plus year record as an able and diligent researcher and thinker, the options for interpretation of your motives for making this assertion are few and unflattering and do not reflect well on the institution of the Federal Reserve.
The second point in your testimony that I am compelled to note is your assertion that the housing bubble was primarily driven by strong global economic growth. Facts available to anyone with a basic understanding of finance and economics, and an interest in reviewing them, suggest that this cannot possibly be true.
As the Fed lowered short term interest rates from 6.5% May 2000 to 1% June 2003, LIBOR which is used by banks to set the variable portion of adjustable rate mortgages (ARM) declined to 1.25%.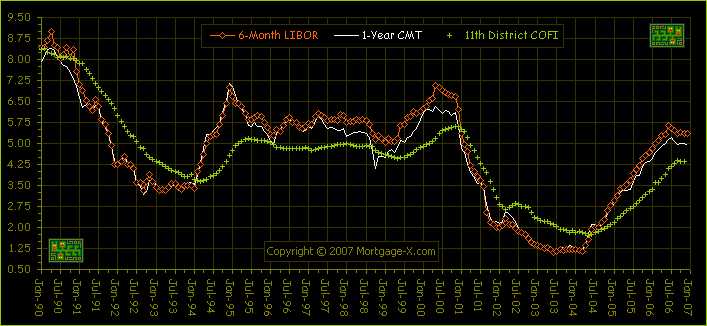 As a result, the monthly interest rate on an ARM declined from 6.5% to as low as 2.0%, effectively reducing the monthly cost of a $1,000,000 home in 2003 to the cost of a $630,000 home purchased with a 6.5% ARM or fixed rate mortgage a few years before. Not surprisingly, an unusually large numbers of ARMs were sold.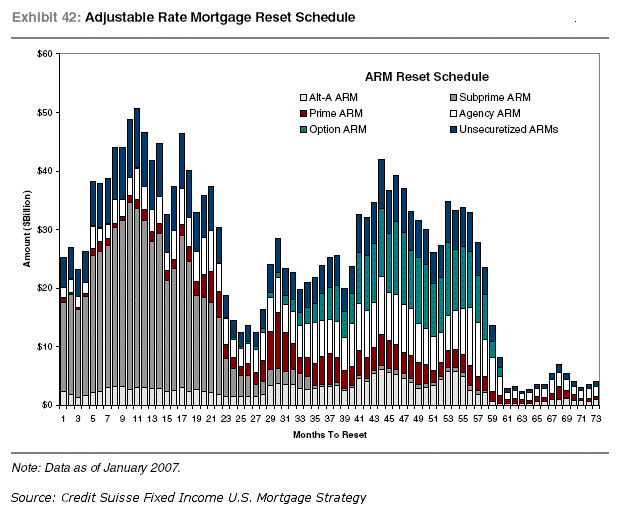 Several years are needed for home builders to gear up and build new homes to increase supply. However, interest rates were dropped quickly and so credit and the money supply rapidly increased. Home prices therefore rose quickly.
Data that show the huge increase in the quantity of low quality loans following the rate cuts are readily available. For example: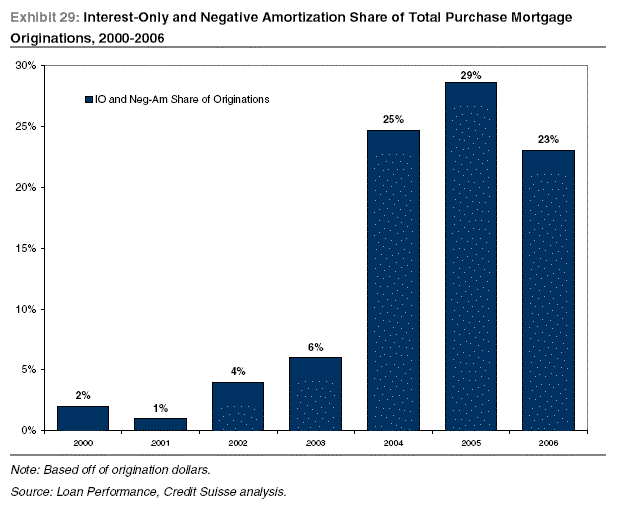 Rather than repeat the fiction that the Fed could not have known what was going on in the housing market while the housing bubble was in progress, that the fallout of the collapse of the housing bubble was not likely to be severe, and that Fed policy had nothing to do with it, you are better off saying nothing at all.
Your predecessor, Alan Greenspan, is now attempting in his new book ageofturbulence, and on the TV interview circuit to promote it, to recast himself as a free market warrior fighting the forces of Congressional government bureaucracy and fiscal profligacy. Yet for nearly two decades he demonstrated by word and action consistent support of the interests of Wall Street over the interests of main street and the US economy.
During his tenure, two massive asset bubbles, one in stocks and another in housing, creating $6 trillion and $13 trillion in fictitious value respectively by our calculations, were encouraged by monetary policy in concert with the policies of the very government bureaucrats Greenspan purports to have countered. Through tax policy, but also via politically motivated de-reglation of the banking system through repeal of the Glass-Steagall Act, conflicts of interest in the real estate and financial services industry were created while regulatory responsibilities were not carried out. These combined to create the credit and foreclosure crisis we are experiencing today.
Hiding behind the mantel of free market capitalism, Greenspan did more than any other public or private official in the past 20 years to turn the US economy from the most economically strong, independent, and credit-worthy in the world to one of the most economically fragile, dependent, and indebted.
I believe I speak for many of the organizations listed above when I say that after 18 years of watching and listening to Alan Greenspan we have hoped for better from the Fed under your leadership, and that there is widespread disappointment that the Bernanke Fed did not reveal itself to be a new regime of openness and honesty before Congress and the American people in yesterday's testimony as many had hoped. Instead we see evidence of more of the same–propagation of discredited theories and obvious fictions.
The consequences of this cannot be overstated. Over time, as reflected in the recent decline in the exchange rate value of the dollar and declines in net foreign purchases of U.S. financial assets, as well as empirical evidence collected from conversations our firm has had with global market participants, investors around the world have been losing their faith and trust in U.S. financial markets, which for the decades preceding the Greenspan Fed, with the exception of the Nixon/Burns Fed, represented the global gold standard for operational transparency and stability. While out of your control, the loss of confidence in the U.S. economy and financial markets has been compounded by perceived errors in U.S. foreign policy, making a return to capital markets transparency all the more urgent and important.
Continued abuse of the trust and intelligence of global investors risks critically damaging the U.S. investment climate. If allowed to continue, not only will foreign investment in the U.S. decline, but domestic capital will leave the U.S. for more stable and transparent capital markets abroad. A period of capital flight cannot be ruled out.
But it's not too late. The damage has been severe, but is not irreparable.
I conclude with a sincere appeal to you to endeavor to reverse this trend, starting with your next testimony to Congress. I believe you will find that the admission of past errors and a commitment to more sound and sustainable monetary policy in the future, followed up in practice, will be greeted by Americans and the world with enthusiasm and good will to the betterment of our nation and the global economy.
Sincerely,
Eric Janszen
Founder & President
iTulip, Inc.
iTulip

Select

: The Investment Thesis for the Next Cycle™
__________________________________________________

For a book that explains iTulip concepts in simple terms see americasbubbleeconomy

To receive the iTulip Newsletter or iTulip Alerts, Join our FREE Email Mailing List

Copyright © iTulip, Inc. 1998 - 2007 All Rights Reserved


All information provided "as is" for informational purposes only, not intended for trading purposes or advice.
Nothing appearing on this website should be considered a recommendation to buy or to sell any security or related financial instrument.
iTulip, Inc. is not liable for any informational errors, incompleteness, or delays, or for any actions taken in reliance on information contained herein. Full Disclaimer