Fueling the FIRE Economy

: Part I


The End of the Stock Market Bubble and the Genesis of the Housing Bubble by Eric Janszen

(Explanation of the FIRE Economy is available

here

.)

Two days ago we posted the thread

Can the U.S. economy digest the trillion dollar ARMs egg?

We discuss the implications of the more than one trillion dollars of adjustable subprime and prime mortgages that the U.S. economy swallowed since 2001 are due to re-price over the next five years.

One of our astute members looked at the chart below and posted a sensible, one might say, obvious question: "Could someone explain why the re-pricing of Prime adjustable rate mortgages (ARMs) seems to rise just as the Subprimes are trailing off?"

All good answers start with good questions. A huge batch of Prime ARM resets follows a huge batch of subprime ARMS because the wave of originations of subprime loans with very short adjustable periods–two to three years–followed a wave of originations of prime loans with longer duration adjustable periods–five to seven years.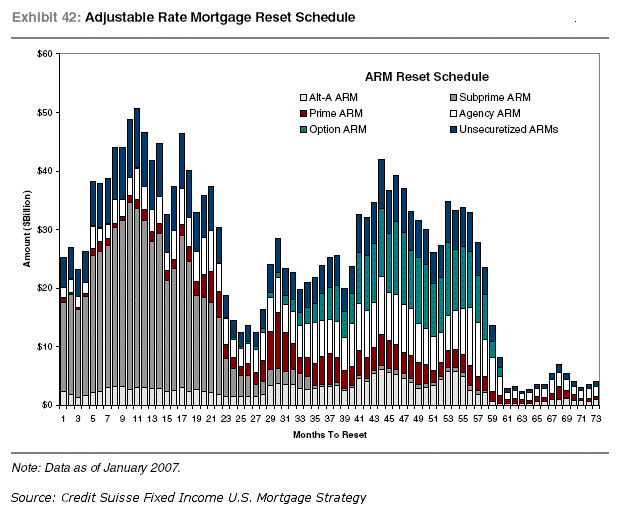 But why? You'd expect a fairly steady flow of mortgages of all types over time, resulting in an ARM repricing picture more like this.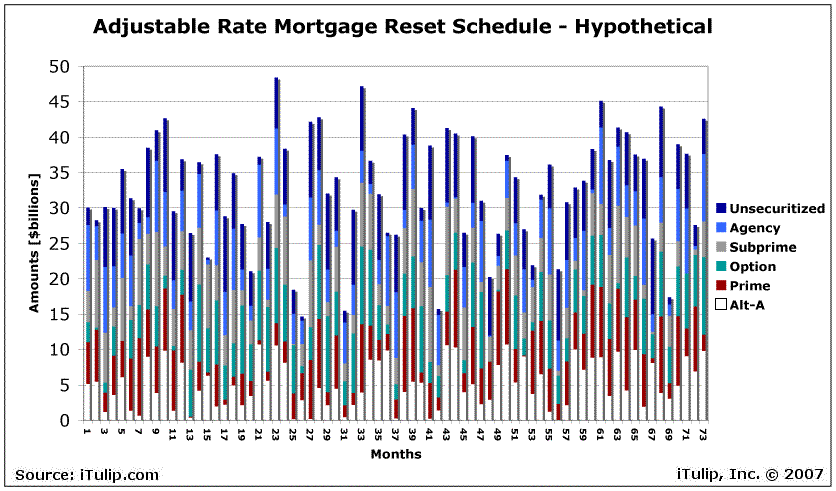 In the hypothetical case of mortgage originations occurring within a normal distribution by type over time,
(here the numbers are random by year within a historical range) there are no waves. What occurred instead were two massive waves of mortgages, one after the other.
Why, and what does it mean?
What Happened
To answer that, we go back to the days before the housing bubble, when prices were merely rising, but no "home prices only go up" asset bubble belief system had yet gripped the market, although the seeds were planted by many years of continuous home price appreciation since 1995 and–as with all asset bubbles–massive government assistance. In the case of the housing bubble, government assistance came in the form of rate cuts in 2000 and 2001, the Taxpayer Relief Act of 1997 that allowed couples to bank $500,000 in tax free capital gains upon selling a house they owned for only two years–the Flipper Act–and a S&L Boom style look-the-other-way policy on bad lending practices.
For decades before iTulip
posted this survey
on the credit bubble in 2001, Americans thought of their homes as stores of wealth.
Home equity as the primary source of wealth in the U.S. However, when asked to rank sources of wealth for affluent households by the June 2001 ORCI survey, only four in ten Americans (40%) correctly identified equity in one's home as the most important source. "Contrary to the belief of many, those with modest incomes can, over time, build wealth," noted Stephen Brobeck, CFA's Executive Director. "The easiest way to do so is to buy a home, faithfully make the mortgage payments, and be cautious about borrowing the accumulating home equity," he added.

But the stock market bubble busted the year before in 2000 and a recession hit the U.S. in early 2001. U.S. households were in distress and stopped growing home equity as a store of wealth. Instead, they cashed it out to make ends meet.
To make this cash-out possible, immediately after the stock market crash of 2000 the Fed dropped the Fed Funds rate from 6% to 1%. While standard fixed mortgage rates declined moderately, the short end of variable rates on ARMs fell to unheard of low levels.
As
mortgage-x.com
explains, the variable rate that lenders offer for the introductory period of an ARM is based on short term interest rate indexes: "CMT, COFI, and LIBOR indexes are the most frequently used. Approximately 80 percent of all the ARMs today are based on one of these indexes." All three indexes are close to each other.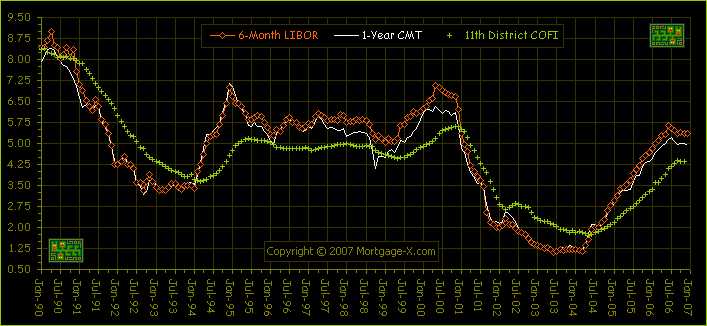 For our purposes, we compare 6-month LIBOR and National Average
Contract Mortgage Rate.

Short rates drop to extremely low levels between 2001 and 2004.
Not surprisingly there was a jump in borrowing.

Home equity borrowing sky-rocketed.

Cash-out refinancings ballooned.

Starting in 2002, the first ARMs "egg" was composed of the most credit-worthy borrowers who re-financed their homes to take advantage of the low variable rates of ARMs to cash in the inflated "equity" in their home. The "equity" was the result of asset inflation, itself a consequence of low interest rates that allowed the
Monthly Payment Consumer
to afford a $1 million home for half the monthly cost financed on a 3% variable ARM than on a 6% fixed rate mortgage a year earlier. Demand for more expensive homes increased much more quickly than supply. LIBOR dropped from 6.5% to 2% in only one year, between January 2001 tand January 2002. The housing industry needs years not months to gear up to meet the new demand created by this sudden halving of monthly mortgage costs, so home prices increased dramatically.
When lenders ran out of credit worthy Prime mortgage borrowers in 2004–about the time Greenspan made his famous buy ARMs recommendation–loan origination had been dropping off. The lending industry responded by creating new types of loans for people with little or not credit, so-called "subprime" mortgages, and packaged them as a ticket to the dream of home ownership.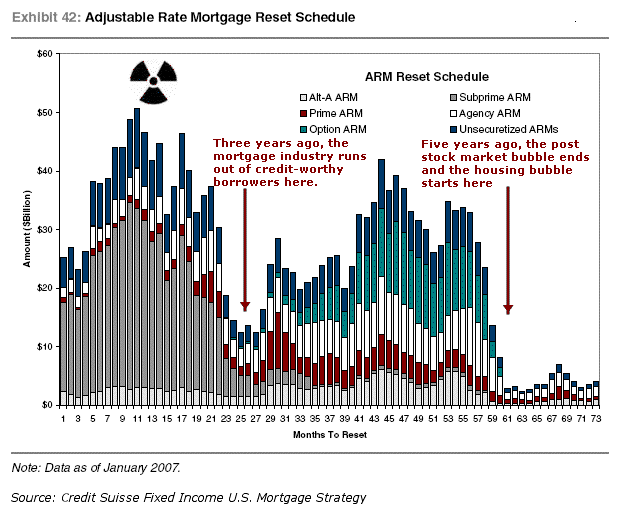 The answer to our member question is summarized above. Interest rates were dropped and kept well below the rate of inflation–were "accommodative"–in a deliberate attempt to inflate housing prices to prevent the 2001 recession of the US economy from deteriorating into a full-blown debt deflation.
Summary
Historical norms of mortgage and consumer lending became historical for a reason: they work. For mortgage lending, the rule of thumb has since the end of The Great Depression been the
20/28/36 rule
: Down payment 20%, monthly mortgage payments not to exceed 28% of household gross annual income, and total monthly payments for all debt including the mortgage payments not to exceed 36% of annual income. Housing prices were inflated, the finance-manufactured "equity" cashed out. Now the process goes into reverse, putting the
FIRE Economy
at risk. As economists Srinivas Modukuri and Amitabh Arora from Lehman Bros. explained during the Q&A section on a
conference call yesterday
, the current mortgage lending crisis as far worse for borrowers than the S&L crisis, which resulted in over a million homes lost to home owners in foreclosure. But the risks to the banking system, they believe, are much lower due to securitization of these mortgages.
The experts have been wrong for years about every other aspect of the housing bubble, and our analysis indicates they will be wrong about this, too.

What does it

mean

?

Next: See Fueling the FIRE Economy - Part II

__________________________________________________
Special iTulip discounted subscription and pay services:

For the safest, lowest cost way to buy and trade gold, see The Bullionvault
To receive the iTulip Newsletter or iTulip Alerts, Join our FREE Email Mailing List
Copyright © iTulip, Inc. 1998 - 2007 All Rights Reserved


All information provided "as is" for informational purposes only, not intended for trading purposes or advice.
Nothing appearing on this website should be considered a recommendation to buy or to sell any security or related financial instrument.
iTulip, Inc. is not liable for any informational errors, incompleteness, or delays, or for any actions taken in reliance on information contained herein. Full Disclaimer