In response to reader demand for more feel-good story balance on the tulip, and so no one in our community flogs themselves into a state of religious fervor by extreme practices of mortification of the brain with grim text from reading about lying central bankers and greedy Wall Street hacks, I offer the following passel of heart warmers, starting with this piece of propaganda from the Armed Forces Press Service: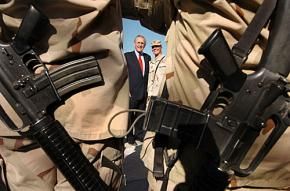 Military Police Teach Rule of Law, Tolerance to Iraqi Police
Iraqi police learn concepts of freedom and democracy in addition to policing skills, Galloucis said. Instructors discuss the importance of free speech, the value of diversity, the sanctity of human life, and the notions of tolerance, restraint and forgiveness, he said.
Iraqi police also learn "that nothing good ever comes out of hatred and murder," Galloucis said, noting Iraq's citizens acknowledge the importance of establishing a constabulary that operates according to principles of fairness and justice.
"They are making tremendous strides over here and are out there every day putting it all on the line to help turn the tide and stem the flow of violence that has been so prevalent here," the colonel said.
Encouraging except that the story is nearly identical to those published three years ago when the Iraqi police training started, leading your writer to wonder if there's been more progress on cops training than on, say, restoring electricity or telecommunications destroyed by the U.S. during the invasion or by the insurgents since. From July 2003:
The 156th Military Police Detachment (Law and Order), West Virginia Army National Guard, is not just setting a standard for the Iraqi police force--they are creating it. At the Iraqi Police Academy, Iraqi policemen are gaining knowledge and receiving proper training--training they have lacked for many decades--through interaction with their American counterparts.
Has a familiar ring to it. Still, let's not forget that the successful security of the Iraqi elections in 2005 was entirely maintained by the Iraqi police. Maybe they have come a long way from the early days and only the PR is stale. You don't hear many stories now like the one about the training session in 2003 when a U.S. MP reportedly ordered a Iraqi policeman, seasoned under Saddam's regime, to "arrest this man," the subject in the exercise. The Iraqi cop threw the man on the ground, put a boot on his neck and demanded, "Give me your wallet!" Maybe he and his friends have been effectively retrained, or maybe they got jobs with the IRS.
(Click to see the whole image.) I still feel good about freedom of expression in the U.S. Say what you want about our system, the truth does–but somehow or other–eventually get out.

Ok, enough of this. Let's get back to business. Last week I wrote a companion piece to "How Much of Your Car Should You Finance? Zero percent." titled "How much house should you finance? Follow the 20/28/36 rule." I got an education from the feedback. Two problems. One, the average college grad leaves college with $10,000 in debt, and many have $40,000. At this rate, infants will be born with debt in their own name, a medical bill attached to their birth certificate with an approved Visa application. Two, home prices versus wages have pushed the age for owning a home–and I do mean owning, not renting from a bank, as in no mortgage–out ten years beyond where it used to be.
Majority of under-35s can't afford own home
People under the age of 35 who own their own home are now in the minority, because soaring prices make it impossible for young people to get on to the housing ladder.
Only 49 per cent of under-35s are home owners, compared to 59 per cent in 2001, says Propertyfinder, the estate agency website. Soaring prices have pushed the number of first-time buyers to its lowest level for 26 years, figures released by the Halifax show.
Many under-35s also overestimate their chances of ever owning a property, the website found, with 57 per cent of younger people hoping to buy their first property between the ages of 29 and 35.
"The desire to own a home remains deeply ingrained in the national psyche," said Warren Bright, the chief executive of Propertyfinder. "But many people's eyes are bigger than their wallets and they are likely to be disappointed."
Mr Bright said that millions of people who expected to retire as home owners might be destined to remain tenants all their lives because of soaring property prices.
"In future a smaller proportion of people will be home owners than presently," he said. "We estimate that around 3.1 million of today's over-30s who had expected to retire in their own homes will live out their golden years in rented accommodation."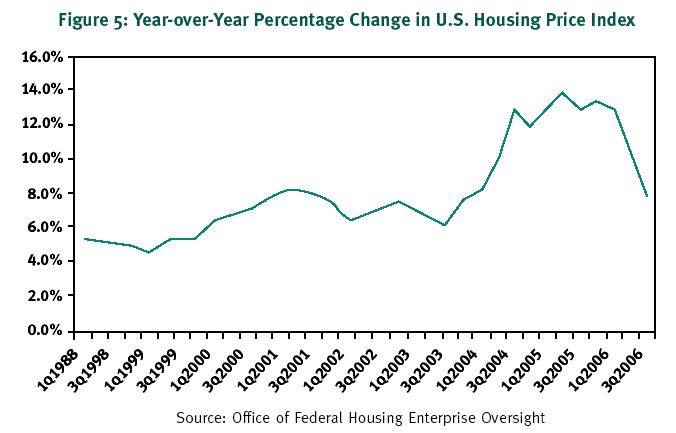 No way. We have a solution to that problem: wage inflation plus home price depreciation. What are the chances that home prices will decline in line with our 2004 prediction? As a matter of fact, home prices are already back to 2004 nationally, as the graph to the left shows. How about the likelihood that we're going to get a 100% inflation over six years? Can it happen here?

That's the $100 trillion bonar
question. Rick Ackerman and I are working out an audio debate, with Rick on the deflation side and yours truly on the inflation side. For those of us who have been tracking this question for, oh, eight years or so, it's becoming its own special kind of extreme practice of mortification of the brain flesh. Maybe Rick and I can erect some sign posts so at least we know where we are in either process.


__________________________________________________
Special iTulip discounted subscription and pay services flogged here:

For a book that explains iTulip concepts in simple terms americasbubbleeconomy
For a macro-economic and geopolitical View from Europe see Europe LEAP/2020
For macro-economic and geopolitical currency ETF advisory services see Crooks on Currencies
For the safest, lowest cost way to buy and trade gold, see The Bullionvault
To receive the iTulip Newsletter or iTulip Alerts, Join our FREE Email Mailing List
Copyright © iTulip, Inc. 1998 - 2007 All Rights Reserved


All information provided "as is" for informational purposes only, not intended for trading purposes or advice.
Nothing appearing on this website should be considered a recommendation to buy or to sell any security or related financial instrument.
iTulip, Inc. is not liable for any informational errors, incompleteness, or delays, or for any actions taken in reliance on information contained herein. Full Disclaimer