China central bank sees risk of US dollar slide on asset sell-off December 7, 2006 (Forbes)

China's central bank said it is concerned over a possible slide in the US dollar if there is a widespread move to sell off dollar assets.

The People's Bank (nasdaq: PBCT - news - people ) of China said in its 2006 Financial Stability Report that Asian oil exporting countries also may need to adjust their foreign exchange holdings to reduce risk.

"If the US current account deficit growth continues to be higher than GDP growth, the investment value of US assets will be questioned by global investors, and the willingness of investors to continue holding and buying US financial products may weaken," the central bank said.

China has been cautious in its statements about the dollar. It now has over 1 trln usd in foreign exchange reserves and some 70 pct of that is believed to be held in dollar-denominated assets.

Officials have talked of diversifying the nation's foreign exchange holdings but they do not want to trigger a sharp sell-off that will reduce the value of the assets China now holds.

AntiSpin:

That's like a pension fund with 12.5% ownership of pets.com shares in early 2000 declaring they'd like to sell but don't want to start a run on the stock. The parallels between the U.S. dollar now and dot com shares in 2000 is starting to get eerie.

The comparison of the U.S. dollar now to the Argentine peso in 1980 is as inaccurate as it is invidious. A closer analogue is between USA, Inc. today to pets.com in 1999.

When the dollar tanked in light trading after Thanksgiving, Ben Bernanke was out Monday first thing yapping about inflation, meaning to send the message to U.S. creditors that the Fed was ready to raise interest rates to defend the dollar, even if that meant throwing the post-housing bubble U.S. economy into recession sooner than later.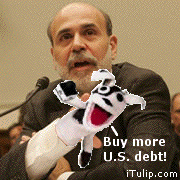 USA, Inc.'s employees (citizens) can't buy cars made by major shareholders (countries that own shares in USA, Inc.–dollars–such as China and Japan) unless he or she is given the money with which to buy them. If interest is due and the incentives, to which employees have become accustomed, are no longer available, such as zero money down, and interest free loans, well...
Consumer Borrowing Falls in October
December 7, 2006 (AP)
Consumer borrowing fell in October by the largest amount in 14 years, reflecting a big drop in auto loans.
The Federal Reserve reported Thursday that borrowing declined at an annual rate of 0.6 percent in October following a revised 2 percent increase in September. It was the biggest drop since a 1 percent plunge in October 1992.
The weakness last month came from a huge falloff in demand for auto loans and other types of non-revolving credit, which declined at a rate of 3.3 percent in October, following a small 0.4 percent gain in September.
USA, Inc. revenue is dropping off. Do China et al double down or restructure the debt? Stay tuned.