Government and Service Jobs for All!
The latest payroll employment numbers came out today and they are not pretty. Unemployment has picked up over the past seven months. As usual, before we dig deeper into the Labor Department's numbers to see where jobs were lost and gained, first we unfurl the United Banana Republic of America (UBRA) flag because, once again, the big winner in job growth is in government.
Jobless rate rises to 4-year high of 5.7 percent
Friday August 1, 1:29 pm ET
By Jeannine Aversa, AP Economics Writer

Jobless rate rises to 5.7 percent in July as employers cut 51,000 jobs

WASHINGTON (AP) -- The nation's unemployment rate climbed to a four-year high of 5.7 percent in July as employers cut 51,000 jobs, dashing the hopes of an influx of young people looking for summer work.Payroll cuts weren't as deep as the 72,000 predicted by economists, however. And, job losses for both May and June were smaller than previously reported.
AntiSpin:
First, the bad news: payroll employment is down for the seventh straight month. Readers are reminded that unemployment is a lagging economic indicator; to see unemployment rising at this juncture of a recession generally means it's going to get a lot worse. As we explained in
Housing Bubble Correction Update: Here comes the jobs crash (Part I)
, we are likely only half way through a recession process that started Q4 2007.
Next, the even worse news: the banana republicization of America has not slowed one bit.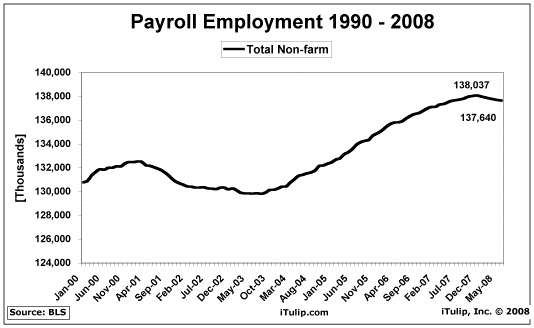 Hard to believe but in 1990 private sector manufacturing jobs stood at parity with government jobs around 18 million. Today, government jobs account for 16% of total employment while manufacturing accounts for less than 10%.
The policy of depreciating the dollar to stimulate the economy and correct our trade imbalance leads foreign investors to buying UBRA stocks and other assets at fire sale prices, and travel to the US to enjoy a budget summer vacation in New York City. Don't forget to tip the poor American wait staff! They need the money to buy gasoline that's up more then 300% since the dollar depreciation started in 2002.
Like a banana republic that depreciates its currency to give the economy a temporary boost, as the private sector – especially the goods producing sector – of the economy shrinks the UBRA government employs more of its citizens directly and through companies that contract to the government, especially as elections approach.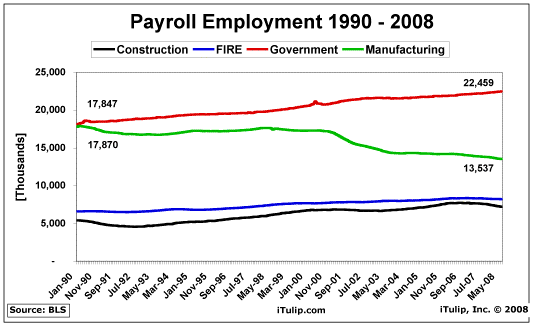 The FIRE Economy took an employment hit along with the building-new-assets-to-be-inflated sector as the collapsing housing market continued to shed construction workers, real estate agents, mortgage lenders, and assorted bankers.
Next week we report on who's getting hit the hardest demographically. Hint: they grew up watching "I Dream Of Jeannie," "Gunsmoke," and "The Andy Griffith Show." Average duration of unemployment for those folks is already up to nearly six months.
iTulip

Select

: The Investment Thesis for the Next Cycle™
__________________________________________________

To receive the iTulip Newsletter or iTulip Alerts, Join our FREE Email Mailing List

Copyright © iTulip, Inc. 1998 - 2007 All Rights Reserved


All information provided "as is" for informational purposes only, not intended for trading purposes or advice.
Nothing appearing on this website should be considered a recommendation to buy or to sell any security or related financial instrument.
iTulip, Inc. is not liable for any informational errors, incompleteness, or delays, or for any actions taken in reliance on information contained herein. Full Disclaimer