Being of sound mind I leave you ... my mortgage payments

August 24, 2006 (The Guardian)

It has been dubbed the "deathbed mortgage". Yesterday a building society began selling a home loan that lasts so long it will be passed from parents to sons and daughters. Kent Reliance said it plans to let home buyers take out an interest-only mortgage where the repayments on the loan are passed from one generation to the next.

The low-cost mortgage - the society says it will typically reduce payments by £150-£170 a month - will enable cash-strapped borrowers to afford the crucial first step on the property ladder. Critics say the loan will turn into a life sentence, with buyers paying a mortgage all the way through their retirement - and still leaving later generations to pick up the bill.

AntiSpin:

Who says you can't take it with you? The Frankenstein Economy just got a bit uglier in the UK but it's been that way for years here in the US. Rather than build equity in your home so you can pass on the equity value to your children, you can pass on your debts instead.

We've had reverse mortgages here in the US for over 15 years, but they haven't gotten popular until recently. The most popular is the federally insured Home Equity Conversion Mortgage: "The Home Equity Conversion Mortgage (HECM) is the only reverse mortgage insured by the federal government. HECM loans are insured by the Federal Housing Administration (FHA), which is part of the U.S. Department of Housing and Urban Development (HUD)."

To give you an idea just how popular they've become during the housing bubble, check out this chart.

Ten years ago, in all of FY1996, a total of 3,596 HECM loans were made. So far in FY2006, starting in October 2005, a total of 62,034 have been made. At this rate, more than 77,500 HEMC loans will be made this year, a 2,156% increase in ten years.

Okay, so where's the Money Shot, you ask? Right here. Using national median home sales price data multiplied by number of HEMC loans made, we derive a good chunk of change, pushing $16 billion in FY 2006 from less than $1.5 billion in 1996.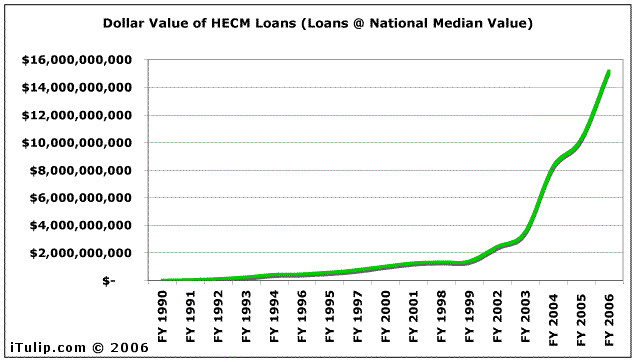 Nice business. Why'd it take our friends in the banking industry in the UK so long to catch on?

Getting paid to live in your house sounds like a great deal. Is there a hitch to re-paying a HECM loan? As the HECM site explains:
As with most reverse mortgages, you must repay a HECM loan in full when the last surviving borrower dies or sells the home. It also may become due if:

you allow the property to deteriorate, except for reasonable wear and tear, and you fail to correct the problem; or
all borrowers permanently move to a new principal residence; or
the last surviving borrower fails to live in the home for 12 months in a row because of physical or mental illness; or
you fail to pay property taxes or hazard insurance, or violate any other borrower obligation.
Reads like a laundry list of events that are likely to happen sooner or later to persons 62 years or older who qualify for HECM loans. That last provision should inspire anyone to read the fine print before signing the docs. It states that if you fail to fulfill "Any other borrower obligation" that you owe the entire amount of the loan. Presumably at that point you have been spending the loaned money for years -- why else take out the loan? -- and don't have the entire amount to repay.