Today we roll out our United Banana Republic of America (UBRA) flag as we dig into the Labor Department's numbers to see where all these jobs came from, but the fact is that our
projection yesterday
of today's payroll numbers was wrong.
The good news: unemployment is only slightly up. The bad news: the banana republicization of America is proceeding apace.
Payrolls Pick Up by 110,000 but Not Enough to Stop Jobless Rate From Rising to 4.7 Percent
The new job market snapshot released by the Labor Department on Friday showed that employers boosted payrolls by 110,000, the most in one month since last May. In an encouraging note, the economy actually added 89,000 jobs in August. That marked an improvement from the net loss of 4,000 that the government first estimated.

To be sure, the ill effects of these problems are showing up at some companies. Construction firms cut 14,000 jobs in September, Factories slashed 18,000. Retailers got rid of just over 5,000 jobs. Financial services companies eliminated 14,000 slots.
However, gains in education and health services, professional services, leisure and hospitality, and in government work more than offset those losses, leading to a net gain in new jobs in September.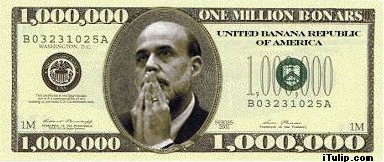 The magic of a depreciating currency is working. Foreign investors are buying UBRA stocks and other assets at fire sale prices. Tourism is up as visitors from Asia, Europe, Canada and all other countries whose currencies have appreciated against the
bonar
flock to visit the US for a cheap UBRA vacation, driving leisure and hospitality jobs within the service sector where most of the job growth occurred.
Like any banana republic that depreciates its currency to give the economy a temporary boost, as the private sector–especially the goods producing sector–of the economy shrinks the UBRA government employs more of its citizens directly and through companies that contract to the government, especially as elections approach.
The payroll numbers today extend a trend that started with post 2000 stock market crash re-inflation policies. Of 140 million jobs in the US economy, approximately 50 million, or 36%, are in the goods producing, construction, and manufacturing sectors. The rest are in finance, retail, services, or government. At 22 million, total government employment is now
at parity with the goods producing sector.
There is little reason to believe that the banana republicization of America will not continue. As long as it does, the UBRA may be able to avoid recession. We will look into other employment data before considering a delay in our forecast of a Q4 2007 recession.
There is one fly in the tropical rum drink. Today's labor department report also showed: "Wages, meanwhile, rose solidly."
Suppression of wage increases has been the centerpiece of monetary and government policy to manage inflation in the Production/Consumption Economy since 1980. Given the difficulty in acquiring legitimate measures of actual inflation rates in the US economy, there is no way of telling whether these wage increases translate into increased purchasing power. Given the rise of oil and other commodity prices, it seems doubtful. In fact, it looks like the UBRA is going full-bore banana republic, including wage and price inflation to maintain employment going into an election year.
iTulip

Select

: The Investment Thesis for the Next Cycle™
__________________________________________________

For a book that explains iTulip concepts in simple terms see America\'s Bubble Economy: Profit When It Pops

To receive the iTulip Newsletter or iTulip Alerts, Join our FREE Email Mailing List

Copyright © iTulip, Inc. 1998 - 2007 All Rights Reserved


All information provided "as is" for informational purposes only, not intended for trading purposes or advice.
Nothing appearing on this website should be considered a recommendation to buy or to sell any security or related financial instrument.
iTulip, Inc. is not liable for any informational errors, incompleteness, or delays, or for any actions taken in reliance on information contained herein. Full Disclaimer