Greenspan needs glasses, employment data surprise consensus economists, stocks tank
Greenspan says market turbulence similar to prior crises

Sep 7, 2007 (AFP)

Former Federal Reserve chairman Alan Greenspan compares the current financial market turbulence to prior crises that have engulfed stock markets and the US

Greenspan, who stepped down as Fed chairman in January 2006, compared the present turmoil to prior crises triggered by hedge fund collapses, excessive land speculation and a bank panic, according to remarks in the Wall Street Journal on Friday.

"The behavior in what we are observing in the last seven weeks is identical in many respects to what we saw in 1998, what we saw in the stock market crash of 1987, I suspect what we saw in the land boom collapse of 1837 and certainly (the bank panic of) 1907," Greenspan said late Thursday, according to the online report.
AntiSpin:
No it isn't. Can't speak for 1907 but global imbalances and asset bubbles are far more extreme now than in 1998, due to the hangover from the reflation policies that followed the collapse of the 1990s asset bubbles.
Nor is the environment going into the post 2001 - 2007 asset bubbles period as benign as in 2001 when the last reflation program started.
From my presentation in Vegas on Monday, the table below shows that preconditions could not be less attractive for a standard post-bubble reflation program of rate cuts, currency depreciation, and deficit spending.

As for today's unemployment data, four out of five economists expected job growth. Today's Wall Street Journal reads:
Jobs Report Could Sport Improved Payroll Growth
September 7, 2007 (WSJ)

Economists generally expect the unemployment rate to remain at 4.6% for August. Nonfarm payroll growth is seen at 112,000 -- stronger than July's 92,000, which reflected a drop in government jobs.

The Myth of the Slow Crash
posits that this drop in payroll employment was due, as the national employment picture changed significantly in the space of a single month, in August 2007, as credit suddenly tightened.
In any case, payroll employment is not much of a leading indicator. Without giving away too many secrets, a key data element used in our year 2000 prediction of the last recession in Q2 2001 were the Duration of Unemployment numbers.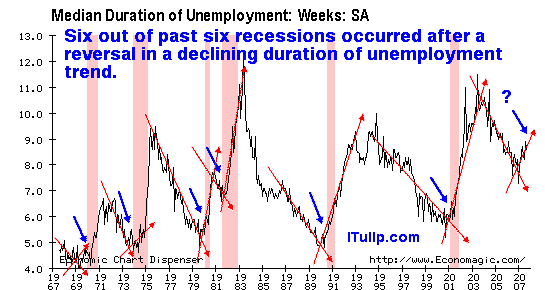 Do you see what we see?
Recession Q4 2007
remains in place, rate cuts or not.
If gold was still hanging around $650 when I did my keynote at the Las Vegas Hard Assets conference Monday, how'd I look? Figured I'd better goose up the price before the conference.
Seriously, the breakout is likely a bet that the ECB rate hike hold announcement yesterday presages a Fed cut Sept. 18, despite high inflation expectations. Gold may fall on the fact of a cut.
See you in Vegas!
iTulip

Select

: The Investment Thesis for the Next Cycle™
__________________________________________________
Special iTulip discounted subscription and pay services:


For a book that explains iTulip concepts in simple terms see americasbubbleeconomy
For macro-economic and geopolitical currency ETF advisory services see Crooks on Currencies
For
macro-economic and geopolitical currency options advisory services see Crooks Currency Options
For the safest, lowest cost way to buy and trade gold, see The Bullionvault
To receive the iTulip Newsletter or iTulip Alerts, Join our FREE Email Mailing List

Copyright © iTulip, Inc. 1998 - 2007 All Rights Reserved


All information provided "as is" for informational purposes only, not intended for trading purposes or advice.
Nothing appearing on this website should be considered a recommendation to buy or to sell any security or related financial instrument.
iTulip, Inc. is not liable for any informational errors, incompleteness, or delays, or for any actions taken in reliance on information contained herein. Full Disclaimer