No inflation celebration for us
Rising October retail sales numbers are being reported as a sign of economic recovery, especially auto sales, but the stock market knows better. We've been tracking producer price inflation increases since early 2009 on the expectation that six months to a year after input costs rise in response to monetary policy, consumer prices will rise disproportionately to rising demand as the economy recovers. Retail sales data are not inflation-adjusted and our analysis indicates that the widely reported increase in retail sales to consumer is in fact largely inflation. Consumer price inflation is finally arrived and the stock market doesn't like it one bit.
Markets fall on global woes, offsetting retailers
NEW YORK, Nov 16 (Reuters) - U.S. stocks fell on Tuesday on continued concerns about China and Ireland, which offset strong quarterly results and upbeat forecasts from Dow components Wal-Mart and Home Depot.
Shares in Europe fell 1.2 percent ahead of a meeting of euro zone finance ministers, who will try to find a way to end Ireland's debt crisis, but Dublin resisted pressure to seek a bailout.
"There's a global concern that if Ireland needs aid, it could become a domino effect with other countries," said Cort Gwon, director of trading strategies and research at FBN Securities in New York.
"Especially at such a sensitive time in the economy to have a setback in Europe could mean a setback for the rest of the world, too."
AntiSpin:
Yes, the European Debt Crisis is not over and yes inflation is high in Asia. Inflation, don't you know, is America's number one export. But that's not what's ailing US stocks. The false flag of rising retail sales is clear evidence of rising consumer price inflation right here at home. This before the Fed's new wave of money printing hits the streets.
Reports like this one highlight auto sales as the bright spot in the US retail market.
Retail sales rise is led by higher auto purchases
WASHINGTON (AP) -- A surge in auto purchases helped lift retail sales in October by the largest amount in seven months. But excluding autos, retail sales rose more modestly.
Are auto makers selling more cars or charging more for them?
Autos are the only consumer good that the BLS tracks by unit, so establishing whether unit prices are inflating or deflating is relatively simple task.
First we establish auto unit sales level for the recovery relative to past recoveries.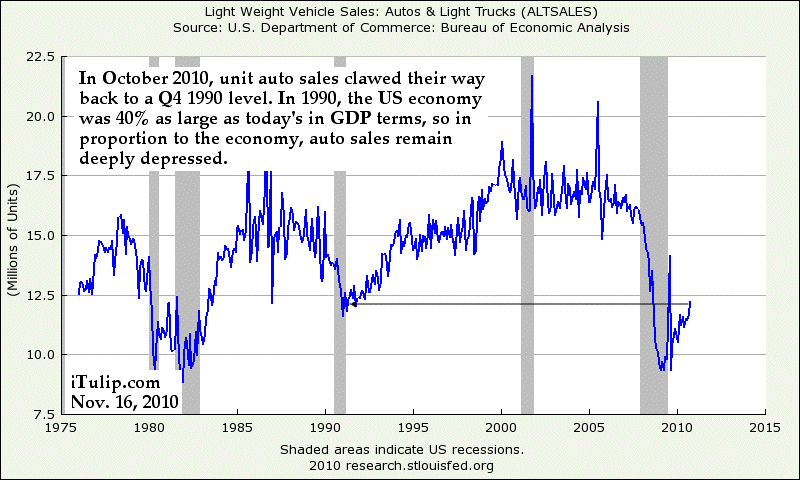 On the surface, it appears that auto unit sales are recovering nicely. However, they are only back to post-1990 recession levels, when the economy was 40% of its current size in GDP terms. Auto sales have a long way to go before they reach pre-crisis levels. If autos are the light at the end of the tunnel, the rest of the retail sales picture must be grim indeed.
Next we look at the long-term trends of auto unit price inflation versus consumer price inflation generally to see if even this supposed bright spot in retail sales is meaningful.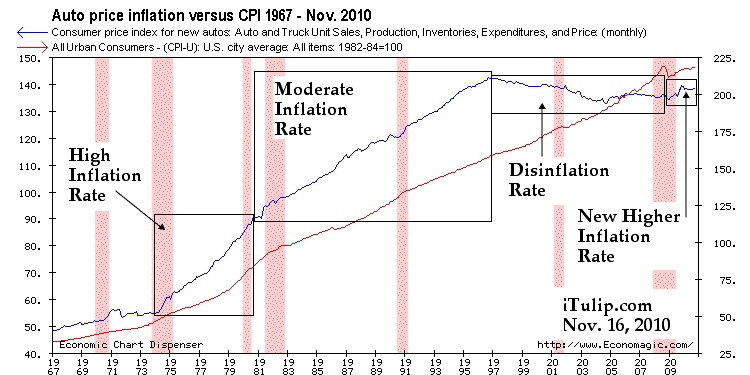 Auto unit price inflation outpaced overall CPI from 1974 to 1980, another period when the CPI understated actual consumer price inflation.
From 1980 to 1997, auto unit price inflation more or less tracked consumer price inflation overall. Then the auto price inflation index actually declined from 1997 until just after the end of 2007 to 2009 recession. The reason is that consumers tended to buy less expensive cars. Since early 2009, auto price inflation has once again started to rise as quickly as inflation, as it did before and after The Great Inflation of the 1970s.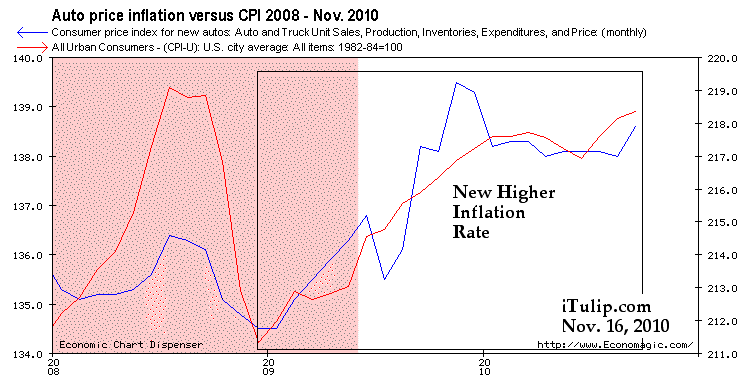 If auto unit costs are inflating, what about retail prices generally? If we look at the official Real Retail Sales data, without CPI inflation, sales appear to be improving.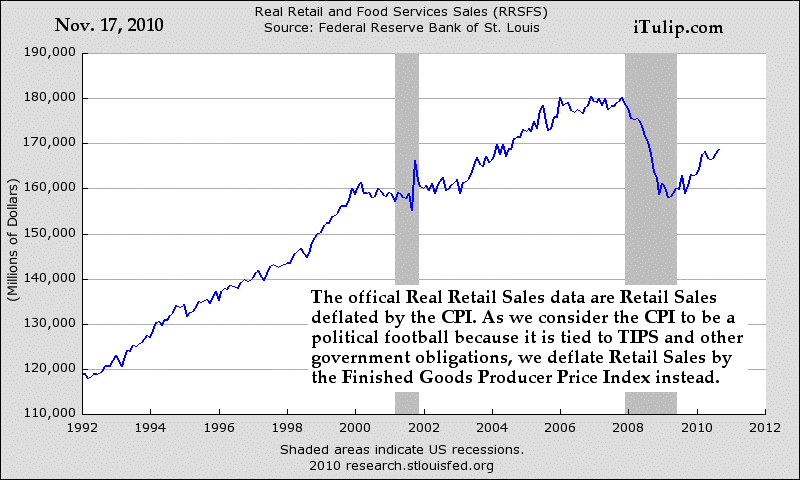 The BLS uses the CPI to deflate Retail Sales to produce retail sales dollar spent by consumers net of CPI inflation. The CPI is tied to a wide range of government obligations, such as TIPS and Social Security payments, so we're not confident in the CPI as an independent source of inflation data, especially during inflationary times. We are more comfortable with the producer price inflation (PPI) indexes that are not tied to government obligations. The PPI indexes are rarely re-composed. If we deflate Retail Sales by the PPI for finished goods, we get a very different result.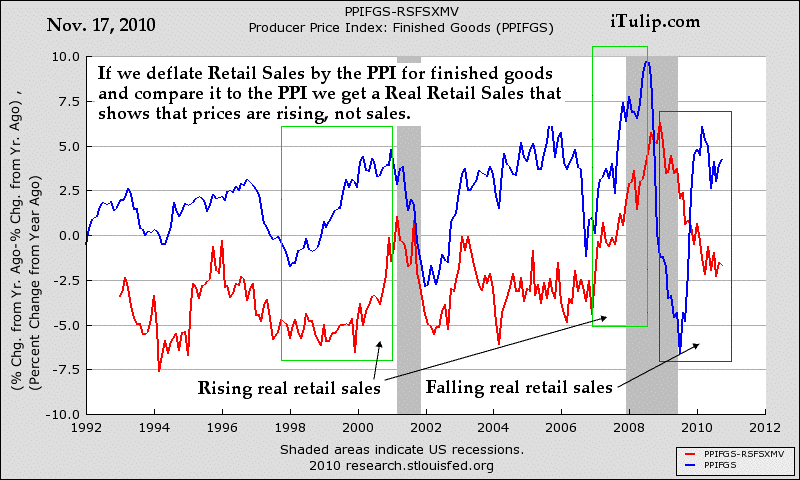 Instead we see Retails Sales continuing to fall in real terms since the mid-point of the recession. That means that even though unit sales volumes are up, inflation is up even more. We agree with Paul Volcker's recent statement, that an economy cannot inflate its way back to health. But what Volcker doesn't understand is that asset price deflation puts the Fed in a bind. Raise interest rates to attack commodity and consumer price inflation and the FIRE Economy crashes again. Do nothing and the FIRE Economy crashes anyway as commodity and consumer price inflation wreck the bond market.
What a mess.
iTulip

Select

: The Investment Thesis for the Next Cycle™
__________________________________________________
For a concise, readable summary of iTulip concepts read Eric Janszen's September 2010 book
The Postcatastrophe Economy: Rebuilding America and Avoiding the Next Bubble
.
To receive the iTulip Newsletter/Alerts, Join our FREE Email Mailing List
To join
iTulip forum community FREE
,
click here
for how to
register
.
Copyright © iTulip, Inc. 1998 - 2010 All Rights Reserved
All information provided "as is" for informational purposes only, not intended for trading purposes or advice. Nothing appearing on this website should be considered a recommendation to buy or to sell any security or related financial instrument. iTulip, Inc. is not liable for any informational errors, incompleteness, or delays, or for any actions taken in reliance on information contained herein. Full Disclaimer