Goldman Sachs shorts its own stock, tanks market, makes billions off SEC fraud charge news

SAN FRANCISCO (MarketWatch) -- The Securities and Exchange Commission on Friday charged Goldman Sachs & Co. (GS 161.00, -23.27, -12.62%) and one of its vice presidents for defrauding investors by misstating and omitting key facts about a financial product related to subprime mortgages. The SEC alleges that Goldman Sachs structured and marketed a collateralized debt obligation that hinged on the performance of subprime residential mortgage-backed securities. However, it failed to disclose the role that a major hedge fund, Paulson & Co., played in the portfolio selection process as well as the fact that the hedge fund had taken a short position against the CDO. "Goldman wrongly permitted a client that was betting against the mortgage market to heavily influence which mortgage securities to include in an investment portfolio, while telling other investors that the securities were selected by an independent, objective third party," said Robert Khuzami, director of the division of enforcement, in a statement.
AntiSpin:
Okay, so we made up the part about Goldman shorting its own stock today, but we wouldn't put it past them. The SEC filed a complaint against Goldman for in effect shorting its own clients by selling subprime mortgages to one set of clients while at the same time selling shorts on subprime mortgage CDOs through another client.
Will the case make it all the way up to Hank Paulson? He ran the investment bank at the time the alleged fraud occurred, before leaving to run the Treasury Department a year before the collapse that subprime mortgages made.
The
iTulip wayback machine
recorded the following warning from Henry Paulson in December 2006:
Economic storm brewing in America
December 6, 2006 (Ambrose Evans-Pritchard - Telegraph UK)

The world economy is what matters, and I don't like the smell of it. Nor, apparently, does Hank Paulson, who made $700 million at Goldman Sachs before taking over the US Treasury this year. He has reactivated a crisis team with a command centre in Washington to cope with the "systemic risk" in a market melt-down. His worry? 8,000 unregulated hedge funds with $1.3 trillion at hand, and derivative contracts now worth $370 trillion. "We need to be very careful here," he said.

A well-sourced article in Washington's Weekly Standard says Mr Paulson fears a "serious crisis that would be a body-blow to the US economy".
The story neglects to mention that when Hank left Goldman for the Treasury he was "forced" by law to divest himself of his Goldman holdings and put the $700 million proceeds tax free into a trust. Maybe Hank saw something coming? Ya think?
iTulip.com manipulates gold market, calls intraday trade to the minute
This morning we posted a prediction on today's gold price. Gold had fallen from $1155 at the open in New York to $1147 before recovering to $1154 then falling to $1150 at the time our intraday call was posted at 11:11AM ET. Gold then plummeted to $1130 by noon before recovering to $1136 at the close in New York.
What was our call? That the gold price would fall until noon, then spike back up.
Here are two screen captures from the postings
here
(in our subscriber area) at 11:11AM today proclaiming "Gold and silver to spike at 12PM ET" and later after the close at 4:03PM ET.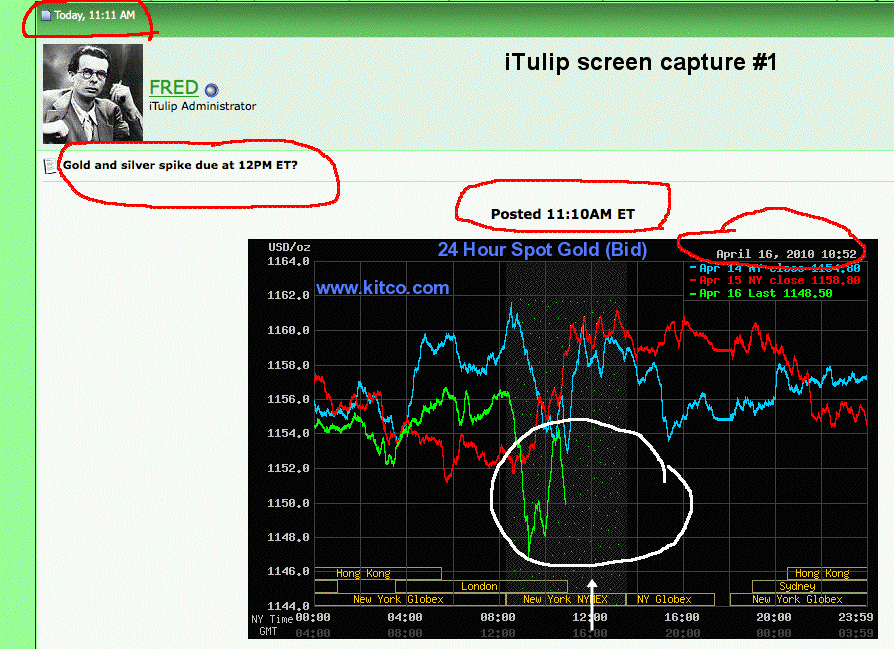 Screenshot of the gold price call at 11:11AM
Screenshot of the gold price call at 4:03PM
How did we do it? Wouldn't
you
like to know!
Take
that
gold price suppression cabal!
iTulip

Select

: The Investment Thesis for the Next Cycle™
__________________________________________________
To receive the iTulip Newsletter/Alerts, Join our FREE Email Mailing List
To join
iTulip forum community FREE
,
click here
for how to
register
.
Copyright © iTulip, Inc. 1998 - 2010 All Rights Reserved
All information provided "as is" for informational purposes only, not intended for trading purposes or advice.
Nothing appearing on this website should be considered a recommendation to buy or to sell any security or related financial instrument.
iTulip, Inc. is not liable for any informational errors, incompleteness, or delays, or for any actions taken in reliance on information contained herein. Full Disclaimer