FIRE Buys Ice
Back when we started talking up gold in August 2001 when the metal traded at $270, if we suggested that some day a large insurance company will buy hundreds of millions of dollars worth of gold to "hedge against further asset declines" we'd have been laughed off the Internet. And then...
Northwestern Mutual Makes First Gold Buy in 152 Years
June 1, 2009 (Bloomberg - Andrew Frye)
Northwestern Mutual Life Insurance Co., the third-largest U.S. life insurer by 2008 sales, has bought gold for the first time the company's 152-year history to hedge against further asset declines.
"Gold just seems to make sense; it's a store of value," Chief Executive Officer Edward Zore said in an interview following his comments at a conference hosted by Standard & Poor's in Brooklyn. "In the Depression, gold did very, very well."
Northwestern Mutual has accumulated about $400 million in gold, and Zore said the price could double or even rise fivefold if the economy continues to weaken. Gold gained 10 percent last month, the most since November. The commodity has more than tripled since 2000, rising for eight straight years. Gold futures for August delivery slipped $4.80 to $975.50 at 4:03 p.m. in New York.
AntiSpin:
Today, with this announcement, gold officially exited the
Early Adopter
stage of market development and entered the
Early Majority
stage.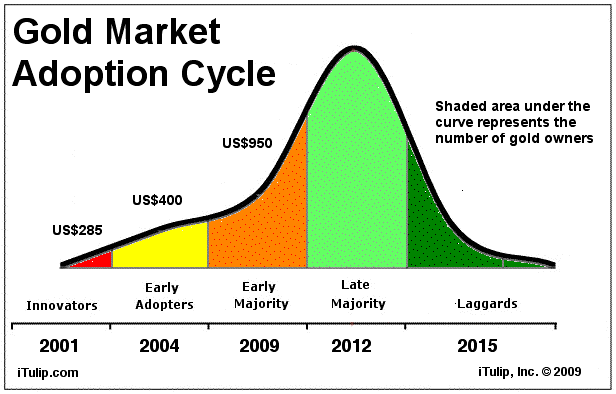 We entered at the
Innovator
stage. We intend to exit during the
Late Majority
stage when most of the price appreciation can be expected to occur. The dates are, of course, guesses. Our long term gold price target is $2,500.
iTulip

Select

: The Investment Thesis for the Next Cycle™
__________________________________________________
To receive the iTulip Newsletter or iTulip Alerts, Join our FREE Email Mailing List
Register NOW
to join iTulip fourm community
FREE
Copyright © iTulip, Inc. 1998 - 2009 All Rights Reserved
All information provided "as is" for informational purposes only, not intended for trading purposes or advice.
Nothing appearing on this website should be considered a recommendation to buy or to sell any security or related financial instrument.
iTulip, Inc. is not liable for any informational errors, incompleteness, or delays, or for any actions taken in reliance on information contained herein. Full Disclaimer