Did someone say, "Housing market recovery?''
Throwing new potential home buyers into the maw of ARM resets and rising interest rates is a formula for a second housing disaster
We receive frequent reports that housing is "recovering" and hear anecdotal stories about potential home buyers looking to take advantage of "low" housing prices and the government's tempting
$8,00 HUD tax credit
for new home buyers. Readers are reminded that government subsidy of the housing industry is what got us into this mess in the first place, and luring unsuspecting new buyers into a falling market will not correct the trust problem created by years of permissive lending.
As
Janet Tavakoli, President of Tavakoli Structured Finance
told us in a recent interview, the first step toward fixing the U.S. housing market is making solid loans based on the tried and true formula of 20% cash down and traditional measures of creditworthiness. Throwing new potential buyers into the maw of ARM resets and rising interest rates is a formula for a second housing disaster.
The Census Bureau issued the new housing permit data this week. We've been tracking housing permits for years as a measure of how our housing-dependent FIRE Economy is faring. For example, back in late 2006 we published this chart used in our analysis to forecast a recession to begin in Q4 2007: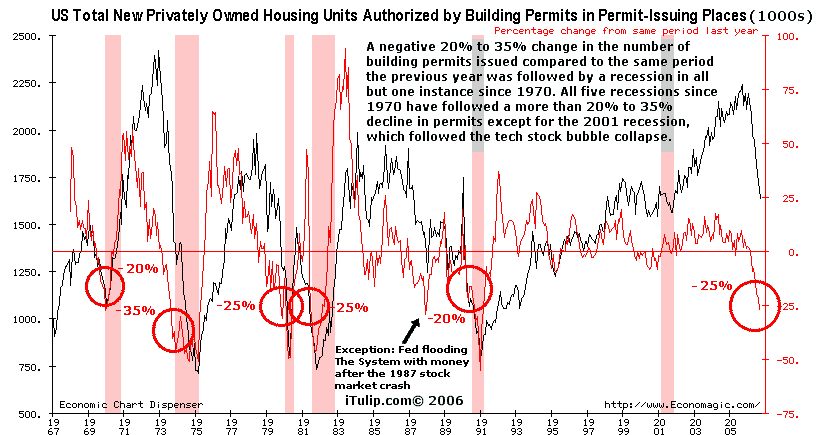 The new data on permits reveals a terrible market for new housing development.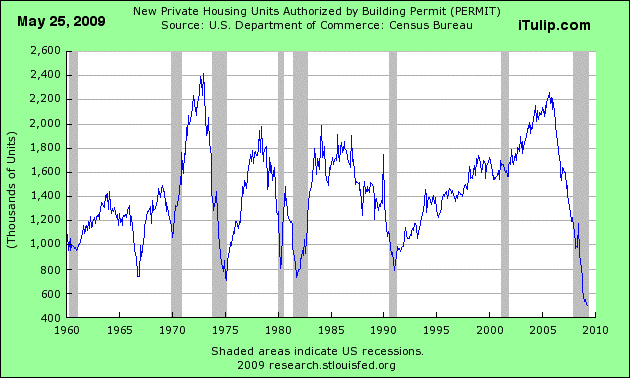 Personal Consumption Expenditures (PCE) are strongly correlated in our housing-dependent FIRE Economy.


But as bad as both the housing permits and PCE data are, the historical relationship between issuance of new housing permits and PCE has never looked like this:


After holding steady around $4 million of PCE per permit issued since 1990, the ratio of $PCE/New Housing Permit increased from $4 million at the top of home price appreciation in the fall of 2005 to $19.5 million in March 2009 even as PCE plunged. We are reminded of the crash up of PCE to GDP from 75% to 81% in the first year of The Great Depression as GDP collapsed even faster than PCE.
Another way to look at it: half as many new housing permits were issued in March 2009 as in March 1960 when
total nominal PCE was 3.3% of March 2009 PCE.
Ouch.
ARM resets: Time's up!
When we wrote
Fueling the FIRE Economy
in March 2007, we noted that the U.S. housing market was 26 months away from a wave of ARM resets. Well, 26 months is up!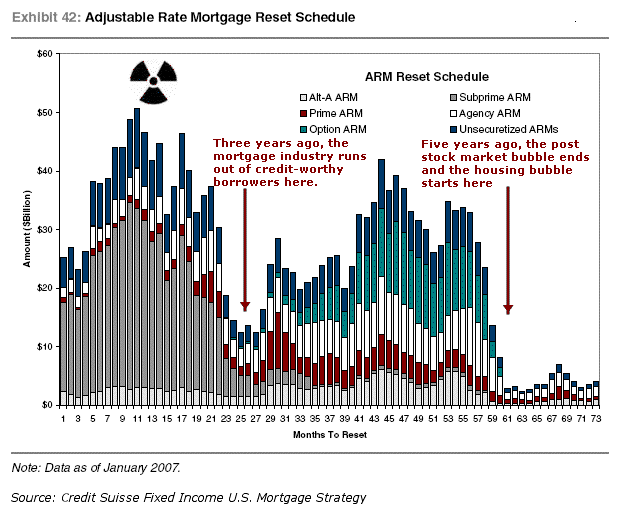 What does the mortgage market have in store for ARM holders whose loan value totals hundreds of billions of dollars?
30-year mortgage rates rise
May 29, 2009 (LA Times)
Average rates on 30-year fixed-rate mortgages rose to 4.91% this week from 4.82% a week earlier, mortgage company Freddie Mac said.
The average rate on a 15-year fixed-rate mortgage increased to 4.53% this week from 4.5%. Five-year adjustable-rate mortgages inched up to 4.82% from 4.79%. One-year adjustable-rate mortgages fell to 4.69% from 4.82%.
We are not betting that home prices will be rising any time soon.
But let's not forget what Massachusetts representative Barney Frank had to teach us about the housing bubble in 2005.
iTulip

Select

: The Investment Thesis for the Next Cycle™
__________________________________________________
To receive the iTulip Newsletter or iTulip Alerts, Join our FREE Email Mailing List
Register NOW
to join iTulip fourm community
FREE
Copyright © iTulip, Inc. 1998 - 2009 All Rights Reserved
All information provided "as is" for informational purposes only, not intended for trading purposes or advice.
Nothing appearing on this website should be considered a recommendation to buy or to sell any security or related financial instrument.
iTulip, Inc. is not liable for any informational errors, incompleteness, or delays, or for any actions taken in reliance on information contained herein. Full Disclaimer