Global Economy: The Down Side of the Cycle (Subscription Required)

The economic cycle finally has crested. The yield curve has inverted (albeit only slightly) and stayed that way; commodities of all sorts have come off of their highs; and growth in the United States and Asia is slowing, with the American housing market (finally) showing signs of strain. Only European growth is doing better than normal, having surpassed U.S. growth in the second quarter of 2006 for the first time since 2000. At roughly 2 percent on an annualized basis, however, European growth is hardly robust enough to resist the downdrafts from elsewhere.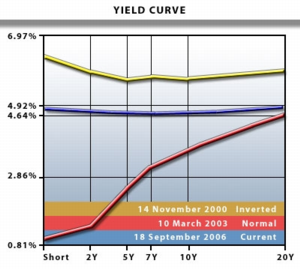 Despite omnipresent signs of a slowdown, many investors are behaving as if global growth were accelerating, not stalling. Investment monies are flowing hot and furious into the developing world, and initial public offerings in particular are garnering record amounts despite an utter dearth of transparency, as with (Russian state oil firm Rosneft,) or a well-chronicled litany of shortcomings, as with the (Chinese state-owned banks).

There is a fancy economics term for this: "irrational exuberance" or, more simply, a market top. And just as in physics, what goes up must come down. There is a not-quite-so-fancy economics term for that: "recession."