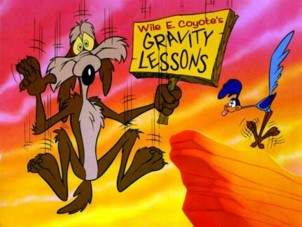 Can Anything Bring Down the Monthly Payment Consumer? Revisited
January 15, 2007 in Can Anything Bring Down the Monthly Payment Consumer?we published a series of interviews by iTulip's Jane Burns of nine well known economists to get their opinion on the fate of that FIRE Economy phenomenon, the Monthly Payment Consumer. Two of them forecast the recession and one even got the timing right.
The
Monthly Payment Consumer
is an artifact of FIRE Economy behavioral engineering that produced a consumer who accounts for the cost of purchases not in terms of the total price but as a monthly payment on credit in portion to monthly income. After many years of "No Money Down!" and "Zero Interest for Six Months!" financing, not to mention interest-only and negative amortization mortgages, consumer behavior was modified to consume, stop saving, and expect credit to be almost free and in nearly infinite supply. We expected the Monthly Payment Consumer's world to come crashing down at the end of 2007, as did our writer Jane.
The economists interviewed: Peter Morici, University of Maryland business school professor and former chief economist of the U.S. International Trade Commission under the Clinton administration; Kevin Hassett, director of economic policy studies at the American Enterprise Institute; Lakshman Achuthan, managing director of the Economic Cycle Research Institute and a governor of the Levy Economics Institute at Bard College; James O'Sullivan, a UBS economist; Ken Goldstein, an economist with the Conference Board; Dean Baker, co-director of the Center for Economic and Policy Research; Russ Roberts, a professor of economics at George Mason University; Ron Blackwell, chief economist of the AFL-CIO; and Dr. Richard Curtin, director of the Surveys of Consumers at the University of Michigan.
Here's a summary of their forecasts with an iTulip rating, on a scale of one to three, with one going to unconditional forecasts of no recession, two to conditional forecasts of recession, as in "if X, Y, and Z happen, we get a recession," and three to unconditional forecast of no recession.
1: No recession certain (unconditional)
2: Maybe a recession (conditional)
3: Recession certain (unconditional)

We also created a special zero rating for an emphatic forecast of no recession with arguments 100% contradicted by events, and also a special four rating for the on economist who not only correctly called the recession but even got the timing right. Let's see how well they lined up with the events that unfolded.
Dr. Richard Curtin, director of the Surveys of Consumers at the University of Michigan.
Forecast:
"I don't think consumer spending will succumb to concerns about housing prices, but that also depends on price collapses remaining localized in certain areas such as Miami, Phoenix and Las Vegas where prices were going up quite a bit."
"Besides a drop in home prices, the other event that could generate consumer pessimism would be a significant increase in unemployment."
"We foresee that in 2007, consumption will expand at about 3 percent, but residential investment will probably decline by nearly 10 percent. Given the consumption drives the GDP, the overall GDP will be about 2.5 percent.
We don't foresee a recession.
The resilience of consumers has been amazing and withstood some events to which they would not have responded to as strongly in years past. It is true that the baby boom generation, by far the largest group in the population, has had some time to build up equity, especially home equity. That has given them a cushion to brace themselves from the more volatile events. Today consumers are concerned about home prices but they haven't come to the conclusion they're going to crash. If you look at year over year changes in identical homes, price increases are still above 5 percent, good by any measure."
Rating: 1
____________________
Ron Blackwell is chief economist of the AFL-CIO.
Forecast:
"I thought consumer spending would have run out of steam long ago. How much debt can people assume and how can they keep spending at this rate? Our savings rate went negative in the last couple of years. People are spending more than their household income, something we haven't seen since the Great Depression. Families have to send all their members into the workforce and they're spending just to maintain their standard of living. The prices of things like education and health are spiraling, and some people are really struggling to make a living."
"Voluntary spending, spending on things people don't need, isn't a factor in an economy going into recession because America's wealthiest families, which have the money to spend voluntarily now, have enough income to keep doing it. It's the people who are spending money they don't have, and who have very high debt, who are forced to cut back. Every household has discretionary spending—working people take vacation, but if their budgets are strained, they skip a year or they drive instead of flying. That can bring the economy down if enough do that, but it's a matter of how fast and how far."
"Now we have sliding housing prices and residential investment is off. Spending is slowing down. Next year will reductions in housing investment and consumer spending take the wind out of
an already tepid economic recovery and even produce a recession? I'm not predicting it, but I wouldn't be at all surprised."
Rating: 2
____________________
Russ Roberts, a professor of economics at George Mason University.
Forecast:
"Contrary to what some write and read, I think the economy is doing pretty well and consumers are content to spend what they have. There's no mystery. Some people think it's Wile E. Coyote running off a cliff and finding there's nothing.
That's not how the economy works. It's healthy.
Employment is very strong, and yes, there are those out there saying the middle class is disappearing and job security is low, but there's no evidence for that and the spending numbers, the activity, suggest a much rosier picture. Spending activity reflects the picture, it doesn't create it."
Rating: 1
____________________
Dean Baker, co-director of the Center for Economic and Policy Research.
Forecast:
"Consumer spending has been driven by people borrowing against their home equity at record rates. They've borrowed for all kinds of things—for new cars and vacations in some cases, to make ends meet in others. As soon as they run out of cash, they borrow again as long as their house value keeps going up. That ends when prices start falling and a lot of people have no more to borrow."
"Consumers are the bulk of the story—70 percent of demand comes from consumer consumption. Probably a third of that consumption is variable to some extent. People could change purchases such as buying new cars and furniture.
A mass change in consumption would mean a recession, and it's very likely to happen.
People are going to hit the wall in terms of how much they can borrow with the housing market going down."
Rating: 3
____________________
James O'Sullivan, a UBS economist.
Forecast:
"We've had ups and downs in spending growth over the years. Certainly you've seen some periods with stronger growth than others. The question is how much the downturn in housing feeds on itself through a weaker labor market, which depresses consumer spending. Ultimately the main driver of what's happening is the downturn in housing. There's recent evidence that the rate of growth in consumer spending is slowing, but it's not dramatic. I'd be surprised if it stopped, but it's highly likely the trend in growth will be slower next year than it has been over the last couple of years."
"If consumer spending growth goes further down, to 1 percent from 3.75 percent, the odds are the economy is in recession. I don't think that will happen, but consumer spending will go to 2 percent growth in 2007.
To what extent does that weakness in consumer spending feed on itself, leading employers to cut back hiring because there's less demand for products? That's how momentum builds into recession. It remains to be seen how far down this momentum in reduced spending growth will carry us. There is clear evidence of slowing, but so far there's no collapse."
Rating: 2
____________________
Ken Goldstein is an economist with the Conference Board.
Forecast:
"
The announcement of the death of the consumer is a bit premature.
The Federal Reserve has a publication called the "Flow of Funds Account of the U.S." It says that in 2005 and into the first quarter of 2006, you and I and every other consumer in America had a total of $12.2 trillion debt—our mortgages, credit cards, bank loans, etc., all coming to $12.2 trillion. That's a lot of money when you consider the Gross Domestic Product is $13 trillion. It looks like we're about to drown in red ink—except when you look at assets. That's almost $40 trillion in IRAs, 401ks, and all the home equity. What this says is the bankers who've lent money to us haven't lost their minds. They've lent to us because they're convinced we have the assets even if something happens to our jobs. Our personal balance sheets are not in that bad shape."
"There's no question that a number of households, may 1 or 2 percent, maybe as many as 3 percent, are indeed in a problem situation where they could lose their homes and declare bankruptcy. But on average, most of us have a lot of debt, but it's debt we can handle. Something else has to happen to make people decrease consumption. If people think there's a slowing of job growth, if there's that perception and word of mouth while prices are rising faster than wages, that's probably the biggest influence on consumer attitudes and spending, the material out of which you get consumers who are more cautious, telling retailers that unless something is hot, it's got to be discounted. You can lay that argument all out without any reference to debt."
Rating: 1
____________________
Kevin Hassett is director of economic policy studies at the American Enterprise Institute.
Forecast:
"A pull-back in consumer spending is not going to occur.
For consumers to stop consuming, their incomes would have to plummet or go down a lot and believe that their incomes would stay down a long time.
And the economy is just not that bad.
They would stop spending if they thought the economy was going to be very bad, but it hasn't been very bad in a long, long time. People feel good about keeping their jobs and, if they lose one, about getting a new one. Your own circumstances are what cause you to spend or not spend. The fact most people aren't saving means they're optimistic. If they were worried—thinking oh well, it could be tough next month—they'd stop spending."
Rating: 0
____________________
Lakshman Achuthan is managing director of the Economic Cycle Research Institute and a governor of the Levy Economics Institute at Bard College.
Forecast:
"Our approach to the economy at the Economic Cycle Research Institute (ECRI) is from a cyclical perspective. Spending, of which consumer spending is a big part, is one of the key indicators used to define economic activity at any moment in time. While the rate of growth of consumer spending is decreasing, consumers aren't saving more because they don't feel like they're going to get fired, unemployment is pretty low, a number of people are getting some raises and they are still able to borrow long-term money at low rates. Relative to last year, they don't feel as good, but they don't feel like they're falling off a cliff, either. Consumers are adjusting spending subconsciously and they have it about right. They're playing it a little more conservatively, but they don't think the sky is falling. That's looking at the near term, about the next three quarters. Beyond that,
there could be a major recession by the end of 2007 or early 2008—there is a limit to how far ahead we can see with our leading indexes."
Rating: 4
____________________
Peter Morici is a University of Maryland business school professor and former chief economist of the U.S. International Trade Commission under the Clinton administration.
Forecast:
"Looking at the Gross Domestic Product—consumption (C) plus investment (I) plus government (G) plus [exports (E) minus imports (M)]—I, of which new housing construction is a big part, is already going down, and falling home prices drag "C," consumer spending, down a bit. I'm expecting "C" to rise more than 2 percent next year—so the economy would only moderate and overall growth slow to 2.5 percent.
But if consumption increases by less than 1 percent and investment is negative, you're going to have a recession. I put the risk of recession next year at 25 percent."
Rating: 2
____________________
iTulip.com
Forecast:
"
The recession that starts in Q4 2007
from the combined result of housing, private-equity, hedge fund, and foreign Investment declines will be major. The stock market along with many inflated asset classes will follow. Maybe the Gods will be laughing in 2007, but a lot of homeowners and investors likely won't be."
Rating: 4
Our argument for recession was not complicated:
The US economy is dependent on debt financed asset price inflation, especially housing and stocks
Asset price inflation provides both jobs in related industries, such as housing and retail trade, and creates the illusion of "saving" and "wealth" that keeps consumers shopping
When the asset inflation corrects and debt deflation begins, the "saving" and "wealth" disappear along with the jobs: the economy crashes
Recession today compared to our forecasts
To back up our argument, we focused on housing permits as a measure of the health of the housing market and leading indicator of prices.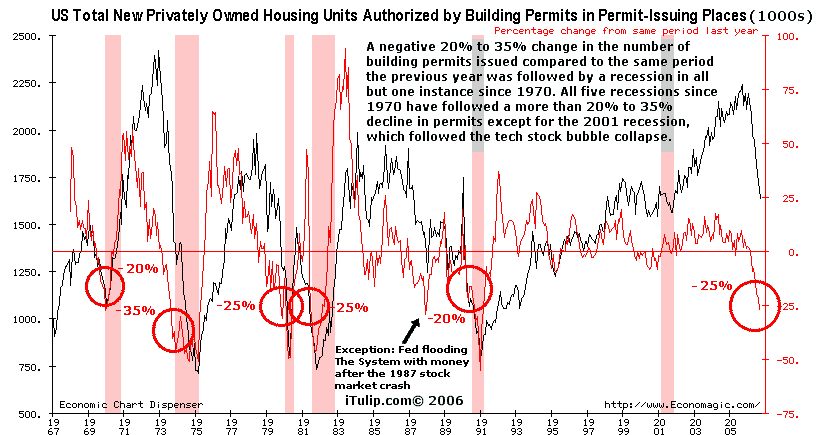 Housing permits issued Oct. 2006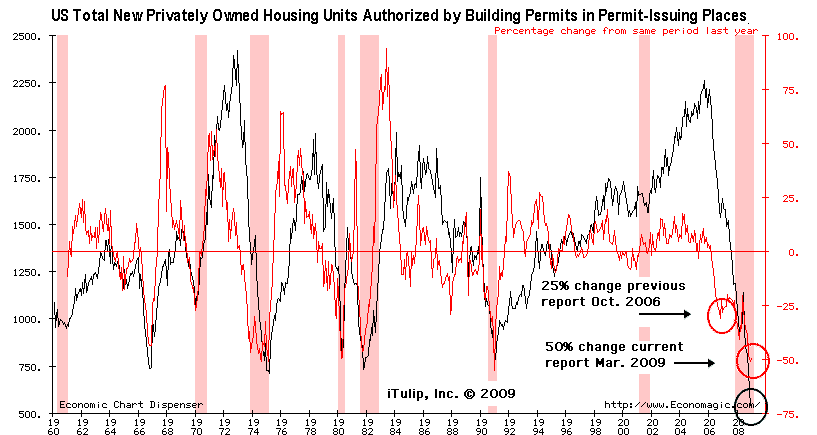 Housing permits issued Mar. 2009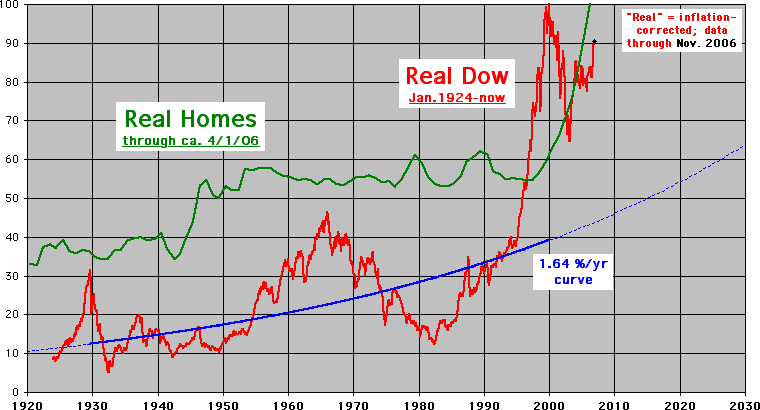 April 2006: Housing and stocks. Do these look over-priced to you?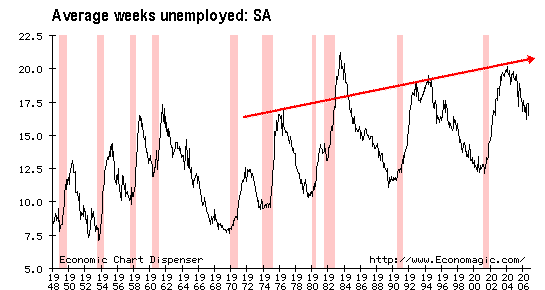 Duration of unemployment Oct. 2006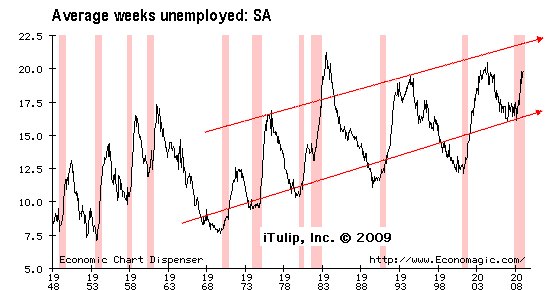 Duration of unemployment Mar. 2009
Given that with stocks and housing clearly overpriced, housing prices clearly on the edge of plummeting as indicated by a crash decline in housing permits, and employment in our asset price inflation dependent economy already weakening as indicated in rising duration of unemployment, why did forecasting a deep recession posed such a challenge to so many economists? The root of the problem is that most economists, for one reason or another, were unable to see the extent of the US economy's dependence of the financial sector. Some saw it but didn't want to say, others did not see it at all because that's not what they teach in most American universities.
iTulip Forward Forecast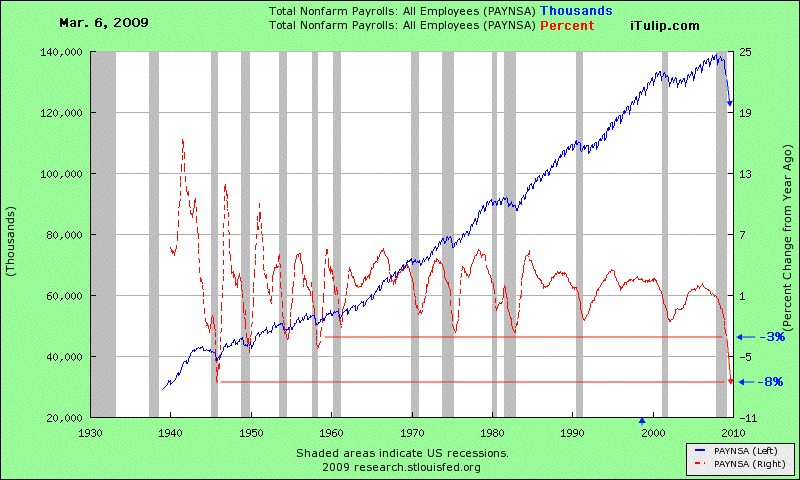 We expect payroll employment to decline by another 5% in the coming months to decline to 1998 payroll employment levels in 2010, matching the percent decline in payroll employment that occurred after WWII.
A similar response is needed: full on infrastructure projects to improve the energy efficiency and productivity of the US economy.
Our challenge is how to pay for it. There is no magical solution. The money must come from savings, and if not from our trade partners' savings by foreign borrowing, because they will be too burdened with the task of fighting economic battles of their own at home, then from all of those who have any to spare here in the US.
The Treasury Department needs to stop taking trading our precious credit for securities of questionable value and instead issue Infrastructure Development Bonds. These bonds can use the accumulated savings within the FIRE sector to finance the reconstruction of a new, productive economy rather than pour money down a whole in a vain attempt to resurrect the FIRE Economy that has gotten us into the current troubles we are in. It will then be the duty of Americans who can afford to buy them to do so, to each according to his means. That is the American way out of a mess like this, with a fair sharing of the burdens of cost.
iTulip

Select

: The Investment Thesis for the Next Cycle™
__________________________________________________
To receive the iTulip Newsletter or iTulip Alerts, Join our FREE Email Mailing List
Copyright © iTulip, Inc. 1998 - 2009 All Rights Reserved
All information provided "as is" for informational purposes only, not intended for trading purposes or advice.
Nothing appearing on this website should be considered a recommendation to buy or to sell any security or related financial instrument.
iTulip, Inc. is not liable for any informational errors, incompleteness, or delays, or for any actions taken in reliance on information contained herein. Full Disclaimer