Stock market delivers worst Presidential inauguration performance ever. What does it mean?
The US stock market gave President Obama a less than enthusiastic welcome on his inauguration day, with the DJIA declining 4% to close under 8000. What does this bode for the future? Is there any meaningful correlation between inauguration day stock market performance and the stock market over a President's term? We reviewed the DJIA for each Presidents' first day going back to 1929 to see what today's stock market reaction might foretell.
A presidential inauguration is hardly market news. There's no timing surprise, as if the market doesn't know when the swearing it ceremony is scheduled to take place, and presidents rarely say anything new during inauguration speeches to warrant a major change in market sentiment. But the market's reaction today cannot be quickly dismissed as coincidental, either, caused by newly developing troubles in the financial system. Let's put today in historical perspective.
Herbert C. Hoover 4/4/29
After an encouraging 1.6% pop on President Hoover's inauguration day, it was all downhill from there. Getting in at the top of a credit bubble and riding down the first four years of debt deflation and the global economic havoc it wrecked, the stock market took a 81% loss over the course of Hoover's term. Hoover still takes the prize as the worst of any president for the stock market to date. History has not been kind to Hoover, but perhaps his greatest sin was bad timing.

Franklin D. Roosevelt 4/5/33
After Hoover's horrific performance President Roosevelt was met with a hopeful 2.5% rise on inauguration day followed by an enormous 168% relief, inflation, and fiscal spending rally in his first term. In this case, the stock market appeared to get its new president right: he was determined to inflate.

Franklin D. Roosevelt 1/7/37
Turned out FDR's first term was a tough act to follow. After a 1.6% rise on inauguration day, FDR's second term was a bust for stocks, with a 40% loss going into his third term. Was the market pricing in a continuation of The Great Depression as New Deal spending was reduced or was it pricing in WWII?

Franklin D. Roosevelt 1/20/41
Stocks fell 0.2% on the first day of FDR's third term and rose only 4% over the rest of his wartime service. Over his three terms in office, FDR left the stock market far better off than he found it, up 132% in total. To date, FDR was the best of any president for the stock market, at least in nominal terms. To turn in that kind of performance, it helps to have your predecessor take the losses on his watch from a devastating post credit bubble economic bust.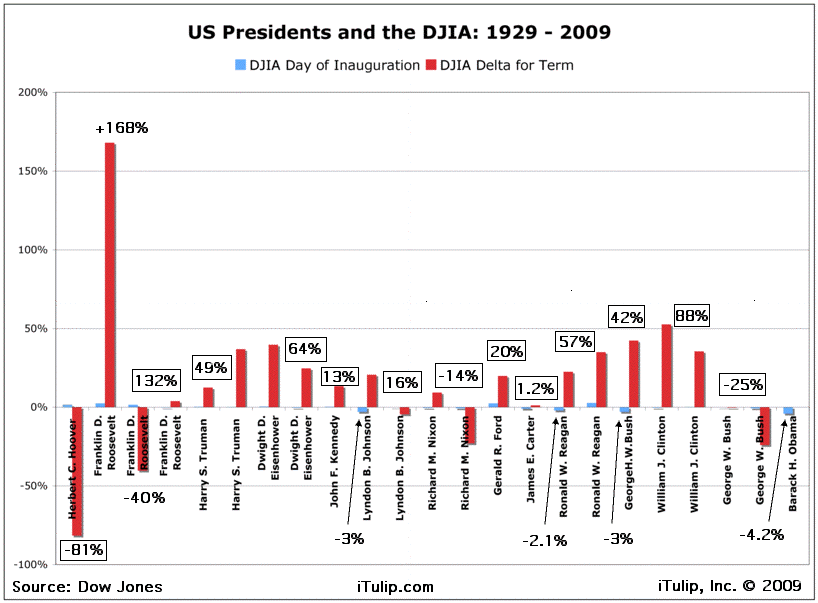 Harry S. Truman 4/12/45
The stock market gave President Truman a tepid reception on the inauguration day of his first term, up 0.3%. During his first term, after the war, stocks rose 13%. Mostly the stock market was worried that without war spending, the economy would collapse back into The Great Depression. The US economy went into depression in the early 1920s after WWI, so the worry was partially justified. But inflation during the war wiped out the debt that caused The Great Depression, so the fear was unwarranted.

Harry S. Truman 1/20/49
On inauguration day of his second term, the stock market gave Truman an almost identically lukewarm 0.2% as on the first day of his first term. If there is any correlation between inauguration day stock market performance and the performance of the stock market over a president's term, the stock market got it wrong again this time; during his second term stocks rose 37%. Over Truman's two terms together, the stock market rose 49%, putting Truman in 5th place behind FDR, Clinton, Eisenhower, and Reagan.

Dwight D. Eisenhower 1/20/53
The stock market didn't do much the day President Eisenhower was sworn in, up 0.4% and went up 40% over his first term.

Dwight D. Eisenhower 1/21/57
The stock market remained wary of Eisenhower at the start of his second term, down 0.4% even after the market had gone up 40% his first term. The stock market went up another 25%, for a total of 64% for his two terms combined, placing 3rd behind Clinton and Reagan for stock market performance. With Eisenhower, stock market performance was, as with Truman, a weak forecaster of future performance.

John F. Kennedy 1/20/61
President Kennedy was greeted by a modest 0.4% rise on his first day in office, more or less consistent with a modest the market rise of 13% during his abbreviated term.

Lyndon B. Johnson 11/22/63
President Johnson was the first president to get a resounding vote of no confidence from the stock market with a -3.0% drop that day yet the market gained 21% during his term. Again, inauguration day market performance was out of whack with long term performance.

Lyndon B. Johnson 1/20/65
On the first day of Johnson's second term, the markets were less worried, falling only -0.1% but then the stock market fell -4.5% during his second term. Altogether, the stock market only managed a 16% gain during his one and a half terms in office, allowing Johnson to escape the rare and unfortunate company of only three presidents to see the stock market decline during their term of office
Richard M. Nixon 1/20/69
The stock market was never enthusiastic about Tricky Dick, starting with a -0.5% gain on inauguration day foretelling a mere 9.3% rise during his first term.

Richard M. Nixon 1/22/73
At the start of President Nixon's second term, the market tell -0.7% and then -23.0% over the next four years. Over both terms the market lost -14%, making him one of only three presidents to leave the stock market worse than they'd found it, the other two being Hoover and G. W. Bush. The stock market appeared to see this coming from day one.

Gerald R. Ford 8/9/74
President Ford served only a brief term after Nixon resigned, but the markets were relieved the day he started delivering a 2.5% rise, same as when FDR took over from Hoover. The stock market went up 20% during his term.

James E. Carter 1/20/77
The stock market appeared to have President Carter pegged from the start, falling -1.0% on his inauguration day and rising 1.2% over his term. The fact that the stock market managed any gain at all during his term may surprise anyone who thinks of the Carter administration as second only to Hoover's in the economic and financial market disaster department. Inflation obscured more substantial real (inflation adjusted) losses. In real terms, the stock market put in a terrifically bad performance. But keep in mind, the inflation that the Carter administration was left with was ignited a decade earlier, during the Johnson and Nixon administrations when the US government had learned how to spend more than it made but before finance was employed to "solve" the resulting debt problem.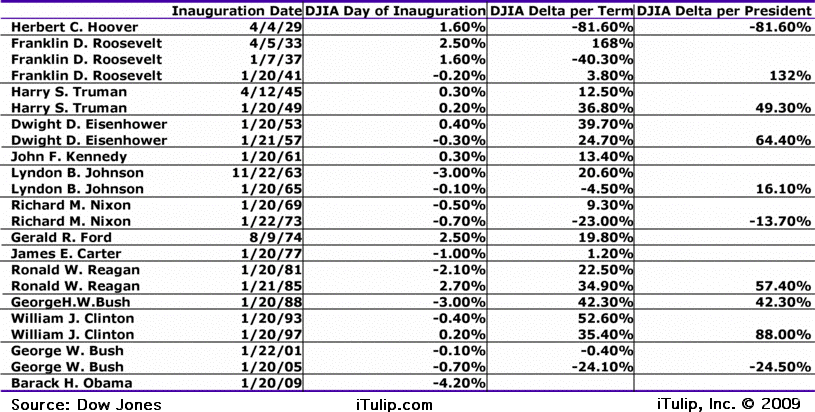 Ronald W. Reagan 1/20/81
The stock market was unsure about President Reagan at first, delivering a negative -2.1% first day performance second only to Lyndon Johnson up until this time. If inauguration day performance foretells future performance, the stock market got Reagan completely wrong. More likely the markets were getting both Reagan and Paul Volcker wrong, and extrapolating the recessions that Volcker had induced to kill the inflation spiral that started under the Johnson and Nixon administrations and peaked during Carter's. The stock market rose 23% in Reagan's first term.

Ronald W. Reagan 1/21/85
By the start of Reagan's second term, the stock market was with the program, up 2.7% on inauguration day and up 35% during his second term. Total stock market performance over both terms was 57%, second place behind the stock bubble team of Clinton and Greenspan and third place behind FDR's the post economic apocalypse team, this despite the devastating 1987 crash. The man behind the dramatic recovery from that crash -- Alan Greenspan -- and his methods, would figure large in the stock market boom in the coming decades, and its devastating collapse in 2008.

George H. W. Bush 1/20/88
The stock market reacted to the swearing in of the first President Bush as if he was another Lyndon Johnson, by falling -3%. Hardly a harbinger of the future, however. During his term the stock market went up 42%.

William J. Clinton 1/20/93
Stock market performance on a president's first day in office doesn't appear to mean all much when the macro-economic picture is bright and the new guy has a plan -- a bubble economy -- and the stock market doesn't know it yet. The day of President Clinton's swearing in the markets were off nearly ½ a percent, but went up 42.3% during this first term. The stock market didn't know that Clinton and Greenspan were to preside over the a massive stock market bubble.

William J. Clinton 1/20/97
The stock market still couldn't quite believe its eyes, delivering a mere 0.2% pop on the first day of Clinton's second term and 35% for the remaining four years. Over both terms the stock market went up 88%, second only to FDR but starting from a high base versus an economic depression. No wonder those years felt so good for the stock market. Echoes of that era continue to play on TV, from Jim Cramer's Mad Money to hundreds of stock trading sites.

George W. Bush 1/22/01
President Bush started his first term during a recession, and the stock market didn't see how he was going to fix it quickly, delivering a -0.1% loss on inauguration day more, a more or less flat response. The market was flat during a first term that included the 9/11 attacks and the start of the Iraq War on the down side, and the housing bubble in 2002, a reflationary near 40% decline in the dollar starting in 2004, and a correlated rise in oil and other commodity prices on the plus side of the reflation equation. But by the last year of Bush's two terms, his administration's errors, and those of his predecessors dating back to the start of the
FIRE Economy
in the early 1980s, came crashing down.
George W. Bush 1/20/05
During his second term, President Bush presided over the final growth phase and crash of the housing bubble, a final rise followed by a crash in commodity prices, and the first debt deflation since the 1930s, and a 40% stock market correction to go with it. Overall, the stock market fell 25% over the course of his two terms in office, a terrible performance second only to Hoover.

Barack H. Obama 1/20/09
With a 4.2% stock market loss, and a DJIA close below the psychologically significant 8,000 market level, President Obama was off to the worst start of any president on record.

What conclusions can we draw from this historical examination of inauguration day stock market turnouts? That context is helpful, and of course nothing beats 20/20 hindsight, but that at the extremes the market's reaction to a new President's first day do tell a story.
Obama had to walk a fine line today in his first speech as President, to set low enough expectations to give his team a couple of years at least for economic conditions to continue to deteriorate -- to carry the inertia of decline set in motion in 2007, and preceded by decades of policy errors -- before they have a chance to help turn things around, yet not set market confidence back any farther than it already is. Did he go to far?
The Obama administration is taking over administration of the US executive branch at a uniquely difficult time in history. A credit bubble the likes of which the world has not seen since the 1930s is collapsing, producing a debt deflation, but it has not yet finished deflating as it nearly had in April of 1933 when FDR took the reigns from Hoover; Obama is stepping in mid-collapse, as might have been the case if Hoover's administration had ended in 1930 and FDR took over April 1931 when the stock market was off 45% instead of 81%. What might FDR's legacy be in that case?
Assuming the markets are pricing in the debt deflation as we expected starting in 2008, the question the stock market is asking is, Can the Obama administration do anything the Bush administration was unable to do to halt the collapse? So far, every prescription to remedy the debt deflation, as administered by Fed chairman Bernanke – purportedly a scholar of The Great Depression and Japan's debt deflation, and so "expert" to confront the challenge – has failed to produce results. But a lot of ammunition has been consumed: short-term interest rates are effectively zero, the budget is in deficit, and allocated bailouts half expended. Only a strong dollar, produced by a short term global panic into US Treasury securities, remains in the reflation toolbox, that is not otherwise directly detrimental to the nation's long term fiscal condition. At the same time the strong dollar hangs over the US economy like a curse, cutting off the last source of economic growth, from exports.
When all is said and done, after all efforts are made to prove ourselves more clever than our ancestors, the only lesson we may hope to learn is to not allow credit bubbles to develop in the first place, because once they do they are destined to collapse, and once the collapse begins they will tend to continue to the end, either quickly or slowly, regardless of who is in charge of the government. That may very well be the message that the stock market is conveying to us today.
iTulip

Select

: The Investment Thesis for the Next Cycle™
__________________________________________________
To receive the iTulip Newsletter or iTulip Alerts, Join our FREE Email Mailing List
Copyright © iTulip, Inc. 1998 - 2009 All Rights Reserved
All information provided "as is" for informational purposes only, not intended for trading purposes or advice.
Nothing appearing on this website should be considered a recommendation to buy or to sell any security or related financial instrument.
iTulip, Inc. is not liable for any informational errors, incompleteness, or delays, or for any actions taken in reliance on information contained herein. Full Disclaimer